Originally Published: September 26, 2017 11:11 a.m.
POLACCA, Ariz. — During Indian Week at Hopi High School, Hope Honanie was named Miss Hopi High and Alan Paxon was selected as Mr. Hopi High.
Hopi Jr/Sr High Principal Claudia Edgewater said Indian Day and Indian Week activities are important to students because it is their cultural identity and heritage.
"It was beautiful, cultural and spiritual," she said. "It's what we are about."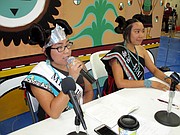 Edgewater said she would like to see more cultural activities at Hopi High School and make it more of a part of school culture.
She is hopeful that something similar could be held in the spring either through a festival or a concert.
For Honanie, being selected as Miss Hopi High was an honor.
"I am excited to go see places and to represent Hopi High School the best I can," she said. "I'm surprised that I won because I wasn't practicing as much as I should have."
Honanie, who faced three other contestants, demonstrated how to make somiviki for one of her talents. She also sang a song in Hopi about somiviki.
Honanie was impressed by the other three contestants, especially Autumn Johnson who spoke in three languages and sang a song in two languages.
Honanie said her duties as Miss Hopi High is to represent the school in a good way and to be responsible.
She ran for Miss Hopi High because she wanted to put herself out there in a good way.
"I was too young to run for Miss Hopi," she said.
Honanie said she cannot speak Hopi fluently, but she can understand it. She said the Hopi language is important because it's part of the Hopi culture.
Honanie said Hopi culture is important because it helps give Hopis their identity.
"If not for our culture, we would just be regular people," she said.
Honanie participates in cultural and social dances in order to stay active in the Hopi culture. She enjoyed Indian Week at Hopi because she was able to dress in traditional garb.
"I enjoyed seeing everybody dressed up and involved with culture. It was nice to see," she said.
Honanie's message for her fellow students is to encourage them to be more involved in school activities. She also wants students to stay away from drugs and alcohol.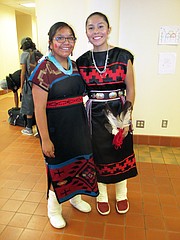 Honanie, a sophomore, is active in school and runs cross country and track. She plans to attend either Arizona State University or the University of California at Los Angeles. She hopes to get either a cross country or academic scholarship. She plans to major in photography.
As Miss Hopi High, Honanie hopes to be a role model for younger children. She said her role models are Miss Hopi and Miss Hopi First Attendant as well as her sister Jaeda.
"Jaeda does well in academics and sports, so she has a lot of opportunities," she said.
Honanie said the best part about living on the Hopi Reservation is being culturally connected and seeing her family. She lived in Phoenix for a while and missed her family when she lived there.
She said the Hopi Reservation could be improved if there were less drugs and alcohol, and less littering
"When you look down from the mesas, you can see the trash and that's not good," she said.
Honanie said she is happy that Paxon is Mr. Hopi High because they have been friends for many years.
"I want to encourage other students to run for Miss Hopi High because it's a lot of fun. Participating is fun and winning is just something extra," she said.
Paxon said he was excited and surprised to win Mr. Hopi High.
"There were so many happy emotions," he said.
Paxon said he plans to represent Hopi High School as best he can.

Paxon speaks Hopi, but not fluently. He does consider the Hopi language essential.
"The Hopi language is the main source of our culture," he said. "Everything revolves around our language. It is our identity."
Paxon is proud that Hopi culture remains strong and that the Hopi Tribe still practices its traditions. He participates in the ceremonies and tries to learn as much as he can about Hopi traditions.
His message for his classmates is to take advantage of every opportunity they are given. He also urges students to stay away from drugs and alcohol.
Paxon said students would get in less trouble if there were more youth centers. He would like to see more activities revolving around college exploration and careers. He hopes to attend Harvard to major in pediatrics.
As Mr. Hopi High, Paxon said he sees himself as a role model who is respectful of all people and that he shows leadership skills. His role model is his aunt, Pearlyn Tomosie, who is a medical doctor. He said his grandparents are also his role models.