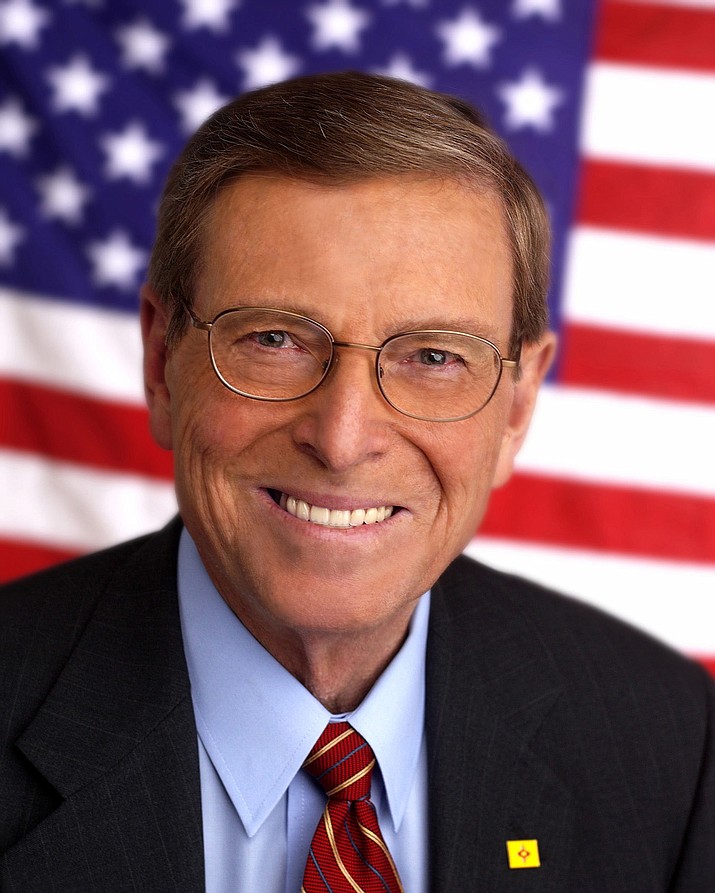 Originally Published: September 19, 2017 9 a.m.
WINDOW ROCK, Ariz. — The Navajo Nation president, vice president and members of the council offered their heartfelt condolences to the family and loved ones of former U.S. Senator Pete Domenici, who passed away Sept. 13.
Domenici was 85 and served six terms as a member of the U.S. Senate from the state of New Mexico from 1973-2009. Domenici died on Wednesday morning in Albuquerque, New Mexico. He passed away following complications from abdominal surgery.
Begaye recognized Domenici's early involvement in strengthening the Navajo economy.
"Sen. Domenici has been a friend to the Navajo Nation in helping build its economy through early programs like the Office of Navajo Economic Opportunity," he said. "Those programs helped catapult the Nation toward having a strong economic base."
"On behalf of the 23rd Navajo Nation Council, I offer my heartfelt condolences to the family and loved ones of the Honorable Pete Domenici, who was known as a selfless person who helped many people within the state of New Mexico and our country in many ways. We will honor and remember his tremendous service and advocacy for the Navajo people as a U.S. Senator," stated Speaker LoRenzo Bates (Nenahnezad, Newcomb, San Juan, Tiis Tsoh Sikaad, Tse'Daa'Kaan, Upper Fruitland).
Begaye praised Domenici's advocacy in fostering the Nation's involvement in the defense industry by partnering with Raytheon, as well as in bringing companies like General Dynamics onto the Navajo Nation.
"He has been involved with many developments on the Navajo Nation," Begaye said. "He was good friend that will be missed."
Nez said Domenici was a great leader who championed bipartisanship and advocated for issues on behalf of Indian Country.
"Our Nation extends our prayers to his family and the state of New Mexico," he said.
The New Mexico Republican was the longest serving U.S. Senator in New Mexico's history, serving six terms in the Senate. In 2007, Domenici was diagnosed with degenerative brain disease which ultimately led to his retirement at the end of his term in 2009.  
At the start of the second day of the Navajo Nation Council's comprehensive budget session on Council Delegate Edmund Yazzie (Churchrock, Iyanbito, Mariano Lake, Pinedale, Smith Lake, Thoreau) recalled Senator Domenici's efforts to help the Navajo Nation during his 36-years of service in the U.S. Senate, as he provided the opening prayer for the session.
"We are grateful for his life and service and we ask the Creator for blessings and comfort upon his wife, children, and all of his loved ones," Yazzie said.
Senator Domenici was a member of the Republican Party and previously served as chairman of the Senate Budget Committee, chairman of the Senate Energy and Natural Resources Committee, and as a member of the Senate Appropriations Committee. Among his many accomplishments, he was recognized for his efforts and success in promoting fiscal accountability, energy development, economic development, and for his strong support of the country's military.
"During his term as Senator, he has been a friend not only to Navajo but to many other tribes," Begaye said. "We will miss him and we extend our condolences to his family and to his constituents including the Navajo Nation."