Photo by Loretta Yerian.
Originally Published: September 19, 2017 9:40 a.m.
KEAMS CANYON, Ariz. — It's been a busy year for KUYI Hopi Radio.
In the last year, KUYI received an eviction notice from its lease holder at the Hopi Law Enforcement Complex, was given 90 days to vacate the facility, found and relocated to a temporary structure and has worked tirelessly to find a permanent location.
It was a great relief when, on Aug. 28, Monica Nuvamsa, executive director of The Hopi Foundation, which holds the station's broadcasting license and overseas operations and management of the station, received a letter from the Bureau of Indian Affairs (BIA) stating it had been approved for a land assignment next to Northland Pioneer College (NPC) on Second Mesa.
"It may have just not been a priority (for them) at the time since they (the BIA and Law Enforcement Complex) are working on their other projects," Nuvamsa said. "The good news is that we're moving forward again. I am so happy about that."
Prior to its eviction notice in March of last year, KUYI had operated from a modular unit located at the Law Enforcement Complex, also located next to NPC.
Nuvamsa said they knew their location at the Law Enforcement Complex was not permanent and said the station had started to explore other site options as early as 2013.

"We knew it wasn't permanent. Land is a really limited resource and I know the service of the law enforcement and others working in that branch, they're really important — they also have a need for growth," she said.
In 2009, KUYI had reached the end of their lease at the complex and were required to submit a request for renewal. That renewal never took place. The station had been working from a modular located on an expired land lease at the Law Enforcement Complex from 2009 to 2016.
"We requested a renewal for our lease site but because of the back log and transition in leadership in the programs that oversee and regulate leases our lease was not responded to. We continued to stay there — we sent letters to the BIA making sure we were still on track and requesting status on the renewal or even word that we were no longer welcome in that area, some response, but we weren't able to obtain that," Nuvamsa said. "It was a long period without having a response."
Nuvamsa said she believes the eviction notice from the Law Enforcement Complex last year was prompted by an emergency order.
"The law enforcement facility had just gone through an assessment, I understand, and earlier last year they received (a) report in February stating that facility was condemned because of structural issues," she said. "This is the second time it has got that standing."
One reason KUYI was grateful to operate from the Law Enforcement Complex for the last 16 years was because of its proximity and line of sight to the stations tower.
KUYI's tower is located at the top of the mesa and having a clear line of sight is important for the station to have a strong broadcast signal.
Nuvamsa said since moving to its temporary location KUYI's signal has weakened. She said they are excited about the prospect of possibly moving closer to the tower again.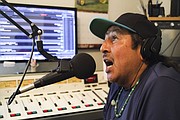 "Even though we're not at the max 25 mile distance from the tower (now) we experience a lot of interference," she said about their current location. "We definitely feel the quality of our sound diminished because of the distance … because of the distance there's a lot of radio traffic that goes in between, there's the law enforcement complex, the health care center and just radio waves interacting and obscuring our direct access to the tower. If we get closer I imagine it will get much crisper once again."
For the last year KUYI has relocated to a temporary building located at the back of the Hopi Tribal Housing Authority.
"They allow us to utilize this space," she said. "We are very grateful for that."
Over the last year of transitions Nuvamsa said the station has been grateful for the outpouring of public support it has received.
"We received tremendous amount of support from our public, our local partners and even our tribal leadership," she said.
She said there has been some transition and changes at the station, including a change in station management.
In August, Bonnie Secakuku replaced long-time general manager Richard Davis.
Davis resigned as general manager last May after working at KUYI for eight years. Nuvamsa said he was vital in providing the technical foundation and teaching professional skills at the station, which was vital for the station success.
"He left it (KUYI) in a place that we are all really happy with," she said. "There's a lot of empowerment that comes out of that story — we didn't have a lot of that capacity 10 years ago."
Next steps
With permission from the BIA to acquire a land assignment through the Master Education Lease next to NPC, Nuvamsa said the next step is meeting with the realty office and signing a land lease.
She said it is difficult to project how soon the station could relocate, but, if things go well, she is hoping sometime in the next six to nine months the station could have a permanent home.
"I am just keeping an open mind about how soon it will take place," she said.