Hopi High's Jihad Nodman places first at Payson Invite, Jaeda Honanie takes second
Originally Published: September 19, 2017 9:49 a.m.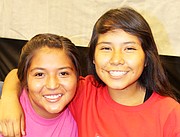 POLACCA, Ariz. — Hopi High's Jihad Nodman took first place at the Payson Invite in a recent cross country meet.
"It felt great. It was a fun experience because it was my first time coming in first," Nodman said. "It was weird and scary because I'm usually surrounded by other runners in the top ten, but this time there was nobody around."
Nodman, a 17-year-old junior, hopes to get a cross country scholarship to college at either University of Southern California (USC) or Paradise Community College. He plans to major in psychology with a minor in secondary education.
Nodman said he can improve his running skills by stretching more at practice and running on the weekends.
"I want to practice every day," he said.
Nodman said the Bruins can improve as a team if all the runners run every day and if they are self-motivated to run in a pack at the meets.
"Coach (Rick) Baker tells us to stay together," he said.
Nodman said his goals for the season are to beat his previous time at every meet and to win the individual state championship. He placed seventh at state last year.
He said getting good grades during the cross country season is not hard as long as he does the work, and doesn't procrastinate.
"When I'm running, I'm thinking about not giving up, keep pushing myself and catching up to the nearest guys in front of me," he said.
Nodman said he enjoys running for Baker because of all the workouts and long runs.
"It's a lot more than we did in elementary school," he said. "Coach Baker is also a good role model."
Nodman said his running shoes have to be light in order for him to make good time and said during cross country season, he stays away from junk food. His advice to younger runners is that they keep running during the summer.
"It makes a big difference," he said.
Jaeda Honanie places second
Hopi High's Jaeda Honanie grabbed second place at the Payson Invite in the recent cross country meet.
Honanie, a 16 year old junior, said she thought she could have finished first.
"I could have finished first if I didn't each lunch. I had a bad stomach because I had too much dairy with the milk and ice cream," she said.
Honanie said she can improve this season by eating right, working on her speed and working hard during practice. She said the team can improve by practicing every day and working hard during their workouts
Honanie said her goal for the season is for the team to win state and for her to finish higher individually. She finished fourth at state last year and hopes to place in the top three this year.
"School work isn't a problem because I get all of my work in on time. It's just a matter of balancing cross country with academics," she said.
Honanie is working to earn a cross country scholarship to the University of Arizona in Tucson.
"While I'm running I think about what Coach (Rick) Baker tells us: that there is more of a purpose to running than just running because it's our culture," she said. "So I keep that in mind that we all have to run hard."
SUBMIT FEEDBACK
Click Below to:
More like this story