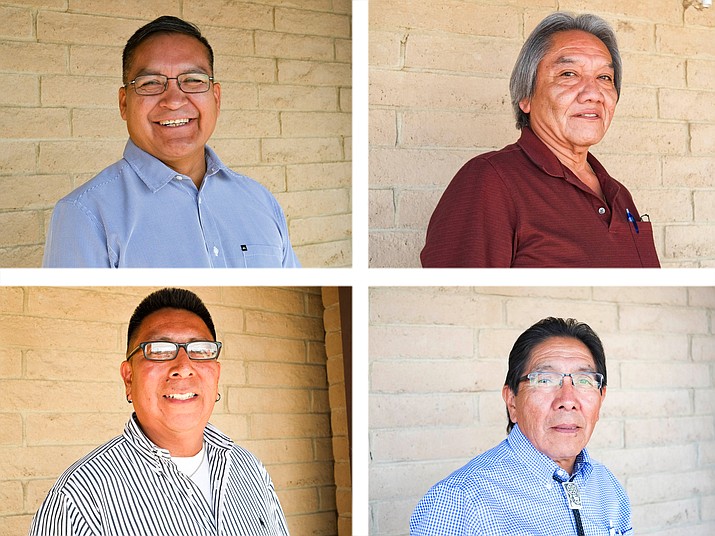 Photo by Loretta Yerian.
Originally Published: September 12, 2017 9:42 a.m.
KYKOTSMOVI, Ariz. — Candidates for Hopi chairman and vice chairman talked about several issues Sept. 7 during a forum at the Hopi Veteran's Memorial Center.
The forum was sponsored by the community service administrators from all the villages. The candidates picked their questions from a lottery – none of the candidates answered the same questions. Approximately 100 Hopis attended the event.
The primary election for chairman and vice chairman takes place Sept. 14.
The vice chairman candidates went first, followed by a short break and wrapping up with questions for candidates running for chairman. Some answers were given in English and some in Hopi.
Candidates running for vice chairman respond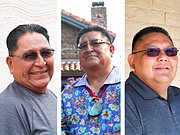 Candidates running for vice chairman are Art Batala, Lamar Keevama and Clark Tenakhongva.
Talking about the powers that rest with the village, Batala said while serving on the tribal council he has seen a lot of back and forth talk about the Hopi Constitution for many years. He said the powers with the villages is established by the Hopi Constitution and gives the villages the power to settle some problems such as family disputes.
Keevama addressed the lack of state funds coming into Hopi despite Hopis paying sales taxes in border towns. He said Highway 264 is a state highway yet there is no law enforcement on the highway from either the state or county. He has made the Coconino County Sheriff's Department aware of the issue.
"We have a law enforcement shortage on Hopi," he said.
Thus, Keevama has started a dialogue with the Arizona Department of Public Safety (DPS) as well as the sheriff's departments in Navajo and Coconino counties. He said Highway 264 also needs road maintenance and the tribe needs to work with ADOT on road maintenance.
Batala said the tribe's grants and scholarship program is stressed from a lack of revenue.
"There will never be enough, but we can do more to make sure all the children have equal opportunity regardless of how much their parents make," he said.
Batala said the tribe's education ordinance needs to be updated and some of the criteria need to be changed.
"The children are the future. They will be the ones sitting up here," he said.
Keevama said other tribal nations have engineers and other high paying jobs filled by members of their own tribes. He said there is a Hopi woman who is a doctor and they should have a scholarship in her name.
"I would increase scholarships in these crucial areas," he said.
Tenakhongva addressed problems with Hopi Health Care Center. He said he has been misdiagnosed there and he knows other patients have had problems.
"Many of the employees are there just to be employees," he said.
Tenakhongva said many Hopis go to Tuba City for health care.
"This needs to be addressed immediately," he said.
Batala fielded another question about powers the Hopi Constitution gives to the villages, especially what part the traditional leaders should play. He said many feel the traditional form of government would be more regarded if it remained separate from the political aspects. He said each village has its own committees, so they can be governed by the people.
Keevama said the tribe's fiscal policies have not been revised for years, and this needs to be done.
Regarding economic development, Batala said mandates need to be given to the Hopi Tribe's Economic Development Department.
"They don't have enough marching orders," he said.
Batala said revenues are short, but there are more funds out there in terms of grants. He said more money should be spent for businesses on the reservation since this is where most Hopis live.
Keevama addressed the lack of communication between the government and village residents. He said Bacavi requires monthly reports from its representatives. He said he would require public input and review on proposed action items that go before the Hopi Tribal Council. He said the tribe's website should have proposed action items on it.
"If elected I would be committed to visit each village during their meetings to give reports. This would require a lot of time, but I would commit for our people," he said.
Tenakhongva said for the last 30 years the chairman and the vice chairman have not run on the same ticket so when they get into office they do not communicate with each other. He has worked as a staff assistant to the chairman and staff assistant to the vice chairman in past years.
"The vice chairman is kicked to the side of the curb. Any of the four who is elected as chairman must remember they have a coworker. We're supposed to work together. Let's do the marriage right," he said.
Keevama drew a question about how to reduce tribal expenses without laying off workers. He said departments need to stop duplicating work. He said the tribal workers don't need as many cell phones as they have.
"We need to save money where it doesn't take away money from the villages," he said.
Keevama said public safety and programs for the elderly should be protected.
Candidates running for chairman respond
The four candidates are incumbent Chairman Herman Honanie, Vice Chairman Alfred Lomahquahu Jr., David Talayumptewa and Tim Nuvangyaoma.
Lomahquahu said the vice chairman is there to assist the chairman. He said the chairman and vice chairman should work together. He said the villages have power over both those entities.
Honanie drew a question that asked if he was elected whether he would hire his family members. He joked that he hoped so, but he said qualifications are the most important point to consider and noted his son has a law degree.
Regarding the arsenic in the water issue on the Hopi reservation, Talayumptewa said the tribe needs to rearrange its priorities. He said the tribe has no problem paying thousands of dollars for lawyers, but then doesn't put enough money into fixing the water problem.
"We need to hold the federal government accountable," he said.
Talayumptewa said if the federal government won't come up with the funding for the water then Hopi needs to think outside the box by looking to non-profits or philanthropists.
"If we don't, then come next year we'll be talking about the arsenic problem," he said.
Honanie said the maintenance of roads on Hopi needs to be prioritized. He said each department needs to be evaluated. He said the Hopi Department of Transportation was not fully vetted and now has problems.
Nuvangyaoma said the tribe knew a long time ago that its funding from Navajo Generating Station (NGS) was going to end and it should have put another revenue source in place. He said the tribe owns property in Galveston, Texas. He said when the tribe is considering tribal business operations it needs to look to see if they are feasible.
"We have some questionable business practices," he said. "We don't want people losing jobs. There are a lot of solutions. We just need to come together."
Responding to a question about the oath of office, Honanie said he takes the oath seriously and to him it means the chairman should have integrity, high expectations and high standards.
Talayumptewa said one of the tribe's weaknesses is not being able to help tribal businesses. He said the tribe has not organized anything for arts and crafts businesses.
"The tribe should put together a plan for them so they can market them nationally and throughout the world," he said.
Talayumptewa said other village businesses should also get help from the tribe.
"We don't give business owners any help. We need a strategic plan. When we come together we will see successes," he said.
Lomahquahu drew a question about special needs students. He said Hopi High School brought in specialists to address the needs of special education students. He said if the Hopi Reservation had one school district they would save money, so they could have more special education staff
"Are we giving special education students the support they need?" he asked.
Nuvangyaoma said they know some tribal employees are involved with theft or embezzlement yet they remain on the job.
"We should be honest about what's going on with this money," he said.
Talayumptewa said the tribe is going to be short money so they need to reduce expenses. He said all employees should be treated the same when it comes to pay raises. He added tribal employees have been allowed to work less than 80 hours, but still were paid for 80 hours.
"This needs to stop," he said. "Nobody at the Hopi Tribe is being held accountable. This needs a 180 degree change so people are held accountable."
Lomahquahu said he learned in the military that without separating family and businesses you will never be successful. He said people speak about nepotism but bring their personal issues to the tribe.
"The tribal council needs to be held accountable," he said.
Honanie said he wants the tribe to hold a constitutional convention with one idea being to have an amendment to adopt regional representation so that all villages are represented on the tribal council. He said a feasibility study needs to be done to see how education can be improved on the Hopi Reservation.
Honanie said the U.S. House of Representatives have approved $10 million for the Hopi Arsenic Mitigation Project, but it has yet to be approved by the Senate.
"Knowing the president, this is going to be an uphill battle," he said.
Honanie said once audits are complete the tribe can apply for more grant funds.
Talyumptewa said education should be one of the priorities on the Hopi Reservation.
"We have not developed an education code," he said. "Each school has its own standards. We need some consistency."
Talayumptewa said they need to bridge the gap from elementary school to junior high and junior high to high school.
"We're making it more difficult for the students to be successful," he said.
Talayumptewa said the tribal council should address education issues such as bullying and special education.
"The Hopi Tribal Council gave authority to the school boards, but they still need to show responsibility," he said.
Regarding the topic of sexual abuse, Talayumptewa said the tribe can prevent the problem through traditional teachings, but also needs to have safe houses when problems arise.
Nuvangyaoma, who refers to himself as a recovering alcoholic, said this is National Sobriety Month and said the council needs to address the sobriety issue.
"A lot of people want to help their family members who are struggling with this. We've lost too many young people," he said.
Regarding education, Honanie said the Hopi Tribe's Department of Education has no mandate or authority to visit each school.
"We need to do just that," he said. "There are other responsibilities that they could be responsible for."
Honanie said the lack of consistency in curriculums at the schools need to be addressed.
Talayumptewa said he has been shocked by what he has seen since he has been serving on the Hopi Tribal Council for nine months.
"We need transparency," he said.
Talayumptewa said there should be live feeds through the internet during council meetings so the public can see what the council is doing and saying.