71st annual Navajo Nation Fair honors law enforcement officers
Originally Published: September 12, 2017 10:54 a.m.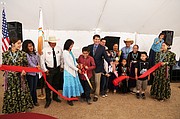 WINDOW ROCK, Ariz. — Navajo Nation Vice President Jonathan Nez officially opened the 71st Navajo Nation Fair at an opening ceremony held Sept. 6.
The theme for this year's fair is "Honoring Our Law Enforcement Officers" and Nez said respect for authority is established through good parenting.
"We need to teach our younger generations to honor our police officers," he said. "And that teaching begins at home when our children learn to honor their parents. Let's take back our families and communities by showing respect for each other and our culture."
Navajo Nation President Russell Begaye said the dangers facing officers is real.
"The threats, cuts, bruises, injuries and psychological trauma are real," Begaye said. "We need to remember this when we talk about our police who serve and protect the public."
Begaye and Nez encouraged attendees of the fair to say thank you to law enforcement officers and show them respect.
During the ceremony, the Martin Sisters sang the national anthem, Talibah Begaye sang cultural songs, Nez and Navajo Nation Council Speaker Lorenzo Bates gave a welcome address, William P. Ring from the Coconino County Attorney's Office presented the Navajo Nation with a gift, and Nez and his family cut the ribbon for the fair.
Prior to the ceremony, Nez attended the Navajo Nation Fair Baby Contest and the Miss Navajo Sheep Butchering Competition. At the sheep butchering, he said all the young Navajo women competing should be celebrated because they are carrying on a way of life and providing guidance to young children.
Hope Fest, a part of the fair, began Sept. 7 with performances by Levi Platero, David Bearshield, Aktually, Paradigm, Broken Arrow Band and IBC Band. The Christian music festival was held at Office of the President and Vice President's (OPVP) tent and worked in conjunction with the Newsboys who performed that same night at the Dean C. Jackson Memorial Arena.
As a strong advocate for health and wellness, Nez promoted efforts of OPVP to distribute water, fruits and healthy snacks during the parade. In addition, he supported the Navajo Division of Health's candy buy-back program for children to receive prizes in return for the candy they collect during the parade, which took place Saturday.
Staff from the Begaye-Nez administration accepted donations throughout the fair for Hurricane Harvey flood victims.
SUBMIT FEEDBACK
Click Below to:
More like this story