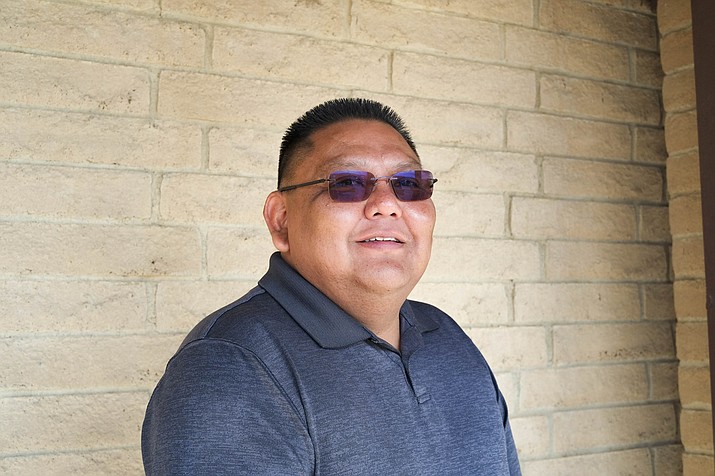 Photo by Loretta Yerian.
Originally Published: September 5, 2017 11:03 a.m.
Lamar Keevama is originally from the village of Bacavi.
Why do you feel you're a qualified candidate to run for vice chairman of the Hopi Tribe?
I feel qualified to run because I've been on the tribal council. I'm serving my third term, this is my fifth year on tribal council. I'm grateful to the people of the village of Bacavi to have the confidence in me to elect me three times to represent them on the tribal council. Within those five years I think I've gained a lot of experience and knowledge. I am the youngest on the council and I feel that I've learned a lot from the other representatives. We don't always agree but I think we all have something positive to contribute to the council. I think one of the biggest thing is we all respect each other. I've gained the respect of most, if not all, the tribal council. I think I've established a good working relationship with the chairman and vice chairman. I'm aware of the issues and knowledgeable of a lot of the issues. I've served four years as chairman of the land commission and am serving as the chairman of the water/energy committee, I've also been selected by the tribal council to serve as the interim chairman of the economic development corporation board.
In your opinion what are the two biggest issues facing the Hopi tribe?
First and foremost the closure of NGS in 2019, I think it's pretty inevitable that it's going to close and that accounts for approximately 85 percent of our general fund budget. So a lot of programs, services are going to be affected. We should have been looking at diversifying our economic revenue stream into the tribe. Unfortunately we weren't quite ready for this but I've been doing what I can to try and assist. I've developed partnerships with some folks with the Arizona Senate and House of Representatives. I was invited by Senator Burgess to sit on an ad hoc legislative committee to address some of the economic issues that not only the Navajo and Hopi face but the state as a whole. I feel like I've been working toward trying to diversify our economic development on Hopi.
The second one is preserving and securing Hopi's water rights. Clean water is key to a healthy nation. You need clean water not only for your people but healthy development. That's the basis for everything. Right now the tribe is going through the LCR judication. I think continuing to support the legal team on their efforts on doing what they can for the tribe. We've started discussion with the Navajo Nation trying to work toward possibly starting negotiations on a settlement that we can present to the state as one team. We are continuing to try to work toward something. I think going as one would send a stronger message to the state — that Hopi and Navajo deserve enough water to sustain them not only now but into the future. Both nations need water for a more prosperous, permanent homeland.

If elected, what are two specific objectives you want to focus on during your time in office and why?
I want to keep focusing on exploring economic development opportunities. I have two action items going through right now that I feel could help mitigate the effects of the closure of NGS, which I feel council needs to explore.
The second one is to continue to preserve and securing water rights for the Hopi people. Along with that realizing and seeing the full benefit of the 1996 Navajo/Hopi Land Settlement Act. Hopi gave up a lot and we have yet to see benefit from the lands that were promised to the tribe.
Personal comments
What I want to strive for is to preserve and secure. Get things for the Hopi people. I want our people to have the same opportunity as anyone else who lives in the metropolitan cities. There's no reason why they shouldn't have that option – clean water, jobs … I know some people choose not to work but I think that opportunity still needs to be there if they still want to take advantage of it.