Obituary: Wee Jean Begay
Originally Published: October 31, 2017 11:43 a.m.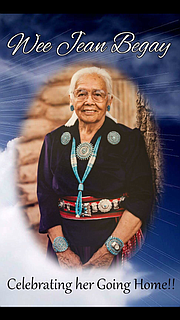 A Life Celebration for Wee Jean Begay, 90, was held Sunday, October 15, 2017 at the First Baptist Church in South Tuba City. Burial followed at Tuba City Community Cemetery.
Wee Jean was born on July 5, 1927 near Preston Mesa, northwest of Tuba City, Arizona, into Naasht'ézhí-Tábąąhá (Zuni-Edgewater Clan), born for Tł'ízí Łání (Manygoats Clan). Her father was Sid Collins of Kaibeto (Tł'ízí Łání / Tódích'íi'nii) and her mom passed shortly after her birth. Wee Jean was raised by her grandparents; Navajo Jean Sr. and Betsy Jean. Wee Jean's siblings are Gloria Slim (dec.), Kee Collins, Jane Howard, Rena Whitehorse, and youngest sister Yazzie Howard (dec.).
She went home to meet her Savior on Oct. 9, 2017 in Tuba City, Arizona. She was surrounded in love from her family and friends for the time leading up to her passing.

Wee Jean worked and supported her large family in many unique ways. During WWII, she worked at the Belmont Army Depot before starting her family. She had no formal schooling so she was resourceful and talented in making and selling Navajo rugs, traditional outfits, jewelry, and many other arts and crafts.

Nothing she did was more important than sharing her testimony and faith in Jesus Christ. She became a Christian in 1961, after which she continually supported people in her church, and shared the word of God to anyone who would listen. She witnessed every weekend to people in jail and in the hospital. She continued with her strong Faith in God to her passing, and we are sure her Father God greeted her saying, "Well done, my good and faithful servant." - Matthew 25:23.

Wee Jean is survived by her sons, William George (with wife Eunice) and Sonny Howard; and her daughters, Lena Webster, Helen Webster, Dr. Nonita Begay Adair, Bertha Begay Tomlinson (with husband Joseph), Unis Walker, Phyllis Begay, and Corrina Pope. She has been blessed with 28 Grandchildren, 43 Great-Grandchildren, and 3 Great-Great Grandchildren.

She is preceded in death by her parents and grandparents; Deanna Howard (daughter-in-law); Greg Adair (son-in-law); Gregory Pope (son-in-law); Silas Walker(son-in-law); Stephanie Howard (grand-daughter); Tom Webster (son-in-law); and by many brothers and sisters in Christ.

The family of Wee Jean Begay wishes to acknowledge the many expressions of love, concern, and kindness shown to them during this time of bereavement. May God bless you and embrace you. Wee Jean believed in love and prayer, her favorite Bible verse was: "Pray without ceasing" - 1 Thessalonians 5:17

Valley Ridge Mortuary handled arrangements. Photograph by Linda & Gary Rumack Photography of Tucson, Arizona.
SUBMIT FEEDBACK
Click Below to: