Kaibab National Forest goes batty for International Bat Week
Forest Service aims to educate public about critical role bats play in insect control, crop protection and healthy forests
Originally Published: October 31, 2017 9:56 a.m.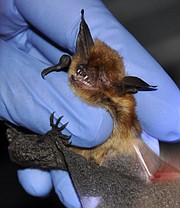 WILLIAMS, Ariz. — What is small, fuzzy and can eat up to 8,000 insects per night? Bats. And according to Kaibab National Forest biologist Justin Schofer, they are a critical component for crop protection and healthy forests.
There are several species of bats inhabiting both the North and South Kaibab, as well as the Grand Canyon. Big brown bats, silver-haired bats and Mexican free-tail bats are all common subspecies found in the area, Schofer said. Big brown bats may sound scary, but at their largest, they are only about 5 inches long and weigh less than an ounce.
But boy, are they big eaters.
Bats are critical to controlling the insect population and maintaining the health of the Kaibab, Schofer said. A single bat can eat upwards of 1,000 mosquitoes in an hour, and prefers to feast on other menacing insects as well, including beetles, moths and wasps. Bats catch all of their prey in the air as they're flying, which leads to the erratic and rapidly-changing flight pattern.
Bats in Arizona often live in abandoned mine shafts, and Schofer said forest service staff have concentrated most of their conservation efforts on identifying these locations and keeping them accessible to bat colonies.
"Over the past five years, a lot of our work on the North Kaibab has been identifying and mapping these locations with Bat Conservation International (BCI)," he said. "We are working to find ways to close off these dangerous structures to people, but keep them accessible for the bats."
Most of the bats residing in northern Arizona are solitary, or in small groups, unlike the colonies of millions found in more humid places like Texas. Schofer said many of the bats located in the area are maternal bats who have come to roost and bear their young.
https://youtu.be/xCyiWaCiA8s
But bats, who might live as long as 40 years, only bear one pup per breeding cycle. That, along with disease and development or habitat destruction, has led to a record decline in their numbers. White Nose Syndrome (WNS), a fungal disease that often attacks hibernating bats, has led to declines of up to 100 percent in some locations, and it's spreading.
Schofer said that while WNS is responsible for taking a deadly toll on bat populations in the east, it has yet to make its way to Arizona. But it has since appeared along the west coast, and Schofer said that has Arizona biologists concerned.
"It seems to occur more in areas of high humidity and moisture, so we're hoping our dry climate gives bats an advantage here," he said.
Myths of killer bats have also contributed to some species' decline, according to BCI, leading people to kill them out of fear of disease or, in some cultures, superstition.
The reality, Schofer says, is that less than 1 percent of all bats worldwide are rabid, and that while it is possible for humans to contract rabies from a bat, it is a very rare event. Contrary to popular belief, bats also have very good eyesight and even better echolocation, the method of bouncing sound around to identify barriers and catch their prey.
"The last thing a bat wants is to have a bad interaction with a human," Schofer said. "They're not going to fly into your face or hair."
Still, Schofer said, if you see a bat out flying around in the daytime, it is considered atypical behavior and could mean the animal is sick. In those instances, he said, you should contact the Arizona Game and Fish Department so they can investigate.
So there are few less bats flying around at night, what's the big deal?
It might seem trivial, but fewer bats mean more insects, and that can be a very big deal. A recent study by the Proceedings of the Natural Academy of Sciences (PNAS) concluded insectivorous bats saved farmers $1 billion globally on corn crops alone in 2015. Besides preying on insects like beetles and earworms that can decimate crops, bats are also critically important to seed dispersal and protecting crops from toxic fungi.
Schofer said the Forest Service is always looking for more data on bat populations in the area. Old barns and abandoned structures make enticing roosting spots for bats. Calling your local ranger district can help biologists locate and identify bats in the area and determine their numbers.
More information on bats and Bat Week can be found at www.batcon.org.
SUBMIT FEEDBACK
Click Below to:
More like this story