Domestic violence victims remembered at Keams Canyon
Originally Published: October 31, 2017 10:36 a.m.
KEAMS CANYON, Ariz. — Around 35 concerned citizens gathered at Keams Canyon Park Oct. 25 for the Violence Against Women Memorial run/walk to honor victims of domestic violence.
One victim honored was Monica Choyou. In 2009, Choyou was murdered during a domestic violence incident in Keams Canyon. She is the only known victim to die from domestic violence on the Hopi Reservation.
The evening walk included stopping at her memorial created by family and friends.
After her death, Choyou's mother, Florence, ended up raising her grandchildren, Sky and Zack. Florence told how Monica was the family farmer — growing beans, chili and corn.
Florence told the audience about how she could not forget the horror when her daughter went missing May 3 and was not found until May 8 in Keams Canyon Park. She recalled how close to 30 police officers were searching the area for Monica.
"That Friday I woke up and 7:30 that morning they found her with nothing on," she said.
Florence said the perpetrator received three years in jail.
"That's just not right," she said.
Florence said the people supporting her through this have empowered her to keep going and speak up for victims of domestic violence.
She recalled how the police unzipped the black body bag her daughter was put in.
"She was smiling. She had weeds in her hair. She had one eye open," she said. "Her house was like a slaughter house (with blood). The windows and the doors were busted. The groceries were on the floor."
Several groups were on hand to show support for the Choyous as well as all victims of domestic violence. The Hopi-Tewa Women's Coalition, Unite to End the Violence Native Women's Empowerment, Hopi Department of Public Safety and Emergency Services were among those attending.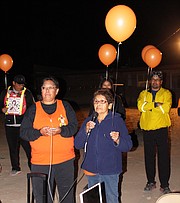 Carey Onsae, executive director of the Hopi Tewa Women's Coalition to End Abuse, said the organization is an avid supporter of Choyou. She said there are too many missing and murdered indigenous women.
"We walk in memory of Monica Choyou," she said. "A lot goes back to the indigenous ways and healing. It has to come from the heart for people to do this. I can see the love you have for Florence, her family and the women's group."
Onsae said domestic violence is a hard issue for many people to talk about.
"Our people are in denial that we have this issue," she said.
Onsae said this is a special day and she was glad to be here.
Jennifer Himel, founder of Unite to End the Violence Native Women's Empowerment, spoke about how different tribes do things differently, but yet the heartbreak is the same when it comes to domestic violence.
Ernest Tsosie spoke about how he committed domestic violence in his past.
"I drank a lot," he said. "I become emotional when I speak about it. Women are entirely different from men. Women hold us together. My wife, bless her heart, I put her through hell. I get sad when I look at her and think of what I did."
Tsosie is proud that he has been married for 55 years and that his grandchildren never saw him drunk or committing domestic violence.
Tsosie spoke about his son Ernie, a well-known comedian on the Navajo Nation.
"I hurt him the most. He had a hard life," Tsosie said.
Tsosie said a man who doesn't drink is normal, but once a man gets drunk then look out.
"That's the way I was. I would come home and there would be nobody there because they were afraid of me," he said.
During the walk, Keams Canyon Park was filled with fall colors, which was not lost on the crowd.
"This canyon is beautiful, but look what happened here," Tsosie said. "I feel the same pain. That's why we are here. I thank all of you for being here."
Himel said she wants to make the park a place for healing.
"We are here to take back the night from darkness," she said. "It takes a lot of courage to come out."
Scott Means, who is Lakota and Hopi, played an honor song for Monica Choyou. He said he is proud of both his Lakota and Hopi side of the family. He said a key part of the Lakota language is music.
"We use different music for difference occasions," he said.
Means said the song talks about women who are now gone.
"There are a lot of Indian women who are not here anymore," he said.
John Tsosie, who serves on the Arizona Governor's Commission to Prevent Violence Against Women, drove from Window Rock to show his support to the Choyou family and victims of domestic violence. Tsosie is also the founder of Walking a Healing Path, a group that has fought against domestic violence since 2003.
Tsosie spoke about his personal battles with domestic violence, but since then he has made positive changes for himself, the community and the people. He recalled the first and last time he hurt the woman that he loved.
"It was a powerful moment to me," he said. "It shook me to my core. My mom is my first teacher because she took me aside and said 'what you just witnessed was wrong.'"
Tsosie said parents are the first teachers and must act accordingly. Tsosie has led walks against domestic violence ranging from 350 to 700 miles.
"When doing these walks, I love seeing the spirit of generosity," he said.
Tsosie told the audience that forgiveness is the key to healing.
"There was a time when I forgave my dad," he said. "I implore anyone who has hurt to let it go. As soon as you do that you will be free from hate, anger and sadness. Forgiveness can move mountains."
Tsosie said when he first heard about Monica Choyou that it broke his heart.
"I want to end domestic violence in all communities," he said. "We need to work together. It takes all of us just to see a dent."
Roger Tungovia, director of Hopi DPS and Emergency Services, said all first responders have to deal with domestic violence.
Florence Choyou said seeing the supporters gives her hope.
"I thank you from the bottom of my heart," she said.
Florence's son and husband have also passed on. She said they are all together in paradise.
"You give me hope and encouragement to take care of my grandchildren," she said. "I thank the Hopi Tewa Women's Coalition for being here with me all this time."
More like this story
SUBMIT FEEDBACK
Click Below to: