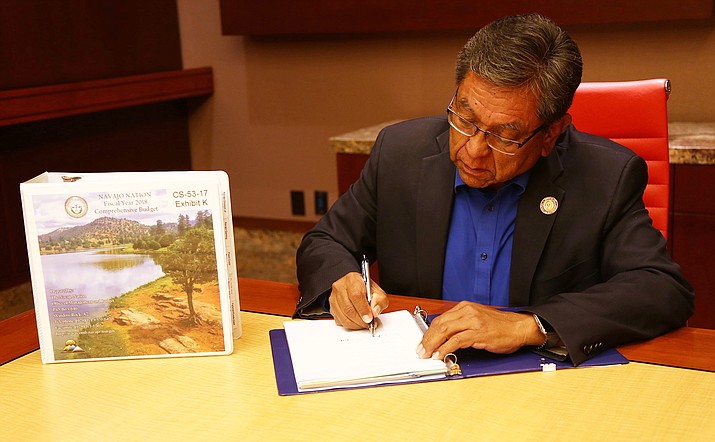 Originally Published: October 24, 2017 1:14 p.m.
Council approved budget for FY 2018: $636 million with 18 amendments
Number of presidential line item vetoes: 26 line-item vetoes totaling over $21 million
What it was in 2017: total approved budget for FY 2017 totaled around $626.4 million.
Budget began: Oct. 1, 2017
Council response to presidential vetoes: "The line item veto actions displays a thorough misunderstanding of the budget process and it completely ignores the needs of the people, families, communities, and employees of the Navajo Nation. During the budget process, all programs plead and expressed their needs to fulfill their purpose, but the president's line item actions sends a different message and absolutely negates his stance of his four pillars and the recommendations he forwarded to council as the budget process was taking place," said Navajo Nation Council Speaker LoRenzo Bates.
President: "As president of the Navajo Nation, it is my fiduciary responsibility to oversee and administer the Nation's budget while ensuring that direct services remain in place. The line-item vetoes I put forth had undergone extensive review and consideration as they affected the critical services that our people need. The bottom line remains that I will continue to protect the money of the Navajo people," Navajo Nation President Russell Begaye said.
More information:
The following link is the signed version of the budget including all vetoes: https://gallery.mailchimp.com/0bf367cc7bf787cb9b02b21c8/files/282c9070-151a-448f-aad2-03a05f089dbf/CS_53_17.pdf