Navajo Code Talker, Earl Patterson, Sr. passes away
Nation honors Code Talker as veteran, husband, father and grandfather
Originally Published: October 17, 2017 9:54 a.m.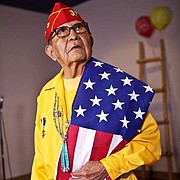 WINDOW ROCK, Ariz. — The Navajo Nation mourned the loss of Navajo Code Talker Earl Patterson, Sr., who passed away from pneumonia and complications from subdural hematoma Oct. 8 in Rio Rancho, New Mexico at the age of 94.
Navajo Nation President Russell Begaye, Vice President Jonathan Nez and Navajo Nation Council Speaker LoRenzo Bates all expressed their condolences to his family.
"It's a sad day on the Navajo Nation when we lose a national treasure like we did in losing Navajo Nation Code Talker David Patterson, Sr.," Begaye said. "Beyond his service in protecting our freedom, he was a beloved husband, father and grandfather."
Bates said the 23rd council sent prayers to the family and that Patterson was a great example for all the people of the Nation through his honorable service in the U.S. Marine Corps and the entire Navajo Nation.
"We will miss his presence and service in our communities where he helped many of our Navajo people," Bates said.
Patterson was Táchii'nii born for Kinłichii'nii. His maternal grandfathers were Bit'ahnii and his paternal grandfathers were Naakaii Dine'é.
Patterson served in the Marine Corps from 1943 to 1945, when he was honorably discharged. Patterson was the recipient of the Silver Congressional Medal of Honor, which he was awarded Nov. 24, 2001. After his military service, Patterson went to college and became a social worker and was employed with the Navajo Division of Social Services until he retired in 1987.
Council Delegate Tom Chee (Shiprock) recalled Patterson as a hard-working and humble person, as he got to know him when working together for several years.
"He never said 'I did this or I did that,' but I got to know of his great service through his family," Chee said.
Although Patterson didn't talk much about his service, his son, Pat Patterson, said his father was proud of being a Navajo Code Talker.
"He attended as many Code Talker events as he could," he said. "It was only when his health started to decline that he didn't attend as many."
Patterson is preceded in death by his wife Marion Patterson and his daughter Karen Joe. He is survived by his children David Patterson, Jr., Marcus Patterson, Sandy Johnson, Michael Patterson, Pat Patterson, and Calvert Lee (adopted).
Nez said as an elder, Patterson had a wealth of experience and wisdom.
"Whenever the Nation loses an elder, we lose a perspective of history that provides insight into our own lives, Nez said. "Our elders hold great wisdom and traditional perspectives. We need to continue to embrace intergenerational teaching and connections."
Funeral services took place at Christ The King Catholic Church in Shiprock, New Mexico Oct. 12. Desert View Funeral Home handeled funeral arrangements. Patterson was buried on the military side of the Shiprock Cemetery.
SUBMIT FEEDBACK
Click Below to:
More like this story