Missing in Arizona Day, Oct. 21, aims to help families find information on missing people
Missing people considered a national, silent mass disaster
Originally Published: October 17, 2017 4:55 p.m.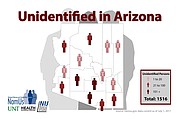 FLAGSTAFF, Ariz. — The 3rd annual Missing in Arizona Day is set for Oct. 21 at Arizona State University West and those seeking information on missing people are urged to attend, including missing people from tribal communities.
The Missing in Arizona Day will take place from 10 a.m. to 4 p.m. at ASU West, 4701 W. Thunderbird Road in Glendale, Arizona.
The event is sponsored by top investigators from Maricopa and Pima County Sheriff's Offices along with Phoenix, Mesa and Tucson Police departments and the Maricopa Medical Examiner's Office.
Sheriff Paul Penzone said the issue is one that is not discussed often but has a huge impact on the lives of many families who have to deal with the pain of loss and the lack of closure that families experience if they have no idea what happened to the person who went missing.
"[The] day is dedicated specifically to men and women whose bodies have been recovered but are unidentified and families who have missing loved ones yet have no idea if their loved ones are still alive or have come across harm's way in some manner that lost that life."
Penzone said the National Missing and Unidentified Person System calls missing people the nation's silent mass disaster. Nationwide there are 600,000 reported missing people annually.
New to the Missing in Arizona effort this year is coordination with Arizona's Native American nations to assist in locating missing persons on tribal and adjacent lands. The Sheriff's Office said the issues of missing Native people has been elevated in recent years to improve coordination and follow up.
In Arizona, Penzone said 2,000 people have been reported missing with an additional 1,500 unidentified remains. Those numbers include people reported missing from tribal communities.
"Just imagine what it would be like to be a loved one who is disconnected from a family member for unknown reasons and having no information on their whereabouts or well-being," Penzone said. "This is an opportunity for us to address that issue."
Homicide Detective Tony Rodarte said the definition for a missing person is someone who is gone and missing for weeks, months and years.
"This is not designed for the habitual runaway," he said. "This is for people who truly have not had any contact with family, family does not know what's going on and they are just completely unaccounted for."
Rodarte said they encourage people to go to their local authority to make a report.
"But there are some people who just are not going to go to a police station, they just don't feel comfortable, they are just not going to make that initial report," Rodarte said. "For those people, we will accommodate them and we will reach out to where we believe the authority lies from where the person is reported missing from. We will navigate those conversations."
Rodarte has reached out to Navajo and Hopi law enforcement in recent weeks, among others, to help facilitate awareness of Missing in Arizona Day, facilitate training where needed and to help with cases that tribal law enforcement may already be working on.
"Just really trying to build this relationship and these partnerships with the tribal communities," Rodarte said. "It's so, so important."
Rodarte met with Hopi law enforcement in Peach Springs, Arizona and is meeting with Navajo Nation police officials this week.
"It is going to be great to bridge the gap in communication and networking," Rodarte said. "It's pretty exciting."
One of the tools Rodarte emphasized is NAMUS (National Missing and Unidentified Persons System), www.namus.gov, which is available to both law enforcement and civilians, a tool police in the Valley use. NAMUS provides free DNA for law enforcement on missing person and unidentified human remain cases.
"That's a service that has been underutilized on the tribal communities and we want to bring them up to speed on that," Rodarte said. "That is something I will be sharing next week when we come up. It's so important and it is a great investigative tool. We use it all the time. We want to make sure our tribal friends are aware of it, too, and that they can also use those services."
Penzone stressed that though there is a Missing in Arizona Day, it is an everyday issue that affects the Sheriff's Office and the other investigators who are coming together to bring the information to the community. The hope is that families who have a missing person will come forward to share DNA if they are a biological relative to help identify some of the unidentified remains the Sheriff's Office already has recovered.
Maricopa County Sheriff's Office Homicide Detective John Little said beyond the numbers of the 2,000 people missing and the 1,500 unidentified remains in the medical examiner's office is the real impact.
"More importantly, each one of those represents a family, a family who is missing someone [who is] important to them, a family that's without a mother, without a father, without a husband, without a wife," Little said.
Little said the Missing in Arizona Day event is intended to offer a one stop shop for families with a multi-disciplinary approach — it is many law enforcement agencies and medical examiner's offices. There will be counseling services with La Frontera EMPACT in both English and Spanish as well as a group for children. The Sheriff's Office has partnered with the Mexican Consulate and several South American countries and non-governmental agencies like Humane Borders and Border Action Network.
"On Oct. 21, we encourage all families to come out and spend some time at our event," Little said. "There will be investigators on hand to take their information and to take their report. We'll be there to gather and collect all the documents that they can bring us that can shed light on their missing person."
Missing in Arizona Day is held at a neutral non-law enforcement location to ensure participants that the sole objective is to learn more about the missing. Those attending are offered a private meeting with an investigator and support staff to guide them through the process of filing missing person reports.
Little emphasized they are not concerned with the circumstances but they are only concerned with the fact that the family is missing someone who is important to them.
"And we will honor the commitment to do our very best to try to reconnect it," Little said. "We won't always be successful, we know that, but we will give every effort that we possibly can to make sure these families get the attention they deserve."
Over the past two years, Missing in Arizona has led to 14 case resolutions with half of the missing people found alive.
The Missing in Arizona Day will end with a candle lighting vigil for the missing at 3 p.m. to honor those who have yet to come home.
SUBMIT FEEDBACK
Click Below to:
More like this story