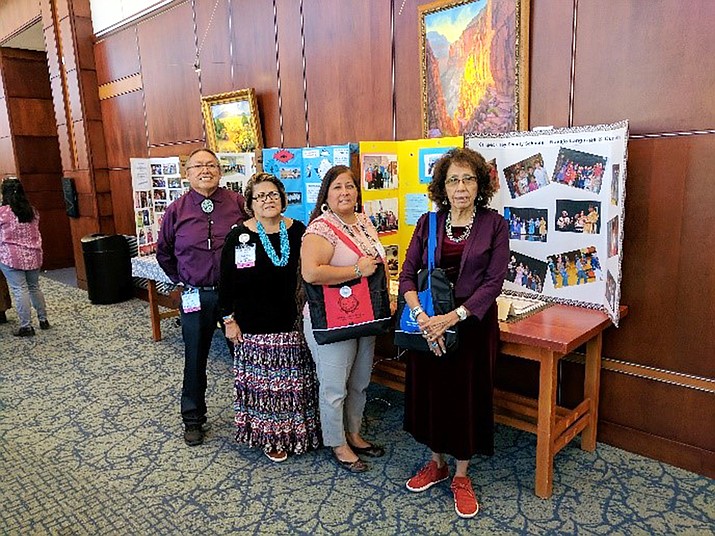 Originally Published: October 3, 2017 11:33 a.m.
FLAGSTAFF, Ariz. — Educators and parents from across the Navajo Nation convened in Flagstaff for the 5th annual Johnson-O'Malley (JOM) Subcontractors Conference. The conference was held in the High Country Conference Center at Northern Arizona University.

Johnson-O'Malley is a federally funded program that supplements regular standard educational programs to address the unique needs of Native American students. The Navajo Nation, through the Department of Diné Education, contracts the program from the Bureau of Indian Affairs. The Nation then sub-contracts services with individual schools and districts, serving Navajo students, within the states of Arizona, New Mexico and Utah.
The explicit vision of the program is for Navajo students to attain proficiency in the Navajo and English languages, to maintain a balanced Hozho and to prosper in an independent, sovereign nation.
Some of the programs available, with JOM financial support, include: at risk counseling; bilingual teaching assistants; tutoring; home school liaisons; summer schools; Native curriculum development; and Native language, culture, history and government.
The programs are implemented with active parental involvement through local Indian education committees.
"The theme of our conference this year was Growing With Our Teachings," said Eleanor Thomas, program manager, for the Navajo Nation's Johnson-O'Malley Program. "We addressed some important issues such as updated information on the JOM Program and on language, culture and history, which affects Navajo life. Providing technical assistance to parents is one of our most important tasks."
Other presentations included training for the Indian education committee members; processing requisitions in a timely manner; traditional good health practices; substance abuse, strategies for making writing fun, suicide awareness, program accountability, assessment of Navajo language and culture programs and creating a positive learning environment in schools.
The Honorable Rex Lee Jim, former Vice President of the Navajo Nation, served as a guest speaker for the conference. He also conducted a writing workshop on rhetorical sovereignty that calls for building upon the history and cultural values that the children bring to school.
"Our Navajo students need not be treated as empty vessels when they arrive at the school house door," Jim said. "There is no need to stuff their heads with someone else's history of the Navajos when they can be reading and writing their own stories."
Rhetorical sovereignty encourages students to write about their own history and values. Jim's writing workshop empowers students to develop their own voices and create stories based on their unique experiences and imagination as Navajos.