Protect the Peaks takes action as Snowbowl opens for season
Originally Published: November 28, 2017 10:36 a.m.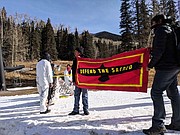 FLAGSTAFF, Ariz. — More than a dozen sacred sites protectors confronted Snowbowl employees and recreationists with a "quarantine" action in hazmat suits, with banners, caution tape, and chanting "No Desecration for Recreation" as Snowbowl opened Nov. 21.
After being forced to delay its opening day twice because of lack of natural snowfall, the ski area opened one lift and one run to sparse attendance with snow made from millions of gallons of 100 percent treated sewage.
The protestors initially blocked a section of the ski run, but moved as law enforcement agents threatened arrest.
Six law enforcement vehicles followed the resisters as they made their way from the upper lot through a construction area.
Snowbowl has long been controversial because of its presence on the San Francisco Peaks, which are held holy by more than 13 indigenous nations. The ski area operates under a special use permit on public lands managed by the U.S. Forest Service. For decades it has been subject to multiple lawsuits that have shaped legal precedent for indigenous religious freedom.
"Even though I knew about the treated sewage used to make the snow at Snowbowl, I was shocked when I looked at the snow and saw this yellow tinge, I thought my eyes were deceiving me, or maybe a dog had peed in the snow," said Crystal Zevon. "But, I looked further, and sure enough, that snow has a yellow tint when the sun hits it. I grew up skiing in Colorado, and I've never seen anything like it."
One of the protestors, Maile Hampton, said Snowbowl opening with sewage water on the mountain was a clear example of continued colonialism.
"What's happening is Dook'o'oosłiid, a sacred mountain to many indigenous peoples in this area, is being desecrated by this Snowbowl company," Hampton said. "These capitalists continue to come in and tear down all the trees and build this snow resort. Not only that, but they fill it with 100 percent reclaimed sewage water. Would you want someone to dump literal sewer water onto your church lawn?"
Hampton said she and others will continue to stand up and do anything they can to draw attention to the issue until they wipe out Snowbowl as a whole.
"This mountain is a church for indigenous people," Hampton said. "This mountain is sacred. This cannot continue to happen. This company is literally desecrating this sacred mountain for pure profit and recreation. Boycott Snowbowl."
Mary Begay said the amount of disrespect for the land and all the people who inhabit it is disgusting. She said speaking to the employees and patrons of Snowbowl showed they only cared about recreation.
"They were mocking us and being openly sexist and racist," Mary Begay said. "Some patrons tried to eat the treated sewage effluent with pharmaceutical drugs and hormones in it to prove a point only to spit it out immediately in our direction. We were there in a prayerful way to stop this destruction and desecration of our water, of our ecosystems and of our humanity."
Scott Begay said Snowbowl patrons do not have the highest moral standard and they show no respect for those who wish to protest peacefully.
"If the Snowbowl patrons showed this amount of disrespect on the opening day, I cannot imagine the rest of the year," Scott Begay said. "Snowbowl allows and condones this vulgar display of colonialism, and something needs to be done about it."
Dustin Wero said the protestors were there to stop the desecration of their sacred mountain, where prayers and ceremonies are held.
"Being Diné, our instinct is defend the sacred," Wero said.
Klee Benally, a volunteer with Protect the Peaks, said Snowbowl's opening and the threat of arrest for trespassing was another reminder that Native people do not have religious freedom as indigenous people in their own lands.
"Think about this with your families as you prepare to celebrate so-called 'Thanks Giving': the US Forest Service, Snowbowl, and city of Flagstaff are perpetuating the cultural genocide of indigenous peoples for a few dollars," Benally said. "The struggles to protect our sacred places and precious water are not over until our cultures are over. We will not allow that to happen."
More information is available at www.protectthepeaks.org.
SUBMIT FEEDBACK
Click Below to:
More like this story