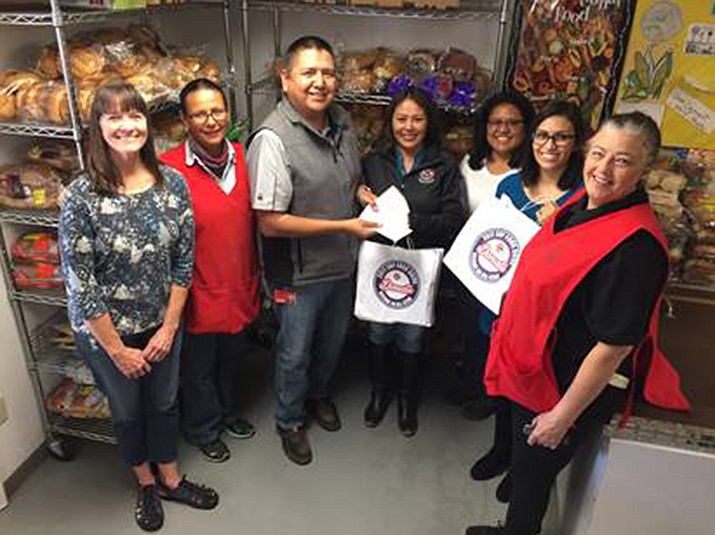 Originally Published: November 28, 2017 10:43 a.m.
PAGE, Ariz. — Navajo Generating Station employees dug deeper this year to surpass more than two decades of giving back to the community with an $11,000 contribution to the Circle of Page Food Pantry food bank.
Earlier this month, NGS contributed $2,000 to the Page Elks Lodge for its annual Thanksgiving turkey program, which provides those less fortunate with a complete holiday dinner.
The Elks Lodge put its donation toward the purchase of hundreds of turkeys, as it has for 31 years.
"Salt River Project has a tradition of giving back to the community," said Regina Haycock of NGS community relations. "We do this every single year. We started supporting the local food bank when it came into existence." 
This year's NGS donations totaled $13,000 in cash and 787 in canned goods and other items.
Connie Tkalcevic, Circle of Page treasurer and emergency services coordinator, said the NGS donation will continue its mission of selfless giving and providing nourishment. 
"We're all about feeding people, whether it's the kids at school or people in the community," Tkalcevic said. "The soup kitchen, that's a lot of what the Circle of Page does. Emergency Services helps with whatever emergencies people might have as well."
Tkalcevic said $3,000 of the NGS donation will be used for the Page Schools backpack program, which gives students a backpack full of school supplies — another thriving and valuable community program supported entirely through donations.
She said all of the workers at the Food Pantry are volunteers and all of its operating expenses and food items are donated. 
NGS and the Faith Bible Church are the two largest funders, Tkalcevic said. St. David's Church contributes the space for the food bank, soup kitchen, office supplies and utilities.
Holding on to its consistent record, the NGS Railroad & Heavy Equipment Dept., led by food drive coordinator and Railroad Supervisor Raymond John, once again gathered the most donations with $5,124. Each year, railroad competes with the Maintenance, Operations and Cost/Environmental/Engineering and HR departments. 
More information about donating or volunteering is available by calling the Circle of Page Food Bank at (928) 645-9533.