Hopi High students learn about dangers of alcohol during Youth Summit
Originally Published: November 28, 2017 10:55 a.m.
POLACCA, Ariz. — The Hopi Jr/Sr High School Youth Summit educated students about drug and alcohol abuse, Hopi culture and college scholarships Nov. 20 at the school.
The session "Drinking: What's the Worse that could happen?" led by Shawn Namoki and Brian Humetewa, was an eye opener.
For Namoki, the worst that happened was that he drove drunk, lost his arm in a car wreck and his brother was seriously injured in a car accident Sept. 9, 2004.
"Drinking was involved in everything I did back then," he said. "My first mistake was to jump into the car drunk. We drank almost all night. I didn't put on my seat belt."
Namoki said at one point he stepped on the gas instead of the brakes and his brand new truck went tumbling. He said the last tumble took his arm. He remembers a hot burning pain. He went to reach for his arm and there was nothing there.
"Everything happened so quick. I was in a state of shock," he said.
After Namoki asked the medics to look for his arm, he found out his brother had fallen off the truck. He said it was lucky that his brother did not die. If his brother had died, Namoki would have been charged with manslaughter. His brother's jaw was broken and he now has a metal plate in both his jaw and his arm.
"I couldn't live with myself if my brother looked like I do," Namoki said about his missing arm. "They put me on a helicopter and I asked them if they found my arm."
The medics told Namoki they found his arm, but the doctors later told him they could not reattach it. Namoki said he felt like his life was over at the time. Doctors gave him a prosthetic, but he's only worn it three or four times because he feels it's too heavy. He has had to learn to do everything with just one arm.
"This can happen to you if you use alcohol or drugs," he told the students.
Namoki said teenagers think it cannot happen to them — he did not think it would happen to him.
"It nearly cost me my life," he said. "That accident took me to a place I didn't think I could come back from."
Namoki started drinking in high school. He said he missed out on scholarships and joining the Navy because of his alcoholism.
"The accident changed my way of thinking. I hope you make better decisions," he said.
Namoki reminded students that drinking is illegal on the reservation. He also criticized parents who drink.
"This is infecting our youth when they should be the ones encouraging them not to do it," he said.
Namoki said he doesn't like attending basket dances because that is when the drunks show up. He said this is disrespectful of those performing prayers for the basket dance.
Lost opportunities because of drugs and alcohol
Brian Humetewa, who went to high school in Phoenix, used marijuana, drank alcohol, smoked crack cocaine and smoked meth. He was never at home with family because he said he would rather be at the bar.
"Nobody could tell me what to do or how to act because it was my life," he said. "I was so good at getting high I lost two years of my life."
He said there were two years he does not remember.
Humetewa said he could have had a baseball or art scholarships, but at that time he was happier smoking weed or drinking alcohol. It was a tough lesson to learn as most of the people he hung out with are now either in prison or are dead.
"When I quit drinking, I found out I was diabetic," he said. "I didn't lose my arm, but I lost my self-respect. I lost my spirituality. I paid a price."
Humetewa said he has to take medications for diabetes, high blood pressure and high blood sugar, all of which were a result of drinking
Because of his lifestyle, he ended up homeless at one point.
Humetewa said when he was a senior in high school, he would pick on freshmen to do his homework because that's who he was back then.
"The worst that can happen if you don't take care of yourself is you could have legs or feet amputated," he said.
Humetewa said if this happened to him and he couldn't participate in ceremonies he would be heartbroken.
Humetewa told students to be grateful for their lives even if it's not perfect or what they want. He urged them to think about what they want to do after high school. Humetewa said one of them could make a difference for other people.
"There's another world out there," he said.
Kyle Knox shares struggles of urban Natives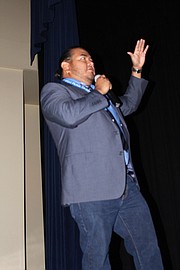 Kyle Knox, former program director for the Hopi Opportunity Youth Initiative (HOYI), kicked off the summit as the keynote speaker.
Knox grew up in the Phoenix area and went to a high school with no other Native Americans. There was nobody with the same religion or ideology there.
"So consider yourself lucky," he said.
Knox said he was an urban Native, but he had ties to his people and would come home often to plant. At the high school, his classmates would call him "Indio," which meant dark skin, dirty and not smart.
Aside from the different cultures, Knox also spoke about the differences when he was in high school and now. In his day, students would pass notes, but now they text each other.
"Be a good friend, be a good human and find someone who can get you a job," he said. "Harness your experiences."
In 2013, Knox visited Washington D.C., U.S. Sen. Harry Reid was holding a ceremony to honor the Hopi Code Talkers. Knox met with a Reid staff member and asked: "Can I get in?"
At first the staffer looked at Knox as if he was crazy. But said he would see what he could do. Knox later received an invite from Reid to attend.
Knox said he remembers former Hopi Tribal Chairman Leroy Shingoitewa accepting the medal for the Hopi Code Talkers.
"For me to be there was great," Knox said.
Knox encouraged students to pursue their dreams and not be intimidated by things that appear bigger than they are.
Knox said education and networking is important.
He left his job with HOYI last year and moved to the Phoenix area to help raise his niece and nephew who do not have a father who is present due to alchol problems.

Knox told students to "aspire for our best." He emphasized that they should use "our" instead of "me" with the intent of helping people.
Justin Secakuku shares what it means to be Hopi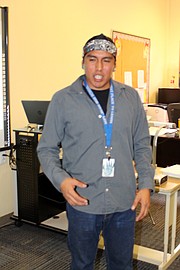 Justin Secakuku, led a session on "What is a Hopi?" He asked what Hopi life will be like 10 years from now.
"I am trying to hold it together for you," he said.
Secakuku, who is a teacher at Second Mesa Day School and a graduate from Hopi High, asked whether Hopi will still have its language in 2045. He said the Hopi language is important because it is needed for songs and prayers.
Secakuku said Hopi is unique because unlike many tribes, the Hopi have held onto their culture.
Clark Tenakhongva, who was recently elected vice chairman, led a session about "Why Should I Learn My Language?"
Tenakhongva said there are many resources to help students learn their language. He said the first one is listening when people speak their language. He said students can use technology by audio recordings of their elders and relatives when they speak Hopi. He also said they will learn the language by participating in cultural activities.
Tenakhongva said students can listen to KUYI radio to learn Hopi or KTNN radio to learn Navajo.
He also urged the students not to be thick skinned. For example, if someone laughs at them for saying words wrong they should just reply: "I'm trying; I'm learning."
Preparing for the future
In addition to the guest speakers, Cecilia Shortman and Danielle Romeyn led sessions about college, careers and ways students could pay for college.
Romeyn told the students to select something where they will be contributing to society. She said when they think about careers they should be looking at salaries that will pay for their housing and transportation — and kids if they want to have a family.
Romeyn had students go through the Arizona Career Information System on computers to see what careers might be right for them.
Additionally, Debra Baker led a session about bullying.
"We learned the power of positive words," she said. "Everyone find someone you don't know and say something kind to them."
SUBMIT FEEDBACK
Click Below to: