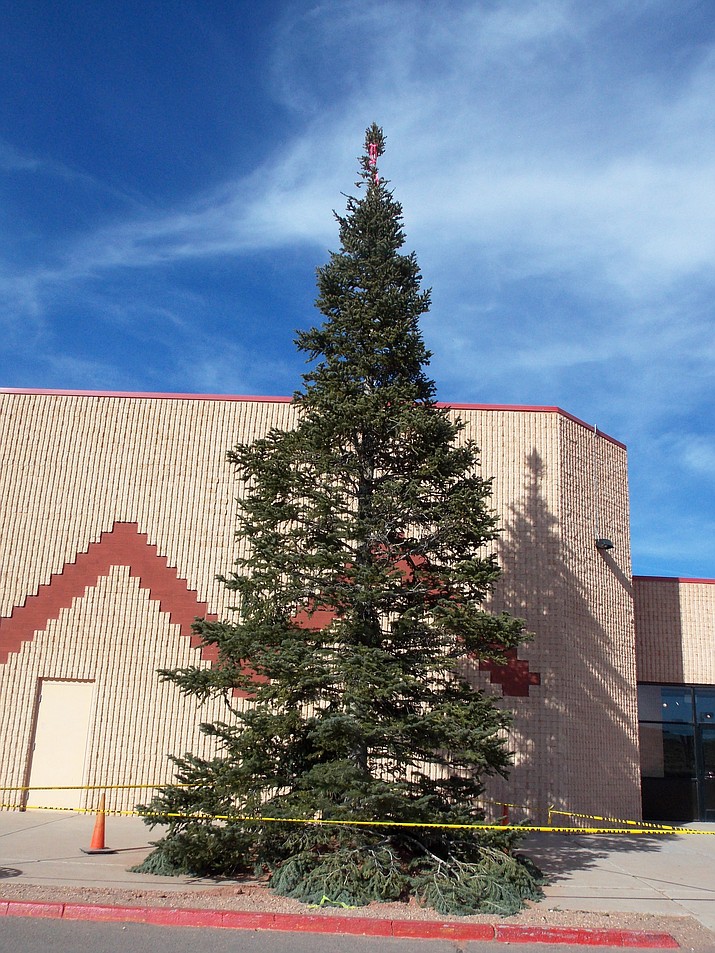 Originally Published: November 28, 2017 10:45 a.m.
TUBA CITY, Ariz. — The Tuba City community Christmas tree, which is forty-five feet high, was set up at Tuba City Bashas' grocery store for the holiday season. The tree came from eastern Navajo at the Chuska Mountains last week.
The community tree, which is mobile, was sponsored by local businesses and hauled by community member Justin Begaye.
The tree was then set up by Navajo Tribal Utility Authority (NTUA) workers planted into the ground. Later, in December, the tree will be taken down by the same NTUA crew.

The ponderosa pine tree was selected by the volunteer committee and cut by Navajo Forestry workers.

The tree was given a special Navajo blessing before it was taken from the Chuska Mountains for delivery to Tuba City. When the season is over, the tree will be taken back to the same area at Chuska and blessed again.
Last year's community tree, which was 56-feet high, was set up at the Hogan Restaurant and Babbitt's Trading Post, but because of a huge public turnout for the formal lighting event last year, with no public parking, the committee thought it would be safer to have the tree planted in a public area that could hold more parking and accommodate more visitors.
The lighting ceremony Dec. 1 at 6 p.m. will also feature the Coca -Cola Bear mascot and Ronald McDonald from the local McDonalds and also will serve as host to royalty from all the various local organizations including the Hopi areas, local schools and western Navajo Veterans organization. Free hot chocolate and cookies will be served.
Anita Butler, assistant manager of the Tuba City Bashas,' said she was excited to see the new decorations purchased by Bashas' to go with the older ornaments that have come with the traveling, community tree.
"We just saw the new boxes of big ornaments for this tree and they are so pretty," Butler said.
Butler and Sarra Semallee, the manager of Tuba City Bashas', have posters up all over the Navajo Shopping Center and in Tuba City to advertise the free family event Dec. 1
"We are so happy at our Tuba City Bashas' store to be sponsoring this tree this year for our Navajo and Hopi neighboring community," Semallee said. "I hope everyone comes out to see this tree and help us celebrate the Christmas season."
This year's theme for the community Christmas tree is "Unity" according to Arnold Maryboy, who is a local veteran and law enforcement worker.

Maryboy has headed up the volunteer committee to sponsor this community tree for the past couple of years.
"With all that has gone on lately in this country, we are all so divided over politics and ideas….we just really want our Navajo and Hopi communities to be thinking about one another, helping one another, taking care of one another, that's how our elders raised us," Maryboy said. "This tree is for all of us."
Sponsoring organizations for this year's Christmas tree are Kentucky Fried Chicken-Tuba City, Navajo Tribal Utility Authority, Office of Dine' Youth, Tuba City Bashas, Navajo Shopping Center-Tuba City, Navajo Hospitality and HOGAN Restaurant, local Coke Corporation, Flagstaff GMC and Wells Fargo-Tuba City.
More like this story