Walk-A-Thon helps students meet walking/running goals at Washington Elementary
Originally Published: November 21, 2017 10:25 a.m.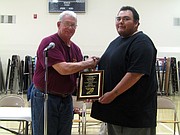 WINSLOW, Ariz. — On Oct., 27, Washington Elementary School held its 10th annual Walk-A-Thon at the Winslow High School football field.
Donations were collected to benefit the school's positive enrichment programs and students walked/ran to meet their walking goals. Washington School is beyond thankful for the donations and contributions from local businesses and organizations.
For the past 10 years, without hesitation, Winslow Indian Health Care Center (WIHCC) and D.J. Doyle Chapella have attended and given 100 percent support at each Walk-A-Thon event. WIHCC provides booths for health promotion and prevention and Chapella has provided music and entertainment for the event. WIHCC and Doyle were honored with a plaque for their 10 years of dedication to Washington Elementary School's Walk-A-Thon.
At the Walk-A-Thon Assembly Nov. 9, students were also awarded prizes for top donation collections, top walker/runners, and consolation prizes. The school said students are without a doubt a huge reason for the great success of the Washington Elementary School Walk-A-Thon.

Washington School is beyond grateful for the commitment and devotion of the community, students, parents and staff over the last 10 years.

SUBMIT FEEDBACK
Click Below to:
More like this story