It's "Diné Bí Ná'álkid Time"
Navajo puppet television show wants to make Navajo language accessible for younger children
Originally Published: November 21, 2017 10 a.m.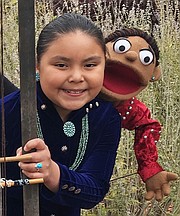 ALBUQUERQUE, N.M. — Filming started in November for "Diné Bí Ná'álkid Time ("Navajo Movie Time")," the first-ever educational Navajo and English puppet television show created for all ages who want to learn the Navajo language.
The puppet show will feature three characters: Nanabah, a young girl, Gáh, rabbit and Dlǫ̀ǫ̀, a prairie dog that will go on endless adventures learning about language, culture and the importance of family values.
Nanabah is fluent in Navajo and likes to teach children about life on the reservation with her animal friends and special guests. She enjoys gardening, weaving, helping her family and protecting the environment. Children will also be an important part of the show and will interact with the puppets and storyline. The pilot features first-time Navajo actors Tehya Begay, 8; Gavin Wright, 7, and his older brother Damek Wright, 11.
Nanabah makes it fun for kids to try and say Navajo words correctly. Numbers, letters, colors, shapes and the concept of K'e will also be introduced, along with simple concepts of the clan system and important places and landmarks that are important to the Navajo people.
"In my research it was explained to me that talking animals can be considered taboo by some and the only time animals talk was in the creation stories — where they spoke Navajo," said Project Director Shawna Begay. "The show may talk about some very basic concepts of the creation stories, coyote stories, skunk stories and more."
The characters were developed by Begay and co-writer and executive producer Charmaine Jackson. For the pilot shooting, the team had the support of Navajo KOB 4 News Anchor Colton Shone.
"[With] our team of Navajo artists, filmmakers, family and friends, this video pilot is a huge first step," Jackson said. "Our journey has just begun and the next step is to gather funding support to create a whole new puppet series."
Team member and puppet creator Jason Barnes said the scope of the project was very narrow and specific, so the puppet design was fairly easy.
"I first started with concept drawings of the characters based on the script or outline and once the final concepts were completed, I moved on to the fabrication of the puppets," Barnes said. "For the fabrication process, I relied heavily on my mother, Virginia Barnes, to help with the sewing, since she is an expert seamstress."
The video pilot — a 35-45 second video sample of the show — will be used to raise money with a GoFundMe page at https://www.gofundme.com/dine-bi-naalkid-time to help create a series of 10-15 minute episodes and build more puppet characters. Naalkid Productions estimates each show will cost about $20,000 to $30,000 to produce, develop more puppet characters, market for television, hire voice/talent, film crew, rent camera equipment and pay for many other production costs.
"With funding, we hope to develop other characters such as a sheep, a male boy, coyote, ground hog and many other animals that were present in creation stories," Begay said. "Also, common animals you see on the reservation."
The show is geared toward preschool — aged kids (4 to 6 years old) and uses natural settings, and may use some animation as well.
"It is my goal to involve as much Navajo talent in front of and behind the camera as possible, because this show will be from the Navajo point of view instead of the western way of teaching," Begay said.
Begay said one of the inspirations for the project was her own background. She never learned Navajo when she was younger and it was not until she was older that she realized how valuable the language is to the livelihood of the Navajo Nation.
The stereotypical images of Native Americans on screen also influenced what people thought of her — that she lived in a teepee or wore a headdress. It was those experiences that influenced Begay's decision to get involved in film work and eventually why she decided she wanted to leverage educational media for language revitalization.
"Language develops at birth and as a child I wish I would have been taught the Navajo language," Begay said. "I remembered watching "Sesame Street" at that young age and learned my English letters and numbers. It occurred to me, what if I had access to a Navajo "Sesame Street" or a show that was in the Navajo language — would I have been more inspired and motivated to learn the language when I had access to it with my grandparents?"
Begay said she thought about just approaching PBS and "Sesame Street" and asking to dub the shows into Navajo, but discarded that idea because she felt it was too easy.
"I realized I needed to decolonize "Sesame Street," Begay said. "Don't get me wrong, I am not saying that "Sesame Street" is bad, but it perpetuates western thinking and learning objectives. As Navajo people, we have our own learning objectives and Navajo way of knowing, which are completely different from Euro-western schooling. And so, I had to develop our own curriculum guide that is meant to teach Navajo through media."
Begay said using technology to teach kids is an easy jump today, when kids are on cell phones, tablets and watching television and it is an easy medium to use to reach children.
"There are many studies out there that show television teaches many different concepts," Begay said. "I see Navajo children walking around the reservation counting in Spanish because they watch "Dora the Explorer." So, why can't we have a Navajo show that teaches Navajo language, numbers and concepts?"
Begay said media will never take the place of teachers or teaching, but media can be a tool to inspire, to get the dialogue going and to have a time where parents and children can learn together.  
Ronalda Warito-Tome, who is the mother of Shaandiin Tome, from Mud Films and cinematographer for the project, had some experience with puppets and brought Nanabah to life during the pilot shoot.
"I forgot Ronalda was even holding the puppet and controlling her every move," Begay said. "I was amazed at how natural she made Nanabah move. She was the only puppeteer we hired and she did wonders for Nanabah."
Rabbit and Prairie Dog were on set as well, and Begay had others control the puppets during different segments. Adam Chess, a film actor, was one of the puppeteers. And the B-camera operator was Dale Waseta.
"It takes a lot of skills and talent to be a puppeteer," Begay said. "This is a job we will need to hire in the future for more of our puppets. It is not an easy job. We need people who can control the puppets and create the voices to go along with them is going to be a major need in the future when this show is in production."
Begay said while little research exists in the area of indigenous educational media, media itself is a powerful tool that can be used to teach, especially in the digital age.
""Navajo Star Wars" and "Navajo Finding Nemo" were a great start and it has been great to get exposure of the Navajo language," Begay said. "However, we need a show based on the Navajo way of knowing and that teaches our very own Navajo learning principles our ancestors set out for us to learn and live by. I don't think a non-Navajo or non-indigenous person can do that for us, nor should they. We, as Navajo people, need to produce this show ourselves, for ourselves, if we are truly sovereign."
More information is available by calling Naalkid Productions at (505) 231-0383 or via email at naalkidproducer@gmail.com.
SUBMIT FEEDBACK
Click Below to: