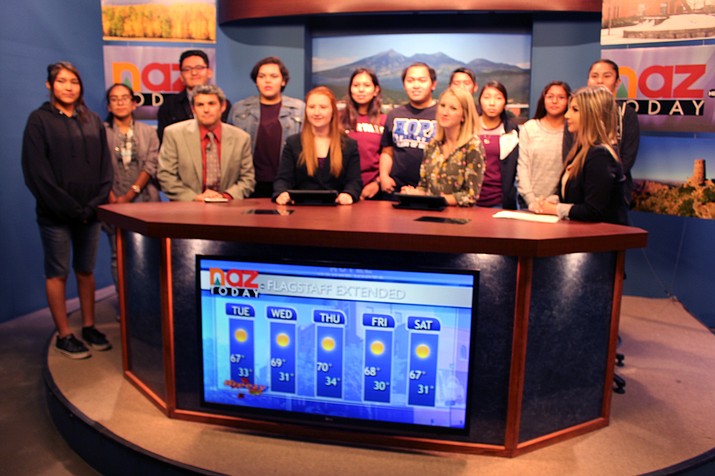 Originally Published: November 21, 2017 10:03 a.m.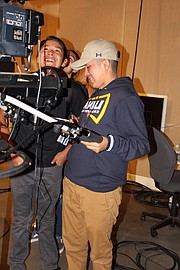 FLAGSTAFF, Ariz. — Eleven Hopi High media students recently visited Northern Arizona University's communications center as they visited a Virtual Reality room, watched the NAZ TV newscast and learned about NAU's media programs.
In virtual reality, students put on glasses or headgear that makes them feel like they are in the reality they are watching. The other students in the room get to watch how the students respond.
Victor Brown, a video student at Hopi High, said the Virtual Reality was crazy.
"It blew my mind," he said.
Hailey Kardell, another video student at Hopi High, said the virtual reality was an unexpected surprise.
"I feel that Virtual Reality could be a big part of the future, especially since they are trying to make 3D simulations for science," she said.
Amber Labahe, also a video student at Hopi High, said the virtual reality was amazing.
"I felt like I was actually in the place it showed me," she said.
Ellyse Fredericks, a print journalism student at Hopi High, said she heard about virtual reality and wanted to experience video games in a more realistic way.
"After I tried the virtual reality for the first time, it was the greatest experience of my life. I would definitely want a VR for myself," she said. "I enjoyed trying the virtual reality because every detail in the headset seemed real. I felt like I was in a simulation."
Elisa Casarez, editor of the Hopi High Bruin Times, said the virtual reality was cool because you can make video games or explore the earth in 3D.
"Virtual reality is going to be the future. But I don't think I can use it often since I get motion sickness easily," she said.
Gabriel Fredericks, a Hopi High video student, said virtual reality is interesting because it is another way to tell a story.
"I feel it is the future and amazing for the world of journalism," he said.
Sean Bolus, radio editor for the Hopi High Teen Show, said the virtual reality was cool and neat, but he was more interested in NAU's radio program.
"Their radio program is great and I would actually like to work or volunteer there," he said.
Traci Nahsonhoya, another radio student at Hopi High, said the virtual reality was cool, but made her sick. She also preferred seeing the NAU radio station.
"I thought it was cool how students get hands-on experience," she said.
Nahsonhoya said Brian Rackham, director of NAU's Media Innovation Center, did a good job of explaining how everything works.
Rackham talked to the Hopi High students about the Media Innovation Center, telling them the work is by students and for students. He said the students also create podcasts. He said the possibilities for the different forms of media is great. He said the center is training students for jobs whether it's as journalists or filmmakers.
"The goal is to give you a taste of what you want to do (with media)," he said.
Rackham said journalists need several skills.
The Hopi High media students watched NAU's NAZ TV newscast, which is mostly performed by NAU students and goes out over cable TV. The Hopi High media students were invited onto the set to say goodnight to everyone watching.
Ellyse Fredericks said the NAZ TV broadcast was another great experience.
"I always wondered what it feels like to be on the news. Being on the news is a lot of work because you can't be shy. You have to look professional and you can't mess up your lines. My favorite part was using the green screen (they use for the weather)," she said. "I experienced what it's like to be on the news by touring the control room."
LaBahe said the NAZ TV newscast made her think about the future and what she could be doing when she becomes a journalist. She said the tour of NAU made her want to consider going there.
"The students dedicate their time and effort to put stories together. That part made me realize if I want to partake in a certain field that I have to stick with it instead of joining too many at once," she said.
Fredericks said he loved the NAZ TV newscast because everyone acted professionally, but were able to enjoy themselves.
"The entire show went by smoothly and only minor hiccups," he said.
Fredericks said the trip to NAU gave him insight into his possible career choices in journalism.
"I was able to learn a lot more about the future of journalism and other ways to show people's stories. I loved the trip and it inspired me to pursue better writing and focus on my future," he said.
Bolus said the newscast for NAZ was interesting because he had never seen how news was created.
"That was great to see," he said. "I thought one of the newscasters spoke way too fast. I also finally found how the weather guy utilizes the green screen. I actually also wanted to see how the behind the scenes people did the timing of when to cue the newscast."
Nahsonhoya said it was nice to see the TV news broadcast live.
"You get to experience what happens behind the scenes of a live TV show," she said.
Lakota Lomakema, a radio student at Hopi High, said the TV newscast was cool because at the end of the show they were part of the broadcast.
"We said good night and the experience was unbelievable," she said.
Kardell said the NAZ TV broadcast was cool.
"It's a good place to start when you want to be a part of a TV broadcast crew," she said.
Brown said the newscast was splendid.
"They did a fine job," he said. "I learned so much."
Casarez said the TV newscast was nice.
"It was different from last year and I learned a bit more from their broadcast. I think seeing the students report made me respect news broadcast just a little more," she said. "It felt weird to be on the broadcast though."