First Starbucks on Navajo Nation opens in Window Rock
Window Rock store features Navajo artwork, organic food selection
Originally Published: November 14, 2017 10:17 a.m.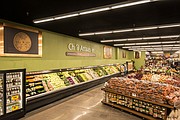 WINDOW ROCK, Ariz. — Bashas' Diné Market in Window Rock is now home to the first Starbucks on the Navajo Nation. With a warm Yá'át'ééh, the market opened the doors to its newly-remodeled store in Nov. 8.

Starbucks Manager Sasha Gilmore is fluent in Navajo, and her team is busy serving customized creations from the iconic coffee brand for the Navajo Nation's coffee and tea aficionados.
The store celebrated its opening with a blessing and remarks from Navajo Nation Vice President Jonathan Nez, and a performance from Roxyanne Harvey, a traditional Navajo singer.
"From the moment shoppers step through the doors, they are welcomed by the new look and feel of the store," said Corrine Mitchell, Bashas' Window Rock Store Director and member of the Navajo Nation. "Our goal was not only to honor the community through traditional Navajo décor, colors, signage, and local artwork, but deliver a larger selection of healthy, easy-to-identify food options."
 During the opening, the store distributed free fruits and vegetables to shoppers, and gave out samples of coconut water.  
"Window Rock's newly-remodeled Bashas' Diné Market is a testament to our company's commitment to serve the people of the Navajo Nation," said Johnny Basha, Senior Vice President of Special Projects for Bashas' Family of Stores. "We continually work with Navajo Nation leadership and local organizations to bring new ideas and offerings to our stores. We are especially proud of the store's expanded selection of healthy food options, and our new Diné Healthy program."
The remodeled Diné Market in Window Rock has a wide variety of nutritious and convenient foods for shoppers who want to make healthier food choices. Organic and healthy food items have been added throughout the store. In addition, "Diné Healthy" shelf-tags and aisle signage is designed to help shoppers easily identify better-for-you foods, so they can ultimately make healthier food decisions. Many of these healthy food items are located in prime locations at the center and front of the store. The store will also feature a new energy bar section, an organic snack area and a bigger variety of teas and healthy drinks.  
In addition, the store's Deli Department has new deli steam tables loaded with fresh, home cooked meal options; open deli cases; more ovens; and an increased selection of healthy food offerings.
Additionally, the new wall deli cases hold a variety of new items, including everything from cold cuts and cheeses to dips and spreads. Shoppers may also notice a new warmer display for rotisserie chickens, turkey, meatloaf, cooked mutton and pork.
Shoppers will also experience a remodeled Meat Department, with greatly expanded meat, pork and chicken offerings. The store will also grill mutton and hamburgers on the weekends, which will be available fresh in the Deli.
Similarly, the store's Produce Department has expanded to include new wet racks and dry cases, which allows shoppers access a larger variety of fruits and vegetables, including organic options.
Bashas' Diné Market has renovated its Frozen Foods Department, which features new door cases and a variety of frozen meat options, and frozen foods for breakfast, lunch and dinner. The Bakery also has some updated features, including new cases.
Reinforcing Bashas' commitment to the community, the Diné Market in Window Rock now prominently displays 21 pieces of art from local Navajo artists. Featured artists include: Baje Whitethorne, a Reed clan member who is known for colorful landscapes depicting the Navajo Reservation, as well as portraits of his people; Larry Yazzie, whose sculpture works of women symbolizing strength are highly sought after by collectors; and trailblazer artist Oreland Joe, whose work captures his Ute and Navajo heritage.
Dine Market history
Bashas' is one of very few non-Native-American retailers with stores on the Navajo Nation. In 1982, Bashas' opened its first reservation store in Chinle, followed by Tuba City in 1983, Kayenta in 1985, Window Rock in 1989, Crownpoint, New Mexico in 1990, Pinon in 1993, and Dilkon in 2002. An eighth store in Sanders is anticipated to open in 2018.
SUBMIT FEEDBACK
Click Below to:
More like this story