Hopi to elect new leaders today as planned plant closure threatens tribe's financial future
By Tanner Stechnij | Cronkite News
Originally Published: November 9, 2017 10:55 a.m.
SECOND MESA – Houses and corn fields dot the Hopi reservation, spread across three mesas in southeastern Arizona and circled by the much larger Navajo Nation. The seemingly barren Hopi land carries a rich, centuries old history and, now, an uncertain economic future.
New leadership
Tribal members will choose a new chairman and vice chairman today, Nov. 9 which will help determine a new reality for the Hopi nation as the Navajo Generating Station (NGS) is slated for likely closure by December 2019.

In recent years, royalties on land leases have made up to 85 percent of the Hopi tribe's general budget, according to tribal leaders and the Washington Times.
After the primaries in September cut down the field, two candidates for chair and two candidates for vice chairman are battling over the seats to lead the 22-member council.
Campaign issues include water quality, low employment, preserving the Hopi language and culture and finding jobs but candidates agree replacing income from the plant income is the most pressing matter facing the tribe.
Candidates for Chairman:
David Talayumptewa
The council member is a former deputy director for administration for the Bureau of Indian Education said he handled an annual budget of close to $1 billion.
Campaign platform: Talayumptewa plans to develop a Hopi immersion language program for two- to four-year-olds where students would speak and be spoken to only in Hopi. He's also looking outside groups to pay $20 million for new water pipelines, which is equal to about a year's budget for the Hopi Reservation.
Tim Nuvangyaoma
A radio personality, Nuvangyaoma gave up his job at KUYI to run for office.
Campaign platform: Bolstering individual and village sovereignty and, to counter issues about drinking water quality, adding water vending stations and filters for sinks and other drinking spouts.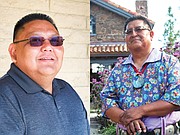 Vice Chairman Candidates
Clark Tenakhongva
Tenakhongva is an Air Force veteran, formerly worked for the tribal police department and the Department of Veteran's Affairs and has crafted kachinas.
Campaign platform: Instilling more opportunities for artists and other tribal members, such as more festivals in flagship locations like Sedona and Flagstaff.
Lamar Keevama
A council member for five years, Keevama also serves on the tribe's water and energy commission and is former land commission chair. He also serves as a director of the Hopi Tribe Economic Development Corporation, an agency that owns properties across Arizona and looks to provide resources and jobs to Hopi artists and workers.
Campaign platform: Working on the tribe's water rights, increasing services to tribal members and holding the federal government accountable for services and programs owed to the Hopi nation.
"This is such a thorn in our side," Nuvangyaoma said, a political newcomer who is vying to be tribal chair. "We knew about this a long time ago."
His opponent, council member Talayumptewa, also said the tribal council is hasn't done enough to bolster its finance beyond coal leases.
"The tribe did not do anything until we were notified earlier this year that the Navajo Generating Station would close down," Talayumptewa said. "Our tribe has been more of a reactionary government than really proactive."
According to tribe documents, the Hopi nation typical general-fund budget ranges from $18 million to $22 million dollars. Last year, their general-fund budget was more than $21 million, with $16 million from royalties and other funds from NGS, or about 75 percent of revenue, according to the tribal newspaper Hopi Tutuveni.
Hopi Tribal Council treasurer Robert Sumatzkuku did not respond to multiple requests for the 2017 budget.
Councilman Dale Sinquah, who is not running for office, said the council is working on plans to replace the income, such as leasing land to wind and solar companies and creating alternative energy partnerships. But those plans are preliminary and at least two years out, he said.
An election to define the future
Hopi members showed they wanted new representatives at the helm when voters tossed out chairman Herman Honanie and vice chairman Alfred Lomahquaha in the Sept. 14 primaries.
The candidates are facing an election before a weary electorate. Only ten percent of eligible voters turned out for the September primary and a low turnout is also expected for Thursday's election, according to the Hopi newspaper.
The unemployment rate hovers at least 50 percent on a reservation where businesses like gas stations, grocery stores and restaurants are scarce.
Clark Tenakhongva says that most people living on Hopi make less than $35,000 a year. When the generating station closes he believes that food stamps and other programs will need to be bolstered.
"The people that are employed with the Hopi tribe are people that want to live here," Tenakhongva said. "They don't want to make the move to Flagstaff or Phoenix. It's a big issue and I don't know how the tribal council is approaching this…Because it's going to impact all our people throughout the whole reservation."
His opponent, Keevama, said an elderly tribal member said the reservation needs a hospital, not just a clinic, to better serve her husband, a veteran.
"They have to drive him to Prescott to the Veteran's Affairs Hospital there," Keevama said.
Textile weaver and teacher Justin Seakuku, who was selling his works in October at a Hopi festival in Flagstaff, said he didn't vote in the primary and didn't plan to vote in the November general election. He finds politics dishonest and in conflict with Hopi ideals.
"I'm a teacher and as a nation, I don't know if we value education because of the funding and programs that get cut for our kids. Politicians like to use the platform that 'children are our future.' But no one has enticed me to vote yet."
Talayumptewa, the council member who wants to be chair, said tribal leadership has been ineffective the past few years.
"People are going to have to trust once again how the tribe and the tribal council leadership operates," he said. "When you take a look at the last four years and even beyond, not much has been accomplished. Probably one of the biggest thing is the coal issue."
Nuvangyaoma said tribal government has not made the Hopi people a priority.
"Our jobs always seem to be going somewhere else instead of staying within the community," he said. "Rightfully so, people are upset."
Struggling as a way of life
Hardship is ahead as the tribe's income sources remain in flux because of the impending closure, the candidates and other tribal members said.
But tribal members are familiar with uncertainty and struggle.
"The Hopi people believe they are the chosen people of the creator to live a life that is hard, to live a life that is humble, to live a life that takes a lot of work," Seakuku said.
All of the candidates expressed working towards a more sustainable future for the Hopi. Tenakhongva said that starts with considering what the tribe needs ahead of everything else.
"Hopi needs to start standing up and saying that what belongs to Hopi must stay with Hopi," Tenakhongva said referring to the natural resources on the reservation land.
Keevama said Hopi members will handle whatever is ahead. One of the Hopi villages is believed to be the longest continuously inhabited settlement in North America.
"Hopi are a strong, resilient people. We have been in this region for at least 1,000 years." Keevama said. "Something like this isn't really going to affect our ability to continue living."
More like this story
SUBMIT FEEDBACK
Click Below to: