Hopi High students win at state media conference
Originally Published: November 7, 2017 9:58 a.m.
TEMPE, Ariz. — Hopi High School won eight media awards during the Arizona Interscholastic Press Association Conference (AIPA) Oct. 24 at Arizona State University in Tempe.
Hopi High was the only Native American school to take home awards.
The Bruins won six awards for radio broadcast, one award for print journalism and their first award for a music video. The awards were based on last school year's work. One of the winners has graduated and two students transferred to other schools.
Sean Bolus, radio editor for the advanced radio class at Hopi High, won two awards. Bolus earned an excellent rating or second place in the feature broadcast division for his story on the Hopi-Harvard summer program. Bolus also won an honorable mention or third place in the broadcast feature division, for his thank you story at the end of last year for all the people who helped the students.
"I wish we would have won more awards at the ceremony. Although I rushed the production pieces that we entered, I feel proud that we were able to win some awards. I would definitely submit more next year and hopefully we win many more awards at the next conference," he said.
Hailey Kardell, who was in the radio class last year but joined the video class this year, received an excellent for her news broadcast story about Hopi High students going off to colleges.
Kardell said she was thrilled she won an award and was ecstatic her classmates won so many awards.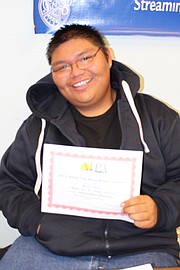 Alvin Silas, who is in the advanced radio class this year, earned an honorable mention in the sports broadcast division for his story on the Bruin football team.
Silas said it felt good to win a state award because he never thought he would get an award for radio.
"This award to me means a big accomplishment," he said.
Silas said he felt happy that his classmates won awards.
Lorene Nequatewa, who now attends Flagstaff Leadership Academy, earned an honorable mention in the news broadcast division for her story on last year's principal.
Janissa Lahaleon, who now attends Glendale Community College, earned an excellent for her broadcast feature story about the National Honor Society.
Angelina Shattuck earned the one print journalism award in the news category for her story on the Piestewa Pageant.
Kimmale Anderson, who is in the advanced video class this year, earned an excellent for her music video "Everywhere We Go." The video was created when international blues musician Deanna Bogart spent a week at the school and wrote the song, along with the students during a lockdown. The video can be viewed at Utube Hopi "Everywhere We Go."
Anderson said she is honored and proud to receive the first video award at Hopi High School.
"It meant a lot to me to win the award because it has encouraged me to improve on my video shooting and editing," she said.
Anderson said the awards show that the Hopi High media classes are improving in all areas.
"I hope that the media classes, especially the video class, will get more awards in the coming years," she said.
Eleven Hopi High media students attended the AIPA conference and interviewed keynote speaker Arizona State Senate Majority Leader Kimberly Yee and CBS newscaster Donna Rossi.
The Hopi High students also attended two sessions where they were given various tips on the different types of journalism.
Bolus said he learned how to adjust and take photos. He also learned how to dress for the job he wants and to be more outgoing and confident when he meets new people.
Kardell said the ASU conference was informative.
Gabriel Fredericks, a video editor for the Hopi High video class, said the trip was an absolute blast.
"I was able to learn so much about video, journalism and media," he said. "If I was able to summarize the entire trip into one word it would be career. Before the trip I was thinking of making film or some sort of form of journalism as a possible career choice. I love telling other people's stories and telling the world what each person has to say. Going on the trip assured me that if I went into this career that I would be happy and that I would love doing my job."
Amber Labahe, on camera interview personality, interviewed Yee and Rossi.
"I liked Kimberly Yee a lot more because she seemed friendlier and her tips to young journalists were great," she said.
Ellyse Fredericks, a print journalism student, said she enjoyed the presentations at ASU, learned how to take better photos and how to properly greet people in an interview. She said Rossi gave an amazing speech.
"Everything was meaningful and she gave the best advice to offer," Fredericks said. "Hearing about the struggles she went through to get where she is today takes a lot of courage."
Traci Nahsonhoya, an advanced radio student, said the conference was fun as she met new people and learned tips during sessions.
"My favorite was about manners. The tips the presenter gave was useful," she said. "The awards were lit. It was nice to see Sean receive two awards."
SUBMIT FEEDBACK
Click Below to: