Tuba City Junior High's keynote speaker a former Warrior
Originally Published: May 30, 2017 12:43 p.m.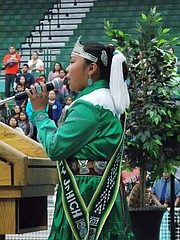 TUBA CITY, Ariz. — Her heartfelt message to the Tuba City Junior high graduates this year was clear and direct.
Dr. Vanessa Jensen, a former Tuba City Warrior, was the keynote speaker at the Tuba City Junior High graduation ceremony this year held May 19 at the Warrior Pavilion.
Jensen, who graduated from Tuba City High in 1983, went from Tuba City High School to become a noted surgeon, who now has come back home to her Tuba City home.
Jensen now works in the medical-surgical field at Tuba City Regional Health Care Corporation to help and serve her fellow tribal people.
"Don't let anyone stop you from your dreams," Jensen told the graduates. "You must learn to overcome adversity and live your passion. Study really hard. Be inspired and excited by things in school or in the world that interest you. Take pride in helping others and always, always have hope. Hope can be a bright smile and can change someone else's whole day. Remember to trust your instincts."
Jensen, who is only one of Tuba City High School's success stories, is an example of going after an academic dream, making it real, then coming home to the reservation and making that dream work to benefit the tribal community.
The junior high graduated 106 students, most of whom will go on to Tuba City High School in the fall.
In the one hour ceremony at the Warrior Pavilion, Tuba City Junior High students went through a formal promotion process that included a posting of colors from the Tuba City High School major junior ROTC program, the National Anthem sung by Jaycelyn Tallsalt-Miss Tuba City Junior High, a welcome address by Geronie Pesodas and final presentation to the class by their junior high principal, Dr. Melissa Bilagody and Tuba City Unified School District Board President Ronald Begay. The closing prayer was by Natasha Smith.
This year's TC Junior High Student Council members are Kamiah Johnson, president; Ehcaymmi Isaac, vice president; Shantel Manygoats, secretary and Abigail Deras, treasurer.
TC Junior High National Honor Society officers for 2017 are Geronie Pesodas, president; Lakita Dugi, vice president; NuvaEnMana Seweyestewa, secretary and Abigail Deras, treasurer.
SUBMIT FEEDBACK
Click Below to: