Hopi High School celebrates and says farewell to 2017 graduates
Originally Published: May 30, 2017 12:37 p.m.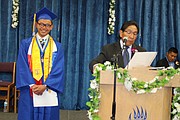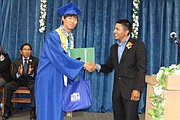 POLACCA, Ariz. — Ophelia Goatson wants to help children and families. She said the way to get there is through education.
Goatson, the keynote speaker at the Hopi High graduation May 18 in the Bruin gym, delivered this message to the 97 graduates.
Goatson, a 2002 graduate of Hopi High School, serves as program coordinator for Parenting Arizona, which delivers direct services to families in Flagstaff.
"Families and children are important to me," she said. "I grew up with a single parent so I saw all the obstacles. I learned that the only way to help children and families is through education. I wouldn't be here if that wasn't true."
Goatson, who is Navajo, started working at Parenting Arizona as a home visitor where she came to believe that early childhood has a great impact on a person's life. By this time, she earned her undergraduate degree at Northern Arizona University.
After five years as a home visitor, Goatson wanted to help children and families more so she went back to school to earn her Master's degree in social work at Arizona State University.
She said obtaining that degree is not easy, so it is helpful if people remember who they are, who their family is and the advice that their family members give them.
"Your family loves you so they are telling you for a reason," she said about family members giving advice.
Goatson and her husband Marvin have three children. She said she tells her children the advice that will help them with their lives. She urged the graduates to get an education and then come home to help their people.
"Think ahead for the children and the unborn children," she said. "Be authentic to yourself and others. Your mind is your biggest obstacle and your biggest help. Your mind will take you through when your body is giving up."
Goatson compared an education and other goals to a race when the body feels like giving up, but the mind tells it to keep going.
"The key to success is being determined," she said.
Goatson told the graduates to to be proud of their accomplishment as they get ready to start a new chapter in their lives.
"When you become what you want to become, what you need to become, then come back and invest in your people," she said.
Michael Adams, director of psychological services at Hopi Jr/Sr High School, served as emcee. After calling the rain from the past 24 hours a blessing, Adams had the crowd laughing when he told them that the longest word in the English language is "smiles" because it has a mile between the two s.
Adams, a graduate of Hopi High School, said this graduating class marks 30 years for Hopi High School.
"You are part of this family tradition," he said.
Adams said Hopi High has been going through a time of transition, but the school has perseverance and a bright future. Adams praised four staff members — Miriam Tahbo, Garlyn Navakuku, Rick "The Legend" Baker and Gerald Flud, who have been at the school for 30 years.
Lavonne Honyouti, advisor for National Honor Society (NHS) at Hopi High, stated that her class of 1993 was the first NHS at Hopi High. She then recognized the NHS students who were graduating this year. She gave them gift cards to Barnes and Noble.
Salutatorian Kyle Secakuku started by thanking the staff, teachers and school for teaching the graduates about life and school.
"To my family, I lied. I didn't make a speech," he said about his lack of preparation.
Secakuku, who plans to attend Glendale Community College, told the graduates that they made it this far, but the challenges of education are ahead of them.
"Shoot for the stars, have faith in yourself. At some point you will fall down. You will struggle, but please don't put your struggles on Facebook," he said.
On a more serious note, he told his fellow graduates that there are people who support them.
"So go off to college, come back as humble and a great human being," he said.
Co-Valedictorian Nicholai Bolus recounted how his family moved to Hopi from the Philippines. He talked about learning Hopi phrases and playing chess, basketball and baseball during the past year. But he is best known for drumming in the school band.
"I'm happier when I'm drumming. Speeches make me nervous," he said. "I still annoy my parents and neighbors with my drumming."
Bolus, who plans at attend NAU, gave his heartfelt thanks to his teachers. He thanked his brothers for teaching him a lot, but said his greatest teachers were his mother and father. His mother for taking the risk of coming to America nine years ago to give her children a better way of life.
"We ended up on the greatest place on earth," he said. "Little did I know I would have a father again."
Bolus said his father is the greatest man because he has no malice and he accepted the children unconditionally. He said dad helped him with his studying.
"That is why I feel Hopi is the greatest place and the place I call home," he said.
Bolus said his Co-Valedictorian Daniel Lim shared the same stage with him four years ago when they were promoted from Hopi Junior High. He said he will remember Secakuku as the comedian and Lim as the artist.
Lim thanked his parents and relatives. He recounted his involvement in Upward Bound, First Mesa Baptist Church, track, chess and basketball.
Lim, whose parents moved to Hopi from Korea, said he could not express how thankful he is to the Hopi people for letting his family move here. He said some of his friends told him they were sorry about him moving to Hopi because he wouldn't get a good education.
Lim, who plans to attend Dartmouth, urged his classmates to help their community, teachers and others.
Hopi High Junior Reserve Officer Training Corps posted the colors. Hailey Kardell and Stacy Charley sang the national anthem.
The audience was welcomed in four languages; Jack Pashano in Hopi; Boisiu Dewangyumptewa, Spanish; Kerissa Ben in Navajo and Daniel Lim in Korean.
Laurie Secakuyva presented the Kathy Steele Scholarship to Leon Lalo.
SUBMIT FEEDBACK
Click Below to:
More like this story