Independent film "Neither Wolf nor Dog" takes Indian Country by storm, makes its way to Tuba City, Kayenta and Window Rock
David Bald Eagle shines in Native film
Originally Published: May 26, 2017 1:28 p.m.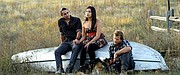 FLAGSTAFF, Ariz. — The Native American film "Neither Wolf nor Dog," adapted from the Minnesota book award winning novel by Kent Nerburn, opens at Goen Cinemas in Tuba City, Kayenta and Window Rock May 26 with shows through June 1.
The independent film, made by filmmaker Steven Lee Simpson, was financed by the audience, many who loved the book, and was shot in 18 days.
The film follows a Lakota elder (David Bald Eagle) and his protective friend (Richard Ray Whitman) as they draw a white author (Christopher Sweeney) into the heart of Lakota country, encouraging him to see their reality without falling prey to white men's guilt-ridden clichés so the elder's reality can be distilled into a book the old man can leave future generations.
Bald Eagle passed away last year at the age of 97, he was 95 when the film was shot. Other Native actors in the film are: Roseanne Supernault, Tatanka Means (Russell Means's son), Zahn McClarnon and newcomer Harlen Standing Bear.
Other than it being a beautiful story well-told, Simpson said Native people from around the country who are not Lakota will still recognize more of the film and they will find some of the movie more humorous, even though he finds all audiences are so embedded with the characters they understand the joking rather than the joke. Also, he said the actors are the main reason Native people should see the film.
"In terms of entertainment value, you're seeing some of the best performers of our age out of Indian country," Simpson said. "It's a great cast. Dave Bald Eagle is just gold."
Two of the main stars are both combat veterans. Bald Eagle was left for dead during D-Day. Sweeney was awarded the Silver Star from the Gulf War.
"They could relate to each other in a particular way and talk with each other in their private moments," Simpson said.
Whitman, who was never in the service, had the most days under fire during the 71-day occupation of Wounded Knee in 1973.
The portrayal of an elder Native is unique in movies, Simpson said.
"I've never known another film that revolved around a Native elder this way," he said.
The search for a Native elder was complicated. The novel was written about 20 years ago and the character that Bald Eagle plays, Dan, was about 80 years old in the novel.
"To me, to get somebody who could embody the character, I had to go a lot older," Simpson said, "because it was the era these guys were from, not the age. An 80-year-old today would feel too contemporary by comparison."
Simpson said the people of Bald Eagle's era had a perspective and a feeling about them that may not exist soon.
"It's almost like there will only be this film that will have such a character in a lead because it's gone," he said.
The climax of the film is a scene at Wounded Knee, where Bald Eagle's people were massacred in 1890. He is from Cheyenne River. The scene resonated with Bald Eagle in a way that was still true to the character he was playing but was also very personal.
"His bond to Wounded Knee was closer than the character he was playing," Simpson said. "I have him improvise the whole sequence there because it was going to be more powerful than what was coming out of the character's mouth, written by Kent Nerburn. You're still 100 percent in the movie, but it's more than that. You feel like you're just standing there with him. It maximizes the power that way."
Simpson is from Scotland and recognizes that one observation may be that this is another film told from a perspective that is not Native. The book is also written by an author, who, while acclaimed for his Native works, is also not Native.
"The danger of going too far down that road is that we want the situation where any Native filmmaker is telling any kind of story they want to tell," Simpson said. "Why would we only restrict them to saying you're only allowed to tell that kind of story? I think filmmakers switch off their central responsibility very often when going into Indian country, and it's through lack of exposure. They don't have a normal level to assess anything, so everything becomes generic."
Simpson said that Americans' baggage with Native Americans exists because of a lack of connection, while non-Americans have a different perspective that is more open, friendly and inclusive.
"The key thing is the narrative in the film … just could not exist if you replaced the character of Nerburn with me or any other European I've ever met who has spent time there," Simpson said.
In fact, as a filmmaker, Simpson believes his perspective allowed him to look at Nerburn's character in an entirely different way than the way it was originally written by Nerburn.
And there are differences in the book and the film. Simpson said he originally was interested in the book because his Lakota friends told him he should read it because it was the best book written about Indian country by a white guy — not comparing it to other Native authors — but just from that standpoint.
Simpson acknowledges at the end of the day, it's still the words of a white guy. But he pushes back saying that thought is too simple. He talks about the film being about individual characters, a guy called Dan, a guy called Nerburn, a guy called Grover, a girl called Wenonah and a girl called Danelle.
"One thing I find disturbing sometimes is people look at the film like this is what I represent as being Indian-white relations," Simpson said. "No. That's like saying a film set in the housing state in Britain is representing white people. It's not. The key for me is understanding who each individual is."
Simpson said he has no qualms about anything in the film because each performer had ownership of their character.
"Any word out of David Bald Eagle's mouth, he would back up with his life, as would Richard and the other performers in it," Simpson said. "When you look into David Bald Eagle's eyes and you see him saying those words, there's no doubt that this is what he believes."
And that is what Simpson believes is at the core of the film and why it is resonating and impacting audiences so much — it has so much heart in it and the movie touches people and so does Bald Eagle.
"It's the difference between fiction and non-fiction," Simpson said. "When the audience is taken into Wounded Knee and Bald Eagle is talking about the events in 1890, the audience is madly in love with this man. Their hearts are so open. So, they are not just absorbing information that's disturbing. It's emotionally impacting them because they are feeling how he's still hurt by this and it happened before he was born. And the weight of that."
Simpson said that is the trick of fiction and real life at the same time because Bald Eagle was not acting at all in that scene in the film.
"It's a very special thing," he said. "It was one of those rare things that was just meant to be."
SUBMIT FEEDBACK
Click Below to:
More like this story