Shorter hours, fees affecting livelihood of Cameron vendors
Little Colorado Tribal Park vendors concerned about park managment
Originally Published: May 23, 2017 11:34 a.m.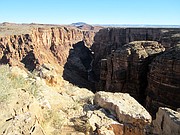 CAMERON, Ariz. — Vendors at the Little Colorado Tribal Park recently voiced concerns about the park's management and the history of the vendors and families who have worked there for decades.
The Little Colorado River gorge lies in the western portion of the Navajo Nation, adjacent to the eastern boundary of Grand Canyon National Park. It is one of the largest tributaries of the Grand Canyon and forms a steep and narrow gorge that runs 45 miles along the Painted Desert. It is one of the largest tributaries of the Grand Canyon and forms a steep and narrow gorge that runs 45 miles along the Painted Desert.
The park's dedication in November of last year brought a new interpretive site, with signs, a ramada, picnic tables and a new public restroom.
From the name Shadow Mountain, which is viewpoint 1 near milepost 286 on Highway 64, to reduced vending hours, no control over who is allowed to vend at the park and conflict with the park manager, vendors say the local people in the Cameron Chapter have not been consulted about changes or management of the park.
Laurie Peters, a Cameron resident, said her mother used to vend at the overlook, which has been there for about 50 years, when she was young. Peters now vends at a different site but is still concerned for her fellow community members who have been selling at the site for years.
"It's been around for a very long time," she said. "Everybody who sells there is a local. They're all from Cameron or Gray Mountain area. Our grandmothers, our great grandmothers set up there."
Peters said by right, she believes it is their area.
"We've always maintained it," Peters said. "We pick up the trash, we keep it clean."
Jacqueline Huskie, president of the Little Colorado River/Cameron Vendor Association, said the dispute with Navajo Nation Tribal Parks goes back to March of 2006. She said in February 2014 at a chapter meeting, Helen Webster, the park manager, announced she was taking over a project handed down by a former chapter coordinator.
"The project was planned by local vendors and she took advantage of this project without the consent of the local community," Huskie said.
Webster said she oversees the park, staff and projects for Little Colorado Tribal Park, which have included the partnership with Coconino County to improve the park.
Peters and Huskie said during the Bennet Freeze, vendors selling at the site were what kept families going during a period when there was no economic development allowed in the area. It is an area where families still suffer from the effect of the Bennett Freeze.
"It's vital," Peters said about the vendors' ability to sell at the viewpoint. "There's not very much work here in Cameron so a lot of us have to go and set up to make money to support our families. This specific scenic area is a very old one that has been there forever."
Huskie said that artisans who are wholesalers also help the community by spreading their goods throughout the community.
"They keep the local economic process going throughout their chapter communities or their neighboring chapters," Huskie said. "It includes local grocery retailers, restaurant businesses, gas stations and propane retailers. It's like a chain reaction that keeps all business in progress."
Peters and Huskie believe Webster does not respect the vendors or treat them right. Peters said that at a chapter meeting, one of the vendors was trying to ask a question and Webster turned away.
"You're taking something from a community who makes a living off of this," Peters said. "This is their way of life, their living, their livelihood. It's how they pay their bills. It is not even extra money, it is their money."
Peters said a lot of the people who set up at the site are single mothers. She said vendors are criticized by the park manager for what they sell.
"She tells people that what they sell is trash," Peters said. "She's got the big job, 'I've got the big job,' she says. 'What you got isn't a job.' It is a job. You make your stuff, make your tables. Everything you do is done with dedication. It's not just nothing."
Peters said when the parks and recreation department came in, it took all of the control away from the local people.
Vendors are charged $5 a day to set up at the park. While the fee doesn't seem like much, Peters said that with reduced hours and the gates being closed on weekends, the fee does make a difference. And wholesalers who sell food in the park or other things need to pay a $10 fee to get in.
"You pay $10 to sell your food in there," Peters said. "What if someone doesn't buy? Or you pay $10 as an old lady who makes seed necklaces? You pay $10 to go sell to the vendors and they're not making any money and they can't really buy from you. How is that ok?"
Peters said even Grand Canyon National Park does not charge Natives to go in to the park so why does the tribal park?
"Why are they having us as a community pay to go in?" Peters asked. "Why are we paying their salaries when that is the Navajo Nation's responsibility?"
Webster said that money collected at the gate goes into a pool with all the other money collected at Navajo parks and goes toward salaries and upkeep of the sites.
Vendors say the gate that is now at the entrance to the park was never authorized and its effect when it is closed is that tourists cannot stop at the site and vendors can't set up their booths and make any money either.
"It's awful," Peters said. "[Parks and rec] only works on weekdays."
The park's website said that the park is open seven days a week from 8:30 to 6:30 p.m. daylight savings time.
Webster said that when hours are changed she informs the vendors by letters.
Webster said that up until the end of April, the park was open from 8 a.m. to 7 p.m.
"But with the viewpoint, I have a fee collector supervisor and it is up to her to set the time," Webster said. "When it was 7 p.m., everyone had to start packing up by 5:30 and leave by 6 p.m."
Webster said this month (May) they were trying to be open from 8 a.m. to 8 p.m.
"She (the fee supervisor) writes a letter to them," Webster said. "Everybody gets a letter, they sign out for it to make sure that we know who got it because of the way they complain, even though we try to work with them. They continue to complain even when we try to work with them."
Both the vendors and Webster confirm that there was an incident when parks and recreation tried to have a worker there to open the gate on the weekends. Because of that incident, Webster took the keys with the approval of her supervisor in Window Rock (Martin Begaye, director of Navajo Nation Parks and Recreation) and said no one can have a key anymore.
"Because we hadn't opened our fee station, we were working Monday through Friday, 8 a.m. to 5 p.m. No weekends," Webster said. "We did write a letter informing them because of what happened, which was out of our hands and their own fault. We told them we would have to close on weekends, on holiday and on days when we're not here."
The days that Webster's staff isn't there includes annual meetings for park staff.
The reduced hours cut into who stops there. Before the gate was put in, both Peters and Huskie recall tourist busses stopping, along with many tourists, in different waves until sundown. Now, in addition to the gate being closed, there is also the issue of the fee that is collected.
All parties agree that the fee is a donation. The vendors say that tourists are being pressured to pay the fee to get into the park, which sometimes makes them less likely to buy something from the vendors.
"If they can't have anybody there on the weekend, leave the gate open," Peters said. "You don't need to be charging people to be coming in anyways. It's all supposed to be based on donation."
The money, according to Webster, goes into a Navajo Nation account, which is used for all the parks on the Navajo Nation. Salaries for park staff come from that account as do operations for the park. Whatever money is left goes toward park projects.
Webster confirms she has heard the complaints and that the vendors have gone to Window Rock with complaints against Webster and her staff. She said that she has written up her side of situation and sent it to Begaye and others above him.
Webster said she has been working with the community and she has heard the chapter's concern about park and recreation. She said she does understand that for the people who vend at the site, and whose families have for generations, it is their whole income and livelihood.
"We are addressing that," Webster said. "We have met on it. And I have told them about it. The word from Window Rock is how do we handle people that we try to work with, like giving them a key and [the incident] happens and liabilities arise. So from the Window Rock level, they have said the thing we have to do is put into our budget workman's compensation before we can even have anyone do that for us anymore."
Begaye did not respond to questions to confirm or deny any of what Webster said.
Webster said that she has worked very hard to work with the chapter.
"We've had a number of strategic sessions with them," she said. "We're trying to help them to be involved with park and recreation and have input into it. They continue to complain."
Webster said she has been working on a new better access road into the park. She said she has told the vendors that construction will start sometime this year.
"When that happens, they are all going to have to dismantle their ramadas and move out because they're going to put a new access road and turn in lane," Webster said. "And we're going to pave the parking lot."
In addition, a new feasibility study is being done at the second viewpoint.
Peters said that the vendors construct the ramadas and tables with their own money. And every day it is closed, it cost the vendors money. Peters said the important point is the community needs to have input on what happens with their park.
"We all know each other for generations," Peters said. "Great grandmas. We're family. We all know each other. This has been going on for quite some time. And, for me, I just feel like, the park manager, Helen, needs to be responsible for the way she is treating these people that have been making this living."
Webster said it has been an ongoing issue since before she got there and adds that people on the right of way is an issue for the Arizona Department of Transportation, too.
"ADOT wants them off the right of way, too, but nobody knows where to put them," Webster said. "That is an issue."
She said the chapter president and council delegate do not know how to address it either and she is not the only person to blame for the issue.
Huskie said the issue is important because the vendors have dreams of becoming successful in their own spiritual way as an economic business person.
"I hope people of our own Diné government will understand it's very meaningful of the cultural and traditional way of life that we all hold on to, which we truthfully want to make happen," Huskie said. "It's resourceful for livelihood and education. It's not all about getting wealthy, but to keep the people's cycle of life in balance. That includes health and harmony."
SUBMIT FEEDBACK
Click Below to:
More like this story