Keynote speaker encourages Hopi Jr. High students to pursue their dreams
Originally Published: May 23, 2017 11:53 a.m.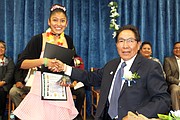 POLACCA, Ariz. — Legos. As a kid, Briann Laban played with legos. Now she is studying to become an architect.
Laban served as the keynote speaker at the Hopi Junior High promotion ceremony May 17 in the gym. The proceedings were called inside because of rainy and windy weather. Sixty junior high students were bursting with glee about being promoted with high school on the horizon.
Laban, who is studying for her doctoral degree in architecture, said everyone has a dream and her dream is to become an architect and then come back to help her people.
"I am one semester away from reaching my dream and becoming Dr. Laban," she said.
Laban told the students that it took her nine years to get to this point. She said her dream began when she was sitting where the students were sitting today.
"My start came from a love of legos," she said. "It sounds funny, but I love legos."
Laban said her success began by having good grades and going to summer programs. She said she went on Facebook and she was happy to see that many of her classmates had obtained their dreams.
"Because they knew what they wanted to do," she said. "I always had my faithful legos as my companions."
Laban earned her Bachelor of Arts at Dartmouth, where her classmates wanted to help their community and make a difference. So, now she wants to do the same.
Her studies brought her to China, where she said the food was incredible, to learn about the traditional, future and contemporary architecture there.
"My ultimate goal is to come home. Whatever your dream I hope it comes true," she said. "But dreams begin with attitude. It will be determined by you. Every one of you is capable."
Laban told the students they should listen to their teachers, advisors and elders. She told her teachers she was thankful for their guidance.
Laban left a lego under each of the promotees seats so they would have something from promotion.
"I am proud of you guys. You are the future," she said. "Choose to make your own path."
Hopi Junior High Principal Lucille Sidney welcomed students, staff and parents. Sidney, who graduated from Hopi High, said she appreciates the education she received here.
"Junior high is a time of exploration," she said. "This is when the students find their identities and character."
Principal Sidney said she is happy students are able to attend a school in their own community.
"Revel in your accomplishments," she told the students.
Hopi Chairman Herman Honanie congratulated the students for completing the eighth grade. He encouraged them to have their goals in mind. He told them it's important for them to listen to their family and relatives.
"I have confidence in each and every one of you," she said. "So dream big. You are the future leaders."
He urged the students to stay away from bad behavior, especially drugs and alcohol.
Salutatorian Ian Honanie congratulated his classmates and thanked his classmates, staff and family.
Valedictorian Halie Tewa said she was happy to be a Bruin. She recalled her seventh and eighth grade experiences.
"Teachers are precious and help us find our strength," she said.
Tewa went on the Close Up trip to Washington D.C. where they studied the federal government.
"For most of us, it was the first time flying in an airplane," she said.
Hopi Vice Chairman Alfred Lomahquahu told the students they have four more years.
"Learn to help your parents. That will help define you," he said.
Vice Chairman Lomahquahu urged the students to learn their culture. He told them that people will ask them about their culture and they should be able to answer.
He said the Hopi Constitution and Hopi bylaws call for Hopis to speak their language.
"It is something to be proud of," he said. "When you are out there tell them you are Hopi and you are proud. That will be your foundation."
Hopi High JROTC posted the colors. Creighton Sakeva gave the invocation. Sierra Ramirez, Tysha Jim and Christina Shupla sang the national anthem. Academic Advisor Kaye Lowe presented the top ten students. Aubrey Harvey gave the benediction.
SUBMIT FEEDBACK
Click Below to: