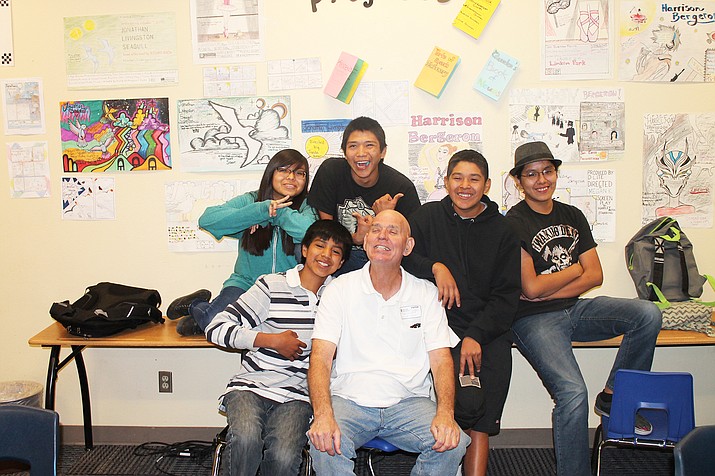 Originally Published: May 16, 2017 9:54 a.m.
POLACCA, Ariz. — Dennis Williams, a former Hopi Junior High math teacher, returned to the school with a geography lesson.
Williams has been traveling throughout the states and to many countries since he retired last year and now lives in Costa Rica. He has been to 47 states. He stopped at Hopi to see his former colleagues and students on his way to Australia, Thailand and Nepal.
"I have the money and the time so I can do it," he said.
The enticement to go to Nepal is seeing Mount Everest.
"For $200 you can take an airplane ride around Mount Everest. I might do that," he told the students.
Kathmandu is the city in Nepal he will visit and he noted that Bog Seger has a song "Going to Kathmandu." Kathmandu is also two hours from Thailand.
"Thailand is a charming country. It's known as the land of smiles," he said.
Williams said Thailand is also known for its elephants, but he said people shouldn't ride elephants because they are beaten into submission in order to let people ride them. He said Thailand is also known for its pristine beaches.
After returning from this trip, Williams will recuperate before he takes off in November to visit Madrid, Spain, and then Morocco in Africa so he can see the Rock of Gibraltar.
"When all these trips are completed, I will have been to six of seven continents," he said. "That's thanks to the school and all of you because that gave me the money and time to do this. My value is not in buying homes or buying goods, but in seeing the world."
The only continent he hasn't been to is Antarctica because it costs about $5,000 to go there for just two days.
"I want to go to the tip of Argentina so I can play with the penguins," he said.
Williams said a lot of "fake news" makes some countries sound bad.
"But when you show up, people are friendly. The real news is what you find when you meet people," he said.
Williams said using AirBNB is a less expensive way to travel. AirBNB allows people to stay in people's homes rather than in hotels. Williams said the least expensive hotel in Sidney, Australia, was $140 per night, but he stayed in an AirBNB for $25 per night. In New York City, he said the least expensive hotel was $300 per night, but he stayed in an AirBNB for $45 per night.
Williams said he is enjoying his retirement.
"It's nice to wake up when I want to. I don't miss work, but I miss hanging out with the students and colleagues," he said.
Williams taught for 38 years, 24 years on the Navajo and Hopi reservations.
Williams said he choose to live in Costa Rica because of its mild climate.