Nation applauds officers
Originally Published: May 9, 2017 9:34 a.m.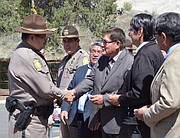 WINDOW ROCK, Ariz. — On May 1, the Navajo Nation legislative and executive branches congratulated eight police officers who were promoted to the rank of captain and lieutenant during a promotion at Veterans Park in Window Rock.
On hand were the Navajo Nation president and vice president, the speaker of the Navajo Nation Council, the Law and Order Committee (LOC) and others.
LOC Chair Council Delegate Edmund Yazzie thanked the Navajo Nation Department of Public Safety (NNDPS) for working diligently and progressively with the committee to address the improvement of public safety services within the Nation.
"The committee has been working effortlessly with NNDPS to address many issues regarding public safety," Yazzie said. "Many accomplishments have been achieved and it is great to see more leadership within the Nation's law enforcement."
Navajo Nation Council Speaker LoRenzo Bates said that on behalf of the council, he wanted to congratulate the eight officers for their outstanding accomplishments.
"Their promotion signifies the dedication and courage they serve to families, communities, and the Nation," Bates said. "The council will continue to support the officers' endeavors and to pray for their safety."
Navajo Nation President Russell Begaye said it is a great time to honor the officers who were promoted.
"You've earned it," Begaye said. "Thank you for serving our communities. Your comrades are looking up to you, be an example of leadership for them."
Begaye said all people must respect and honor authority, especially our police
officers.
"Our police officers put their lives on the line every day and we need to have their backs all the time," he said.
Nez said he congratulated the officers, too.
"Every Monday, [the] president and I, along with our pastors in the community, pray for our Nation and those in uniform."
He stressed the importance of taking care of oneself to combat the monsters that plague the Nation socially.
The following officers were promoted: Dempsey Harvey was promoted to captain and will be the western commander for the Tuba City, Chinle and Kayenta district. Henry Moore was promoted to captain and will be the eastern commander for the Shiprock and Crownpoint district. Michael Henderson was promoted to captain and will oversee the Window Rock, Dilkon, and specialized units (drug and gangs, as well as the K-9 unit).
Leonard Redhorse III, was promoted to lieutenant to serve at the Window Rock headquarters. Kim Fragua was promoted to lieutenant to serve at the Tuba Police District. Martin Page promoted to lieutenant to serve at the Crownpoint Police District. Leonard Williams promoted to lieutenant to serve the Kayenta police district. Darrell Sombrero Sr. was promoted to lieutenant to serve the Chinle Police District.
Navajo Nation Police Chief Phillip Francisco said the officers were interviewed by many police chiefs from off the Nation.
"We picked the best and the brightest to provide support to our officers," he said. "I am excited to have more lieutenants and captains on staff to assist me in carrying out our mission to protect the citizens of the Navajo Nation."
SUBMIT FEEDBACK
Click Below to: