Youth Summit at Hopi Jr/Sr High focus on prevention and improving life skills
Originally Published: May 2, 2017 6 a.m.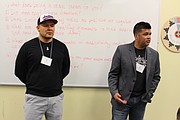 POLACCA, Ariz. — Students attending the Hopi Jr/Sr High School Youth Summit were able to attend sessions ranging from dealing with drugs and alcohol to preventing suicide and using their Hopi and Navajo cultures to improve their lives.
Michael Adams, director of psychological services at Hopi Jr/Sr High School, praised the outcome of the April 27 youth summit.
"We came together for the benefit of all," he said.
Keynote speaker Duane Koyawena told the students, during the opening ceremony, about how he had overcome drugs and alcohol. Koyawena said his first DUI didn't seem that bad. A second and third DUI happened before he lost his dad to alcoholism.
Friends told Koyawena that he should get help, but he did not because that would mean admitting he was wrong in the way he was handling his life. After a fourth DUI, Koyawena went to prison.
"I had to go to the Department of Corrections and get a prison number," he said.
This was when the red flag went up. Koyawena couldn't touch alcohol for six months and had to go to rehabilitation. There were a few times he thought about taking his life, but family and friends helped him through the tough times. He ended up landing a job in behavioral health even though he had no degree because he had the experience needed to help others with alcohol and drug issues.
Koyawena credits the Coconino County DUI/Drug Court with helping him. This program is set up to help non-felony violators who are on drugs and alcohol. Judges, prosecutors, defense attorneys, treatment specialists and probation officers work together to help those addicted to drugs and alcohol.
Koyawena, who has become known for his colorful Hopi paintings, works as a behavioral health tech at Flagstaff Medical Center.
During the conference, Koyawena led a session, along with Gary Leslie called "Are You a Man?" The session focused on responsibilities for men.
Leslie, who works at Native Americans for Community Action in Flagstaff, said as a teenager he made some huge mistakes he wished he could change and he urged students to learn from those who have made mistakes.
"Be courageous, speak up and ask questions," he said. "You're young, attentive and here. That's good because this was put on for you."
Koyawena said he has a lot of friends who keep him in check.
"Use your ego to the point where you're humble, not boastful," he said.
Koyawena said he takes that approach not just in his art work, but in his relationships.
"To me, that's what a man is," he said.
Leslie, a graduate of Hopi High, told the men that it's okay to cry. He compared not crying to a bottle of coke, where once it's open, it explodes.
"You can't hold it too long. It's important to show emotion," he said. "Nobody is immune to trials and tribulations of life."
Leslie recalled when he was in high school he didn't want to cry in front of his buddies.
"Do not be afraid to be your own man or afraid to be alone," he said.
Leslie said sometimes students think coaches or teachers are picking on them because they are pushing them to do more.
"That's because they see your potential. I took it personal, but it wasn't," he said.
Koyawena told the students that when the unexpected happens they need to learn how to handle it.
Leslie told the students to look for positive male role models in their lives.
"My dad went through a lot and I took his presence for granted," he said. "Our parents have a wealth of knowledge and wisdom. Now, I value that."
Koyawena said one of his favorite role models is Bruce Lee, not only for his martial arts but for his quotes about how to get through life.
Suicide prevention
Annetta Koruh, from Bacavi, gave a presentation about how to help those who are considering suicide and what leads people, including herself, to consider suicide.
"If you get triggered find somebody to talk to," she said. "Our life experience is why we are the way we are now."
Koruh said if someone sees the signs of suicide in another person, they should ask them what's wrong, ask them if they want to talk and ask them to do something together.
"Be there in the time of need," she said. "All of our life stories are different."
Koruh said using spirituality intentionally is helpful.
"All tribes have something for cleansing. Whatever your tribe has, embrace it," she said. "Know that peace and joy."
Koruh recounted how she grew up in an alcoholic family. Her dad was in the military and would hold parties at their home. When she was five years old, she saw her dad beating her mom.
"Can you imagine seeing that at that age? What would you feel?" she asked.
Koruh said her dad beat them with belts, buckles and words.
"I felt unwanted. I was told I was a mistake," she said.
Koruh felt resentment and self-medicated. She questioned whether the creator was powerful, viewed herself as ugly, whether anybody cared about her and hated her dad.
"I told my mom that if you loved me that you would get me out of here," she said.
Koruh would learn years later her dad told her mom if she left he would kill her, her kids and her grandma.
In school, she became an ally to those who were picked on, but some viewed her as a bully. She resorted to drugs, alcohol and "looking for love in all the wrong places."
That was when she was almost driven to suicide, but the Hopi stories came back to her and she believed that the creator allowed her to be born for a purpose.
"Make a conscious effort to do something good for yourself," she said.
Koruh said planting, being joyful, feeling secure, feeling like your belonging and faith in the creator are among the feelings that people can use to keep going when they feel down.
"You were created with a purpose, intention and you were not a mistake," she told the students. "You have the ability to change your family, community and world."
Koruh told the students they should plant something in their life like spirituality, happiness, courage and faith.
Anger management

Jeff Rice, a psychologist, led a session about anger management. He recounted how as a teenager he hung out with the wrong kids because he had dyslexia.
One day he made a flamethrower and a dumpster caught on fire. The court in Washington State sent him into a diversion program where he picked up swimming. He ended up winning state and national swimming awards.
"I took my anger and put it into something," he said. "It got me a college degree. I was so lucky that sports took me in a different direction."
Alcohol
Brian Humetewa and Shawn Namoki led a session about "Drinking: What's the worst that could happen?"
Humetewa said he became a diabetic because of drinking. Because of drugs and alcohol, he now has to take a pill each day to feel normal.
Humetewa said during his drinking days his attitude was it was his life and nobody was going to tell him how to live.
"That got me nowhere," he said. "The reason everybody tells you this is because they went through it and they know what to do."
Humetewa said when he was on drugs if he saw somebody on the street and he liked something they had then he would take it.
"That was my mentality and I would sell it for drugs," he said. "It was an insane way to live, but I felt like I was ten feet tall and bulletproof. Now, I feel blessed to be here."
Humetewa told the students they should ask themselves when they get up in the morning what type of person do I want to be today.
"You have to be willing to do that work and make that change," he said.
Summer activities
Lisa Lomavaya from the Hopi Health Care Center led a session about what students can do during the summer. She told them they could work with community service programs either in their village or with the Hopi Youth Council.
Lomavaya said they could get involved with volunteer projects either with village trash cleanups, camps or elders.
She said they could consider self-employment through yards sales, food sales, bingos or art work.
She also told them they could get involved with fitness, health or family activities.
Looking ahead
Elvie Sanchez led a session about what the students dream about for their future.
She recounted how she grew up in a home with substance abuse and without a father in her life.
"But my family taught me self-respect. I will give you respect and in return I expect respect," she said.
Sanchez said her father died of alcoholism when he was hit by a train.
"I was prone to alcohol, but I chose another direction," she said. "I had goals and dreams to obtain."
Her dream of becoming a professional volleyball player didn't work out, but she continues to play and she works to make sure her daughter's needs are met. She said she knows how to deal with stress.
"No matter how tough you think you have it, there are others who have it tougher," she said.
Sanchez is proud that she is the first in her family to earn a college degree.
"You don't need drugs, alcohol and drama," she said.
Sanchez serves as a health educator for Hopi Cancer Support Services.
Balancing cultures
Monica Nuvamsa and Gene Kuwanqueftewa from the Hopi Foundation led a session about how to balance Hopi and western values. Nuvamsa said students need to prioritize their values so they know how to live.
Nuvamsa said shared responsibilities and partnerships is a key Hopi value. The duo gave the students a list of values to take home and talk about.
Ed Tano, Dean of Students at Greyhills High School, led a session about "What is Dine?"
Tano told the students that it is important that they know who they are.
Tano said tourists do not learn the Native cultures.
"All they want is fry bread, jewelry and a cowboy hat," he said.
SUBMIT FEEDBACK
Click Below to: