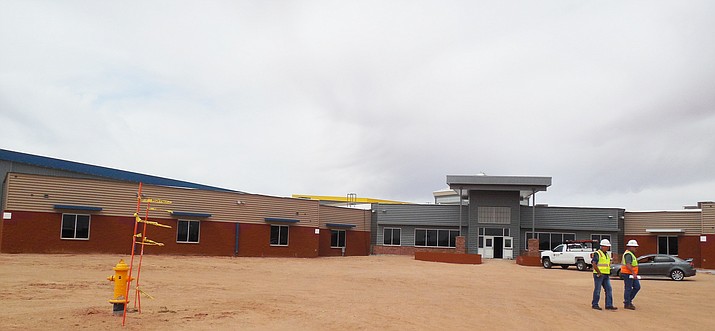 Originally Published: March 28, 2017 12:39 p.m.
TUBA CITY, Ariz. — Tuba City's new kindergarten through fifth grade elementary school, which will feature green technology, has been under construction for about a year and is ahead of schedule, according to the construction manager for the project.
Wayne Nez, construction manager, said construction of the state of the art school — the first of its kind on any northern Arizona reservation is going well.
"We are actually ahead of schedule, on budget and in a safe building capacity," Nez said. "The new k-5 construction is approximately 75 percent complete."
The school will feature green technology, cloud research computing throughout all of its classroom wings and study pods, offering students the latest in technology building advances to assist with their studies. The construction will incorporate native cultural appropriate design and atmosphere throughout.
Most reservation schools that were built in the last 50 years do not and cannot support modern technology, which makes the new school in the Tuba City/Moencopi are a unique from other reservation schools at the primary, elementary or high school level.
Nez said all exterior enclosures, the building envelope, is completed. Currently, the interior drywall and finishes such as texture and painting are in progress. The acoustical ceiling tiles and other drop ceilings are starting on their enclosure to above interiors. All plumbing and electrical are also starting to trim out and industrial kitchen appliances are ready for installation.


Nez said that no one from the public can see the inside yet, as they are still completing inside work.
"We have not started on any flooring, interior walls or painting yet," Nez said. "We also have exterior site work that needs completing and that would include sidewalks, final grading and pavement."
Arizona Public Service, the local service provider, is working with the general contractor to energize the school's rooms after the electrical inspection is complete.
"Everything so far has checked out with "passing" inspection," Nez said. "Other building safety requirements such as fire suppression has also been good and passing inspection. The fire inspections must be conducted from the local fire inspector and also the state fire inspector."
Tuba City Unified District staff and the community have shown interest in the school that their children and grandchildren will benefit from, Nez said.
"We are hoping to be done ahead of the original projected schedule that was slated for December 2017," Nez said.
The possible new date for opening the school could come as early as fall of 2017.