Walking in beauty: Navajo educator, dancer, musician and medicine man James Peshlakai passes at 71

Originally Published: March 21, 2017 10:04 a.m.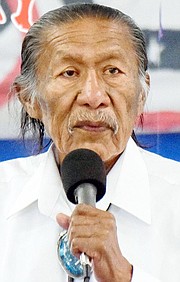 GRAND CANYON, Ariz. — As a child, Yadira Caballero remembers hearing about her Navajo culture, watching community children learning the hoop dance and the eagle dance from tireless teacher, educator and medicine man James Peshlakai. He passed away Feb. 4 at the age of 71 in Cameron, Arizona, where he lived with his wife of 52 years, Mae.
Peshlakai was of the Tobacco Red House Clan, born for the Cliff Dweller Clan. His paternal grandfathers were the Red Streak into the Water Clan and his maternal grandfathers were the Wandering People Clan.
He was born on the Navajo reservation in 1945, north of what is now Wupatki National Monument to Clyde and Katherine Beshlagaii.
Peshlakai, or Beshlagaii, translates to silversmith, an art practiced by the family for generations. His grandfather, Etsidi Beshlagaii, and the family were relocated during the "Long Walk" in the winter of 1864, during which more than 8,000 Navajos were forced by the U.S. government to walk from their ancestral homes in Arizona and New Mexico to the Bosque Redondo Reservation in Pecos Valley. The Native exodus was responsible for hundreds of deaths. The Beshlagaiis were released in 1868 and returned to their home near Wupatki. When their lands were named a national monument in 1924, the family was allowed to remain in their home.
Peshlakai was a traditional Navajo silversmith, musician and medicine man — he was ordained in the Navajo ceremony of the The Female Shooting Way, and he traveled for more than three decades with his grandfather and uncles performing traditional ceremonies.
Peshlakai was also an educator. In addition to helping visitors and Natives alike understand Navajo culture and teachings, he was a formal educator at Northern Arizona University, where he taught Applied Indigenous Studies. He was also a Traditional Knowledge Scholar.
It was his love of sharing his knowledge, said Caballero, that made Peshlakai stand out as a committed leader, both to his own Navajo community and a community of people assembled from around the globe — the Grand Canyon. He served as a ceremonialist at many events in the community, but beyond that, Caballero said, he brought traditional Navajo arts, music and dances to the masses.
"He demonstrated a greatness for educating the community, especially the children and tourists," she said. "He was able to bridge the cultural gaps with his knowledge."
Peshlakai performed music and dances at local hotels in Tusayan, including the Grand Hotel. Mike Finney, who co-owns the Grand Hotel, witnessed the reach of Peshlakai's performances first-hand.
"Watching him talk, with his unique facial gestures and voices, was like watching one of the best mimes in the world as he transported us to another time and place," he said.
Finney compared Peshlakai to a Navajo blanket, comprised of different-colored yarns tightly woven together — education, silversmithing, teaching, storytelling, consulting, leadership, medicine work, environmental work, founder of cultural groups, civil rights activities, family commitments and community leadership.
Peshlakai dedicated his life to the preservation of the Navajo culture. He taught for nearly 20 years at Diné College in Tuba City, Arizona, where he developed curriculum and taught the foundations of Navajo culture. He gave lectures on the Navajo way at institutions across the country, led cultural immersion programs for visitors on the Navajo Nation and has served as a cultural instructor in the Navajo Community College system.
Visitors to the Grand Canyon were always included in Peshlakai's efforts. Each year on Labor Day weekend, he organized the Native American Art Show and Dances, which drew more than 2,000 visitors.
Peshlakai brought together locals and tourists from all over the world, but he also strived to bring together Native peoples, emphasizing unity in the effort to protect all indigenous cultures. Peshlakai organized the Grand Canyon memorial powwow and hoop dance contest in 2000 to honor the life of his son Jameson, a talented dancer who died two years prior. The contest brought together the Hualapai, Havasupai, Apaches, Navajo and Hopi, most of whom had not reunited since the tribes were removed from the canyon more than a century earlier.
Peshlakai also worked with many tribal, state and federal agencies, including once serving as an officer of the Cameron Chapter of the Navajo Nation. He also served as a police officer for the Navajo Police Department. He organized the Navajo Nation Summer Day Camp, started a food cooperative in Arizona, was a caseworker for the Arizona State Welfare program and was a teacher in Navajo Head Start.
It's these contributions, along with many not listed, that Caballero and Finney think of as they remember James Peshlakai. He was an educator with a deep, personal commitment to shining a light on the Navajo culture in a way that scholars who research and study and publish can't quite manage. It's part of the reason Peshlakai established the Peshlakai Cultural Foundation with his wife, Mae.
"We're not going to fund college professors who teach culture," Peshlakai said of the venture. "We want to help people who practice ancient traditions."
His dedication resonated with Caballero then, as it does now. Even though she left the Grand Canyon community for college and now resides in Tucson, Arizona, she still has an appreciation for Peshalakai's life work — educating and fostering understanding.
"As a Navajo person, I appreciate the tremendous work Mr. Peshlakai has accomplished for the community," she said.
Peshlakai leaves behind his wife and four adult children — Darcy Peshlakai, Jamescita Peshlakai, Stephanie Peshlakai-Carrillo and Shalta Peshlakai. He also leaves behind 12 grandchildren, one great-grandchild and eight siblings.
His family has set up a GoFundMe account to raise money for the James Peshlakai Memorial Fund, and has currently raised around half of its $14,000 goal. Anyone who wishes to donate can do so at https://www.gofundme.com/3c9js5c.
SUBMIT FEEDBACK
Click Below to:
More like this story