Winslow Bulldogs baseball team beat Sedona Redrock Scorpions March 10
Originally Published: March 14, 2017 10:14 a.m.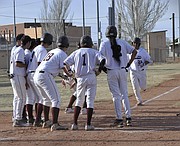 The Winslow Bulldogs beat the Sedona Red Rock Scorpions 12-4 March 10. Top: a Bulldog ball beats Red Rock to first base. Right: Ricardo Villanueva pitches in classic form. Bottom right: the team greets Daniel Vizcaya after he bats in numerous Bulldogs to score.
SUBMIT FEEDBACK
Click Below to:
More like this story