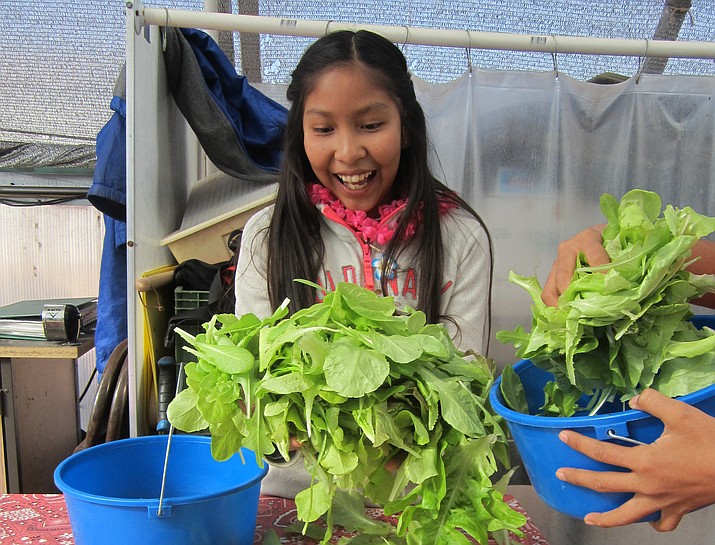 Originally Published: March 14, 2017 10:38 a.m.
Photo Gallery
Lettuce Harvest On Hopi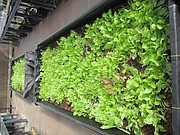 TUBA CITY, Ariz. — Students at Moencopi Day School harvested their own greenhouse-grown lettuce March 8, part of the Greenhouse and Garden program, which was then served in the cafeteria, the first time that student-grown produce was served on Hopi.
FoodCorps is a nationwide program that partners with local community organizations to bring hands-on lessons in which the kids are taught about cooking, gardening and tasting the food they grow. According to FoodCorps' website, the program also focuses on healthy school meals that help create a cafeteria that steers students toward the healthiest options and gets the kids to try new and healthy foods.
The program has another benefit, according to FoodCorps. Because one in three of the nation's children are on track to develop diabetes in their lifetime and for kids of color, it is one in two, this program intervenes earlier to get kids on a healthier track of eating and tasting food.
FoodCorps is partnering with the Moenkopi Developer's Corporation to bring the Greenhouse and Garden program to Moencopi Day School. The program provides students K-6 with weekly outdoor lessons. Steven Lomadafkie is the program director.
The school has about 150 students.
Lauren Burke, a FoodCorps service member, said the mission is simple: connect kids to healthy food.
"We try to do it in hands on ways," she said. "That is part of the FoodCorps mission, engaging kids in a way that interests them. So we do hands on gardening, we do cooking…"
The students planted, watered and weeded the lettuce. Harvesting consisted of the kids basically giving the lettuce a haircut with a pair of scissors. They then brought the lettuce to cafeteria staff to clean and serve for the day's Hawaiian luau.
Students also made garden-themed decorations to fill the cafeteria, in celebration of their achievement.
Elysse Honyouti, another FoodCorps service member, said the kids also participate in a monthly taste test as part of the program, where they try a new vegetable. They rank the foods on whether they liked it, loved it or tried it.
"We just give them a little incentive if they try it," Honyouti said.
The students were given a prize for participating in the taste test Wednesday, which the kids got to wear around as a badge of honor.
"Since yesterday was Hawaiian day, we had a lettuce luau theme, and students who tried the lettuce got a lei necklace to wear and take home," Burke said.
They ended up with a team of five fifth-grade students leading the taste test portion.
"They did such an awesome job encouraging the younger students to eat their veggies — they have real power as role models," Burke said.
Summer Talahytewa, one of the students who harvested the lettuce, said she has fun taste testing the food they grow and planting is fun, too, especially seeing the lettuce grow.
"I sprinkled the seeds, but then this week, we came back and checked, it was tall," Talahytewa said.
Paige Lomatewama, another student, felt the same.
"It feels pretty cool," she said. "Because when you come to the greenhouse and the lettuce is growing. We make foods and try new things, sometimes you like it, sometimes you don't. And you get to make your own dressing. And you can actually eat your organic lettuce."
The kids have also planted chili, carrots, flowers and herbs.
Kambria Honahnie said the lettuce looked like a little forest. She said she likes doing the gardening part of the work and tasting the food.
"I get to get my hands dirty," Honahnie said.