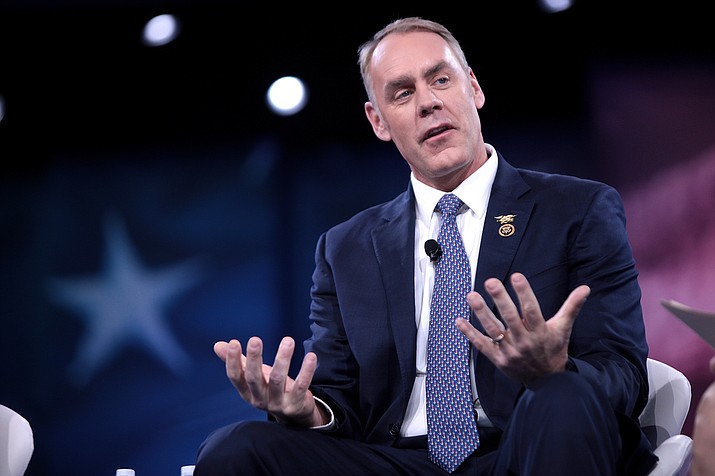 Originally Published: March 7, 2017 10:08 a.m.
WASHINGTON D.C. — In a 68-31 vote, the Senate confirmed Montana Congressman Ryan Zinke as interior secretary March 1.
Zinke was elected to the Montana State Senate in 2009 and served one term before being elected as a U.S. Representative from Montana's at-large district in 2014.
As interior secretary, Zinke will oversee about one-fifth of the U.S. through the Bureau of Land Management, the U.S. Geological Survey, the Bureau of Indian Affairs and the National Park Service, among others. The Interior Department is also responsible for implementing the provisions of the Endangered Species Act, which Republican lawmakers have signaled they want to overhaul in the 115th Congress.
Zinke has drawn criticism from conservation groups — in the past, he has supported more mineral and oil extraction on federal lands, and he testified in his confirmation hearings about his opposition to the Obama administration's moratorium on new coal mining leases on federal land, the ban on oil drilling in Alaskan and Arctic wildlife refuges and Obama's use of the Antiquities Act to set aside vast swaths of land in the West as national monuments. Zinke has said one of his first actions will be to visit with Utah legislators about the possibility of repealing the designation of Bear's Ears National Monument.
"Zinke champions turning control of public lands over to states and private interests to greatly increase logging, livestock grazing, mining and oil and gas drilling while significantly reducing environmental protections and public input," said Kierán Suckling, executive director of the Center for Biological Diversity. "Under such a scheme, the federal government, taxpayers and wildlife would bear the costs through nominal retention of land title."
Zinke has testified that federal lands should be managed under a multiple use ideology — balancing the protection of the habitat and the indigenous wildlife with recreational use by sportsmen and visitors and energy production.
But Zinke has also testified that he firmly opposes carving off federal lands in favor of state or private interests, a stance that coaxed 16 Democrats to support his nomination. He also breaks with the administration on the notion of climate change, which is supported by around 97 percent of climate scientists, according to surveys in scientific journals compiled by NASA. While the president has called climate change a hoax, Zinke has said that he does believe the climate is changing, although he's not sure to what extent humans are culpable.
Some members of Congress expressed concerns about Zinke's support of the expansion of oil drilling and mining
Zinke has also repeatedly said he plans to address the maintenance and infrastructure backlog at many of the country's national parks, which by some estimates has grown to nearly $13 billion.
Zinke is a fifth-generation Montanan, raised in the small town of Whitefish sandwiched between Glacier National Park and Kootenai National Forest. He has described himself as an avid sportsman with a love of hunting and fishing and a strong desire to conserve wilderness areas.
In his memoir, "American Commander," Zinke said an Eagle Scout project at a local river near his home "steered him toward a lifetime of conservation values." Zinke was recruited to play football at the University of Oregon in Eugene, where he graduated with a Bachelor of Science degree in geology in 1984. He went on to obtain an MBA from National University in 1993 and a Master of Science in global leadership from the University of San Diego in 2003.
Before being elected to public office, Zinke, a 23-year Navy SEAL, served from 1986 until his retirement in 2008. After graduating from SEAL training in 1986, Zinke served with SEAL Team One and the United States Naval Warfare Special Development group (often referred to as SEAL Team Six).
In 2006, he established the Naval Special Warfare Advanced Training Command, a graduate school offering over 43 college level courses to more than 2,500 students each year at 15 locations world-wide. He is the first Navy SEAL hold a Cabinet position.
More like this story