Generating Station employees express concerns to President Begaye
Originally Published: March 7, 2017 9:58 a.m.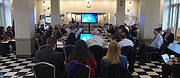 PAGE, Ariz. — Navajo Nation President Russell Begaye and Vice President Jonathan Nez addressed employees of the Navajo Generating Station (NGS) March 4 at the LeChee Chapter House in Page, Arizona.
On Feb. 12, the owners of NGS voted to close NGS in December 2019, the end of its current lease agreement with the Navajo Nation.
The potential closure of the power plant is due in large part to the low cost of natural gas compared to coal. Officials with Salt River Project have stated they will continue the operation of NGS until 2019, as long as the Navajo Nation is able to amend or change the current lease agreement to allow additional time after 2019 for reclamation efforts. If a lease extension is not finalized in the coming months, NGS owners say they would be forced to close the plant in July 2017 in order to begin and complete the two-year reclamation process by 2019.
Begaye gave a history to the chapter of the Navajo Generating Station and of the lease discussions that have taken place to date with a focus to meeting the July 1 deadline for the lease extension negotiation.
A thorough discussion took place followed by a brief question and answer period. Several members in attendance stressed that they didn't want to break up their families by the job loss and the potential need to leave the area to search for jobs.
"We were back in Washington D.C. this week to meet with the Department of Interior and the owners and operators of the Navajo Generating Station, Begaye said. "It is the position of the Navajo Nation that our goal is to keep the NGS open through 2030."
Begaye said there are over 3,100 direct and indirect jobs that are affected by the NGS and Kayenta Mine, with over $180 million dollars in annualized wages. In addition, he said an Arizona State University study said found NGS provides an economic impact to the region of over $230 million.
"A closure would be a devastating impact to Arizona," Begaye said.
Nez added that the administration understands there are stark realities that exist that will require them to get to 2029.
"We will do everything in our power to ensure that the Navajo people are taken care of and that we protect our people, our Navajo jobs and our business," Nez said. "We want what's in the best interests for our nation and for our people."
At a dedication for the new Antelope Canyon Interpretive Site at Lake Powell Navajo Tribal Park, which sits in the shadow of NGS, Coconino County District 5 Supervisor Lena Fowler said she is very concerned about the closure of NGS.
"It's going to impact every single one of us," she said. "NTUA (Navajo Tribal Utility Authority) bills will increase should that happen. Our school districts are going to be impacted, hospital districts, library districts, higher education and every facet of our lives is going to increase."
She said it was easy to say, 'just shut it down or just continue the power plant,' and meetings are taking place on how to do either of those things.
"As a region, we must work together in order for our people to have a bright future and for the well-being of our families and our communities," Fowler said.
At the same dedication, Nez said that renewable energy and tourism are the future for the Navajo Nation, which may enable young Navajo people to come back home.
"There's an opportunity for all of us to see a better tomorrow if we all work together."
Navajo Nation Council Speaker LoRenzo Bates, Begaye, and several members of the Navajo Nation Council met March 1 in Washington D.C. with Acting Deputy Secretary of the Interior James E. Cason, other federal and tribal officials, and stakeholders to discuss potential options for Navajo Generating Station.
Cason facilitated the four-hour discussion between NGS stakeholders and federal officials at the Department of the Interior, which was held to identify interests, discuss potential economic impacts of a shutdown, and to create a list of tasks to develop potential solutions to keeping the power plant in operation until 2019 and beyond.
In his opening remarks, Bates highlighted the economic benefits that NGS provides for the Navajo Nation and the entire state of Arizona, which includes significant annual revenues from coal royalty payments through the Kayenta Mine and the lease agreement, scholarship funds, approximately 800 jobs from the power plant and coal mine and other secondary markets.
"What are you as stakeholders able to contribute to make this work in the long-term beyond 2019?" Bates asked. "We look to explore how we can do this and the Navajo Nation Council will have to make a determination to make it work."
Begaye recalled that the Navajo Nation spent time and resources negotiating in good faith a lease amendment to extend the current lease with SRP a few years ago. By doing so, he said the Navajo Nation has done its part to keep the power plant in operation for the long-term and called for NGS to stay in operation beyond 2019.
Hopi Tribal Chairman Herman G. Honanie was also in attendance and said the tribe would stand to lose significant revenue if Kayenta Mine were to close if NGS is shut down, adding that it would also increase the unemployment rate that currently stands at approximately 60 percent. The Hopi Tribe has indicated that approximately 80 percent of its general fund budget is derived from royalties from the Kayenta Mine.
Leaders from the Tohono O'odham Nation and Gila River Indian Community were in attendance to highlight the potential impact on their communities that depend on the Central Arizona Project for water usage, which is powered by NGS.
Near the conclusion of the meeting, Cason asked the stakeholders for their assistance in working collectively to complete several tasks including identifying potential new owners and an operator for the power plant, and identifying potential purchasers for the electricity produced by NGS.
"Our presence here today is a testament to how important this issue is," Cason said, while also acknowledging the federal government's trust responsibilities to tribes. "This economic review is only one piece of the challenges we face. The economies of the Navajo Nation, the Hopi Tribe and the state of Arizona are clearly tied to NGS operations."
The stakeholders and federal officials agreed to meet again in April to report their findings and further discuss plans to keep Navajo Generating Station in operation for the long-term.
SUBMIT FEEDBACK
Click Below to:
More like this story