Out and about: Flagstaff's Weatherford Trail offers views topping off at 12,633 feet
Originally Published: June 27, 2017 2:15 p.m.
FLAGSTAFF, Ariz. — The Weatherford Trail may not have been the smartest trail to start with this summer. The trail is considered strenuous.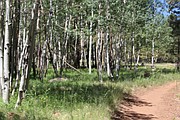 Even doing three quarters of the trail can get the heart pumping. The full hike is 15.6 miles and climbs 4,500 feet topping out at an elevation of 12,633 feet. My fellow hiker and I only did 12 miles and a climb of 2,700 feet.
The trailhead begins at Schultz Tank, which sits at 8,000 feet, so while Flagstaff was 89 degrees the starting temperature at 10 a.m. was 80 degrees.
But at the beginning of the climb, we were in the open sunshine, so it was a bit of a sweat. Coming down was better because, even though it was 82 degrees when we returned to the car, there was shade and a breeze.
At the trailhead, hikers are also looking up at Schultz Peak. A sign tells the hiker they are 2.4 miles from Kachina Trail and 6 miles from the Doyle Saddle. Avid hikers can also find their way to the Moto Trail and Snowbowl Road.
While the "All Trails" website recommends this hike for only experienced adventurers, there is plenty to see. There are a good amount of flowers, so it's not surprising that there is a good amount of butterflies and millers. Yellow flowers and deer's ears plants were among the first to greet the hikers on the trail.
This trail is filled with pine trees, but about a mile in the aspens start to appear and several stands of aspens are found along the way. The higher up a hiker goes, the better the view of the surrounding mountains.
The heat and sunshine makes hikers forget about the winter storms, but about 3 miles in, there are several downed trees on the trail, which probably fell during winter storms. Hikers need tree climbing skills to get past them.
Dogs are allowed on the trail, but must be leashed.
Directions: From Flagstaff drive two miles north on US Highway 180 before turning right on Forest Road 420, also known as Schultz Pass Road. At the intersection, turn left onto Forest Road 557, which also continues as Forest Road 420 for six miles to the trailhead on the right.
SUBMIT FEEDBACK
Click Below to: