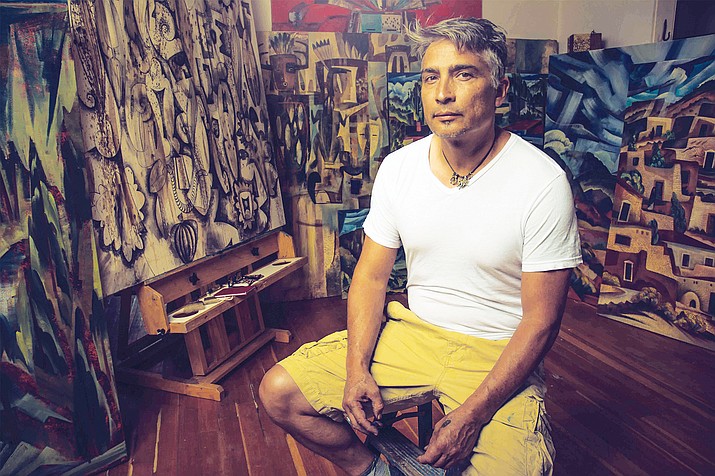 Originally Published: June 20, 2017 6 a.m.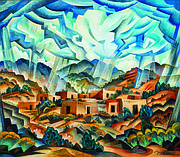 FLAGSTAFF, Ariz. — Tony Abeyta: Convergence, opened at the Museum of Northern Arizona (MNA) June 18, with more than 20 works by the contemporary painter on display, which is part of the museum's summer exhibition.
The exhibition runs through Sept. 4.
Convergence features paintings, drawings, mixed-media pieces and jewelry. The exhibition blends traditional and contemporary large-scale works depicting complex Navajo beliefs and imagery, modernist New Mexico landscapes and abstract geometric forms.
A small selection of work by Abeyta's late father, renowned Navajo artist Ha So Deh, will also be on view.
"Tony is one of the finest Native American artists working today," said Alan Petersen, MNA curator of Fine Arts. "His richly layered paintings and mixed-media works pay homage to his heritage in a dynamic and contemporary visual language."
Abeyta was born and raised in Gallup, New Mexico in a creative community with other artists, including his parents. He said he remembers trains running through town, Route 66, pawn shops, jewelers and a lot of turquoise.
"It was a beautiful place with red rocks and sort of a hub for all the surrounding Navajos, Zuni, Hopi Reservation," Abeyta said. "So, I grew up around Native Americans. I grew up around creative people."
Abeyta's Anglo mother is a weaver and ceramicist, and his late father was a student of Dorothy Dunn.
A primary theme in Abeyta's work is the emotional impact of landscape and he said that every painting he does has a story. He starts with a blank canvas — he does not sketch or work from photographs.
"I just paint," Abeyta said. "Every painting has the same opportunity as the next one, which means I just go in there and start painting on white canvas. Often I will know if one is going to turn into a landscape, but sometimes a landscape will turn into an abstract."
With an eclectic collection, Abeyta said that he works on numerous paintings at the same time, each with their own style and vision.
"I'm working on those landscapes with clouds and the black and white drawings on the same day," he said. "They are different facets of how I think about my emotional state of being and were all from very specific periods."
He said the black and white drawings in the collection at MNA came out of a period where he hated painting and had quit painting.
"I hated color," Abeyta said. "I hated being seduced by color. So, I went to sculpture. And the sculpture started coming into these big drawings. And I really liked the graphic nature of it. I just get to give you the information, all the shapes and forms. And then they don't have anything to do with pretty colors, and they don't have to match."
Abeyta said the art of creating happens all on its own. He does not choose which painting he is working on and neither do galleries or collectors who are waiting for him to finish a painting.
"They just happen with the way the painting tells me to," Abeyta said. "The painting could be there for two years and I've never touched it, I've never cared about it and then one day it's like, 'now it's time, get to work, I'm right here, I've been waiting for you.' And then it happens and it gets finished."
Reminiscent of American Expressionist Marsden Hartley's paintings of New Mexico, Abeyta's paintings convey the primal power of nature and the unifying harmony of land and sky, so archetypal of the West. Paintings such as The Black Cross convey the transience of life and the human relationship with the land and larger cosmos.
"There exists a rhythm in the land where I was born," Abeyta said. "I spend a lot of time deciphering the light, the cascades of mesas into canyons, the marriage between earth and sky and the light as it constantly changes at whim, the intensity of rock formations, and the sage and chamisa that accent this poetic experience, unlike anywhere else I have seen. I am beckoned to remember it and then to paint it."
Abeyta began his formal education at the Institute of American Indian Arts in Santa Fe, New Mexico at 16. After graduating, he continued his studies at the Maryland Institute College of Art before heading to Europe where he found freedom and artistic license through travel and studies in southern France and Florence, Italy.
Upon his return, Abeyta earned his master's degree in fine art from New York University. His painting Anthem became the signature image for the opening of the Smithsonian's National Museum of the American Indian in Washington, D.C. in 2004.
In 2012, Abeyta was named a Living Treasure by Santa Fe's Museum of Indian Arts & Culture and received the New Mexico Governor's Award for Excellence in the Arts. Abeyta's work is included in major museums across the country as well as numerous public and private collections. He divides his time between Santa Fe, New Mexico and Berkeley, California.