Tuba City graduates take flight
Originally Published: June 13, 2017 10:24 a.m.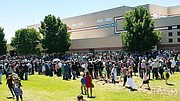 TUBA CITY, Ariz. — It was a day of sunshine celebration.
Graduates, parents, grandparents, close family, friends and well-wishers packed the Warrior Pavilion, which can hold up to 5,000 visitors and did May 20 during the Tuba City High School graduation ceremony.
The speeches were straightforward and practical in their common sense advice in how to succeed and encouraged students to savor their academic past to help create a future with a career and a clean, happy life that will benefit their community.
Dr. Vanessa Jensen was the keynote speaker at the graduation ceremony. Jensen is a former Warrior and is now a surgeon who works at the Tuba City Regional Health Care Corporation.
She said it was ok if the students didn't remember what she said or even who she was. She alluded to the students having a lot on their mind, including the next steps, which could include college or vocational school; how to manage on their own and what their new independent life would look like.
"It is all pretty overwhelming," Jensen said.
She said that since she once sat where the students were today, Jensen wanted to share a little of her own story so the students would know that anything is possible.
Jensen said she was raised in a traditional Navajo home, where there were ceremonies and her family tried to stay within a traditional lifeway.
"I always wanted to help and could see some of my own family members or community people who needed help," Jensen said. "I thought if I could help with their medical problems that would be a good way for me to pitch in. I had good role modeling from my parents and close family, as well as medicine men who were nearby. I could see the benefit of both modern medicine and Native traditional healing."
Jensen said some of those things are lifelong lessons, not just for college.

"And even while you are at college, you must always remember to respect yourself, return to prayer and remember your family and homeland," she said. "Stay positive and be humble. It's good to have confidence in your abilities, but don't be prideful. And remember to be happy, something as simple as a smile can change a whole outlook."
2017 TCHS Valedictorian James Roe III also had some wisdom to offer his fellow graduates May 20. He said wondering what the future can bring is a little scary but it is also exciting because of all the new people and experiences the students will encounter. He said one of the important things as the students look to the future is to always remember the past.
"All the wonderful past success and even our failures because we can learn from these," Roe said. "As Rafiki from the "Lion King" says, 'the past can hurt, but the way I see it, you can either run from it, or learn from it.' So, we need to remember our mistakes so we can learn from those but also remember our successes so we can keep moving forward."
Roe said that finding the sweet spot of living in the present and not dwelling on the past too much but remembering and learning from mistakes is important.
"But also don't look too far ahead or you might get overwhelmed," he said. "The sweet spot is to hopefully combine all three of these things. Remember the past mistakes, enjoy the present and look forward to the future."
Tuba City Athletic Director Jamie Roe had a double honor this year. His son, James Roe III was this year's valedictorian and the elder Roe was selected by the senior class to be the guest speaker.
Jamie Roe, who is himself a former TCHS Warrior, said he has lived in Tuba City for 42 years. He said his parents, who came in from Oklahoma, were there to celebrate the special occasion of their grandson being valedictorian.
Jamie Roe asked the students to commit to the journey of life, not the outcome, because if they fully committed to the journey itself, the outcome will be reached and the students will open up the next chapter of their lives. He said there are student athletes and students receiving academic scholarships and some who are going into the military.
"There will be endless possibilities," Jamie Roe said. "You are all potential teachers, lawyers, artists or even doctors like Dr. Jensen, who is with us today."

He said when committing to the journey, students should not forget they are not just representing themselves but their community, their people and their homeland.
"We have students from Tuba City High all over the world now," Jamie Roe said. "Our Warrior Head, it's so very special, we are the only ones with that Warrior logo. It's now yours, too. I'm originally from the Cherokee people, but now Tuba City is my home. Remember to keep that with you as you go forward."
TCHS Salutatorian Charles Henderson added the final words of inspiration to his classmates saying that as much as the students have accomplished, they did not do it alone.
"Our families, our parents, our grandparents and our home tribal community have supported us and have helped us all the way," he said. "It's up to us to make them proud. But, also remember to be humble like our grandparents tell us."
Roe, who was also senior class president, led the tassle turning by TCHS and Nizhoni Accelerated Academy students with vice president Damion Tsosie, secretary Alyssia Polivema and treasurer Danisha Nez.
Nizhoni Accelerated Academy Outstanding Student of the Year, Kaitlin Honahni, was also recognized and gave a short speech to the crowd.

A special welcome was given at the beginning of the event in four languages: Treyton Francisco in Dine' language, Shanice Yowytewa in the Hopi language, Glenice Pesodas in the Filipino language and Sydney Britton in English.
SUBMIT FEEDBACK
Click Below to: