Navajo Nation remembers heros during Memorial Day service in Window Rock
Originally Published: June 6, 2017 10:41 a.m.
WINDOW ROCK — On May 29, during a sunrise Memorial Day service, Navajo Nation President Russell Begaye and Vice President Jonathan Nez laid wreaths on the wall of fallen soldiers at the Veterans Memorial Park in Window Rock, Arizona.
"On this day, we remember our men and women who have served in the armed forces to protect the United States and Dinétah, with special reflection for our Navajo Code Talkers who made the ultimate sacrifice," Begaye said. "We must reflect upon the fallen warriors who have given their lives to protect this land and our Diné people."
Acting director of the Navajo Nation Veterans Administration Hubert Smith said the day helped recognize the sacrifice of men and women who gave their lives to protect our freedom.
At the remembrance ceremony, Begaye and Nez signed a proclamation ordering flags across the Navajo Nation to be flown at half-staff for Memorial Day.
The Navajo Nation acknowledged those who served in all wars including World War II, the Korean War, Vietnam War, Persian Gulf War, Afghanistan, the War on Terror, and the War in Iraq.

The Nation also acknowledged fallen police officers, public safety officers, fire fighters, EMTs and first responders.
"We pray for peace, comfort and gratitude to the families who have lost loved ones, as we know freedom is not free. Security should not be taken for granted. We will never forget the service of those who have given their lives for our freedom," Nez said. "Both president (Begaye) and I hereby proclaim Memorial Day as a day of remembrance, respect and peace."
The vice president said that as Diné, the Navajo people must remember the teaching of respecting and honoring authority and said they must continue to instill respect for our leaders, men and women in uniform and the families who have lost loved ones in the duty of service.
"It's not just about cooking hamburgers and hot dogs or going fishing," he said. "Let's remember this and teach it to our young people."
Office of the President and Vice President (OPVP) Executive Staff Assistant and Arizona Legislative District 7 Senator, Jamescita Peshlakai said when warriors come back as civilians, it's often hard for them to tell their story to their families.
"There are places around the world where there are no human rights, where people are imprisoned," she said. "They rely on the U.S. to keep humanity."
Peshlakai is a Persian Gulf War veteran.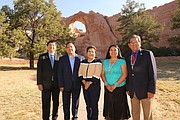 "When we go overseas, each and every one of us has an M-16 in our hand. Each and every one of us is there to do a job," Peshlakai said. "As service men and women, when you are Native American in a squad, platoon or battalion, the group walks with greater pride and are more courageous because they have a Native American in their midst. That's who we are as Navajo people."
President Begaye acknowledged the attendance of Navajo Code Talker Albert Newman and his wife Betsy along with Navajo Gold Star Mother Isabell Shondee. On behalf of OPVP, he thanked both for their service and the service of their family members and said they would never be forgotten.
"We will never forget our fallen warriors. This is why we laid the wreath this morning to show our respect in remembering our men and women who gave their lives for our freedom. Let's never forget their sacrifices. Let's remember all our fallen warriors and public safety officers today," Begaye said.
Fort Defiance Agency Veterans Service Officer Bobbie Baldwin performed a Memorial Roll Call of the names of all Navajo fallen warriors and veterans. Marine Corps Vietnam veteran Larry Anderson provided the invocation for the service.
SUBMIT FEEDBACK
Click Below to:
More like this story