How one small tribe beat coal and built a solar plant
Southeastern Nevada tribe protects tribal land from coal generating station
By Yessenia Funes, Colorlines
Originally Published: June 6, 2017 10:11 a.m.
MOAPA, NV — Tucked between scattered red desert rocks, the Moapa Band of Paiutes dwells on a little over 70,000 acres in southeastern Nevada. It's a small tribe with a population of no more than 311, but those numbers haven't stopped its members from shutting down a giant coal generating station to protect their health and land.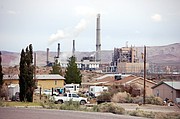 While President Donald Trump is attempting to revive the coal industry, the Moapa Band has proven how dangerous that industry can be to health. Tribal members suffer from high rates of asthma and heart disease, though the tribe›s small size makes it difficult to accurately quantify. The coal-fired Reid Gardner Generating Station sits outside the Moapa River Indian Reservation, just beyond a fence for some tribal members who have had to deal with the repercussions of its air pollution and toxic coal ash waste for 52 years.
"The whole tribe was suffering from it," says Vernon Lee, a tribal member and former council member who worked at the plant 15 years ago. "It's just bad stuff. We all knew that."
Coincidentally, the day after the station last stopped operating (on March 17), the Moapa Band of Paiutes launched the Moapa Southern Paiute Solar Project, the first-ever solar project built on tribal land, in partnership with large-scale solar operator First Solar. Companies started approaching the tribe about leasing its land around the same time their organizing took off, and things essentially fell into place. 
Despite all this — and the impending closure of the coal-fired Navajo Generating Station in Arizona, also run by NV Energy and impacting Navajo Nation members who work there or live nearby —President Trump is pushing forth with a coal-first energy agenda.
His signing of the Energy Independence Executive Order on March 28 repealed former President Barack Obama's Clean Power Plan, which took hard steps to reduce coal production and transition into cleaner forms of energy production. Coal emits carbon dioxide at roughly twice the rate of natural gas (though natural gas emits methane, a more potent greenhouse gas).
And his administration is supportive of producing and handling coal on Native American land, as Interior Secretary Ryan Zinke has made clear in his previous capacity as a Montana congressman. He worked closely with the Crow Nation to protect their livelihood: coal.
As for the Moapa? They reaped no benefits. The station didn't generate power for their homes; it didn't employ its members either. The last tribal member to work for the generating station was Lee, and NV Energy fired him in 2002.
All the plant could offer the Moapa were problems with their lungs and hearts. Still, they persevered and fought until the plant was shut down.
 Vickie Simmons grew up off and on the reservation. She's the vice chairwoman of the tribe and spent scattered years of her youth there.
She thanks the "off" moments for her good health, believing that if she had spent more of her childhood there, she might not have been so lucky—as many others around her were not.
Like her brother.
He was only 31 when he died of an enlarged heart. Simmons will never really know, but she thinks it had to do with the plant. Her brother had worked there for 10 years. Another community member who also worked there died of the same thing not long after, she says.
But the tribe's prevalence of cardiovascular and respiratory issues are consistent with what is generally caused by air pollution, says C. Arden Pope III, an environmental epidemiologist who currently teaches economics at Brigham Young University but has served on the EPA Science Advisory Board and chairs the EPA Advisory Council on Clean Air Compliance Analysis.
Coal releases heavy carbon dioxide emissions, but it also emits a cocktail of pollutants dangerous to health: sulfur dioxide, nitrogen oxides, mercury, particulates and fly ash that is then placed into nearby ponds. Lee calls them "chemical soup ponds." These pollutants can lead to respiratory issues, heart problems, as well as neurological and developmental damage.
Pope has examined the health of the Moapa Band. Back in 2012, he attempted to conduct a study on the tribe but was unable to establish conclusive findings because the tribe's numbers are so small. Then, there was the issue of no valid control group because, as Pope put it, "they all lived so very close to the power plant that…they were all being exposed."
Still, Pope did collect a lot of data, and the health impacts were enough for him to have a strong opinion about how the generating station was impacting their health: "Do I think that the exposure to air pollution likely had adverse impacts on their health? The answer to that is yes."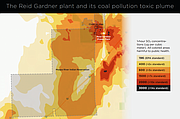 And he says that their high rates of respiratory and cardiovascular issues are in line with greater empirical research on air pollution. Without a conclusive study, however, it was difficult for government officials to take tribal members seriously.
"But we wouldn't care," chairwoman Simmons says. "We smelled it and felt it."
Then, in 2010, they met Vinny Spotleson, who was working with the Sierra Club at that time. That changed everything.
 It all started with letters. That's how tribal members first thought they'd give the EPA and state agencies like the state's Division of Environmental Protection a piece of their mind. "People wrote [many] letters," Simmons tells me, adding that they never got a response.
When they met Spotleson in 2010, Simmons realized that they finally had the support needed to be taken seriously by officials. Before then, Simmons says government agencies would shoot back with numbers from air quality reports she and other Moapa people didn't fully understand. But Spotleson introduced them to lawyers and scientists. From there, all the Moapa had to do was tell their stories. Simmons remembers Spotleson telling her, "Just say how you feel, and they'll never be able to prove you wrong."
Their work kicked off in 2010 when the Reid Gardner Station was planning to expand its coal ash landfill and add new evaporation ponds. The purpose, per a 2008 proposal, was "to maintain the effective management of the wastewater evaporation process, and to provide adequate landfill space for fly ash, bottom ash and solids from the evaporation ponds."
These landfills and ponds present water pollution risks, as well as potential spills.
So with the help of the Sierra Club, the Moapa Band of Paiutes entered into a legal battle against the Bureau of Land Management for approving the expansion project in Moapa Band of Paiutes, et al v. BLM, et al. Part of their campaign involved growing public awareness. The residents in Las Vegas whose homes were powered by the plant had no idea where it was or that it even existed—much less what it was doing to the Moapa.
"We did see a lot of people in the community, in Las Vegas, in southern Nevada, really engaging and making this campaign their own," says Elspeth DiMarzio, another Sierra Club campaign organizer who worked with the Moapa.
The issue drew even more attention on Earth Day 2012 when the tribe and its allies walked 50 miles from the Reid Gardner Generating Station to the federal building in Las Vegas over a course of three days. "Everybody hung in there," says Lee, who walked. "We had our support groups and vans and elders." One kid was no older than 12, Lee tells me. The oldest man was 70. Lee was roughly 46 at the time.
Still, the tribe ultimately lost that case in 2013 — but they didn't lose everything.
Legislators introduced Senate Bill 123 in February 2013, which would require certain utilities (like NV Energy, the one behind Reid Gardner) to reduce their coal-based greenhouse gas emissions by eliminating at least 800 megawatts of electricity by 2019 and replacing part of that lost energy with 350 megawatts of renewable energy like solar or wind. This came after these three years of organizing by the Moapa and its allies.
By April, NV Energy gave its support for SB 123. In June 2013, the bill became law — with a stamp of approval from NV Energy and the Moapa.
The plant shuttered for good March 2017 without its 40 employees losing their jobs, as they were reassigned to other positions within the company. And its last generator? It retired nine months before schedule as NV Energy found that exhausting its coal inventory as soon as possible made more financial sense than dragging it out until the end of 2017, as originally planned.
"We are proud to be moving our state toward a more balanced and less carbon intense generation portfolio through coal-generation retirement and renewable energy development while keeping prices low for our customers," said Starla Lacy, the utility's vice president of environmental services, in a press release. "The renewable energy capacity NV Energy has secured for customers has seven times the capacity of the generating unit that was taken off the grid today."
The Moapa didn't stop with the closure of the plant. In August 2013, they launched another lawsuit: Moapa Band of Paiute Indians, et al v. Nevada Power, et al. Here, they demanded that the company compensate them for all they'd suffered as a result of it. The tribe won that case in 2015. They secured a $4.3 million settlement to go toward clean up, a wellness center and water rights.
And while no amount of money or dealings could bring back the people families have lost, the shutdown of the plant, as well as the tribe's victory, signaled a new chapter for the Moapa. The solar project is just the cherry on top.
The tribe now leases its land to Capital Dyanmics, which owns the Moapa Southern Paiute Solar Project. The plant provided 115 construction jobs for tribal members and employs two permanently as field technicians.
The power goes to Los Angeles, and the tribe receives revenue from leasing their land. But they've been discussing and attempting to find bidders for two other solar projects with the thought of launching one that would bring that power into their homes.
They have a new revenue stream and are still deciding on the best way to use it. "We've never been in this position before or had these [solar] projects before," Simmons says. "It's hard to take off and start spending everything we do have because we want to plan and spend accordingly."
The Moapa went from suffering at the hands of coal to benefiting from the profits of renewables—a feat President Trump made sound impossible with statements like ones he made in October 2016 on the campaign trail that "solar is very, very expensive" and "wind is very problematic." 
In addition, moving away from coal is not a choice that is always so simple for indigenous people given their historical relationship with energy development.
"The moment extraction begins, a social life develops around it, which replicates the paternalism of the federal government, structural inequality and processes of colonialism that are long standing," says Andrew Curley, a developmental sociologist who is a member of the Navajo Nation.
Even for the Moapa, who weren't reliant on the plant, the situation is complicated because the snowball effect of their success brings increased stress to the nearby Navajo, who are losing their main source of income and employment in the shutdown of the Navajo Generating Station.
What's not complicated is the turn of the energy industry. Energy generated by coal has declined by 53 percent from 2006 to 2016. Renewables, on the other hand, increased by 35 percent between just September 2015 and 2016, according to the 2017 U.S. Energy and Employment Report.
"I am very worried about our planet, especially with Trump in there rolling back all the pollution things," Lee tells me. But he's not worried about himself; he's worried about the future generations and how this shift in energy policy could impact their future. He doesn't want to see more communities go through what the Moapa — and countless others — have gone through. Neither does Simmons.
"I hope that the same that happened to our reservations," she says, "could happen to other communities — Native American or non-Native American."
Editors note: This story was originally published on colorlines.com a magazine with articles concerning race, culture and organizing.
SUBMIT FEEDBACK
Click Below to: