Originally Published: June 6, 2017 10:51 a.m.
POLACCA, Ariz. —Hopi Jr/Sr High School held a teacher and staff appreciation day May 12 in the school's auditorium. The teachers and staff were honored in five year increments for 5-10-15-20-25-30 years of service.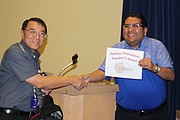 The longest serving employees with 30 years of service were Miriam Tahbo from the business department; Gerald Flud, geography teacher; Garlyn Navakuku, director of facilities; and Rick "The Legend" Baker, renowned boys cross country coach.
Navakuku said it is a great being a part of the school and community every day. Baker talked about his love for the students. Flud spoke about how the Hopi community made him feel welcome and said if they visited his reservation in Oklahoma that they would return the hospitality.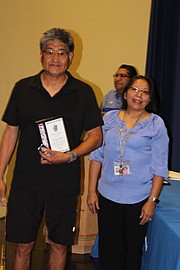 Each teacher and staff member with more than five years was honored with a pin and certificate. Michael Tenakhongva,, a math teacher, said he was so happy with his pin that he was going to frame it.
Two teachers, English teacher Walter Niino and science teacher Eva Bahnimptewa, were honored for having perfect attendance throughout the school year.
The Hopi Jr/Sr High School Student Council honored the teachers earlier in the week by giving them cupcakes, apples and cookies.
Alban Naha, interim superintendent at Hopi Jr/Sr High School, praised the teachers and staff for their hard work.
The students in the audience applauded the teachers and staff.