Former film legend brings legacy of Geronimo to life in stage play
Originally Published: July 18, 2017 3:56 p.m.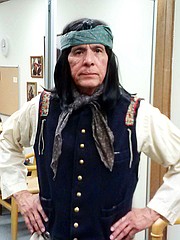 KANAB, Utah — Every year during the annual Western Legends Round-Up visitors stroll down the streets of Kanab, rubbing shoulders with film legends from some of America's most legendary western movies and television shows.
The festival offers film enthusiasts from across the U.S. and abroad an opportunity to meet western film actors like Clint Black, Darby Hinton, Roberta Shore, Barry Corbin, Don Collier and Rudy Ramos.
Ramos, best known for his role as a half-breed Indian boy in the 1969 television show The High Chaparral, is one star who loves returning to the quiet town of Kanab, year after year.
This year Ramos is taking things up a notch by celebrating one of history's most iconic western legends – Geronimo, in a one-man stage performance of 'Geronimo Life on the Reservation.'
In a powerful, one-of-a-kind performance, Ramos depicts Geronimo as a POW on the Ft. Sill Indian Reservation in Oklahoma. Ramos takes his audience on an intimate journey spanning the last 23 years of Geronimo's life.

The 60 minute play focuses on the resiliency, humor and genius of this great Apache warrior. Throughout the evening audiences watch as Geronimo evolves from a surrendered Indian leader into a celebrity and entrepreneur. Keenly aware of how to work the political system, he joins the same church Teddy Roosevelt belongs to and rides in his Inaugural Parade. While Geronimo may not always have been successful in getting everything he wanted, he succeeded in making the best of his situation.
Directed by Steve Railsback, 'Geronimo Life on the Reservation' is both entertaining and educational. First performed at the Casino Del Sol in March 2014, Ramos has taken the show across the country from Los Angeles to Memphis.
For Ramos, playing Geronimo is an opportunity to tell Geronimo's perspective of what happened and why.
"I have wanted to do this project for over 30 years," Ramos said. "My main goal was and will always be to give Geronimo a voice he never had. A voice that deserves to be heard."
Ramos has performed the play for a variety of audiences and has been well received wherever he's been.
"I just want to tell the story and let my audiences make up their own minds how they feel about the treatment of the Natives by the United States Government. How they feel about all of the broken promises and treaties," he said.
Ramos will perform 'Geronimo: Life on the Reservation' at the Crescent Moon Theater in Kanab, Utah during Western Legends Round-Up, Aug. 25 and Aug. 26 from 3:30 to 5 p.m. More information or to purchase tickets is available at www.westernlegendsroundup.com/geronimo.
Ramos said playing Geronimo has been an amazing experience, especially at this point in his career. He is very excited to bring this unique production to Kanab and the Western Legends Round-Up.

"I am honored to be doing two shows at the Westerns Legends Round-Up in Kanab. It is such a famous festival and Kanab is such a legendary town. The people that attend the festival are from all over and are wonderful to be around. I look forward to many of them attending one of my two shows on August 25 and 26," he said.
More like this story
SUBMIT FEEDBACK
Click Below to: