Native workers help provide solar options on more than 40 reservations
Navajo and Hopi employees join Grid Alternatives in solar installation across the U.S.
Originally Published: July 4, 2017 11:23 a.m.
POLACCA, Ariz. — Grid Alternatives has helped install about 550 solar systems on approximately 40 reservations. Grid Alternatives also trains Native American solar workers, including Navajo and Hopi students.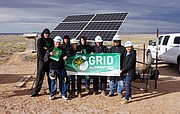 Tim Willink, director of tribal programs at Grid Alternatives, works for the non-profit solar photovoltaic, installing solar systems throughout America's reservations.
Grid Alternatives trains workers on a voluntary basis.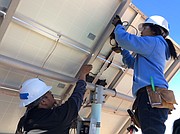 "We call it classroom on the roof," Willink said. "It's hands-on. It could be students, construction workers, or somebody who just wants to give back to the community."
Grid Alternatives was created in 2010, but Willink has worked for them for the past three years. Grid Alternatives' main office is in California where they work is steady, since the state is solar friendly.
Willink, who is Navajo, comes from Pueblo Pinado on the eastern side of the Navajo Nation in New Mexico. In May, Grid Alternatives completed work on two private homes there.
Willinks has always been interested in solar and 10 years ago switched from working in public policy for the Navajo Nation to becoming a solar installer in Denver.
"Every time I go back home, I think about the sunshine and say, 'Why not here?'" he said.
Willinks had also worked in supervisory positions, and he thought serving as a supervisor at Grid Alternatives was a good way of giving back by training Native folks who want to work in the industry.
Willinks earned a Bachelor of Arts in economics from Cornell University and went to work for the Navajo Nation Washington D.C.'s office in public policy before switching to the solar industry.
"Solar has a lot of potential for Navajo and Indian country with the right incentives," he said.
In most places in America, tax incentives help the solar industry. But that doesn't apply on reservations. Willinks said the answer is finding someone with a tax burden who is willing to invest in solar on reservations.
Grid Alternatives has a program called Solar Futures that partners with high schools to teach them about installing solar.
Two Native American Solarcorps students working on this project include Matthew Wheeler from Tuba City and Nick Averly from Winslow.
Willink said solar is a proven technology with clean, renewable energy that provides savings by offsetting electric bills. He said solar is also a growing industry and a potential career path. Jobs are available for installers, designers and project managers.
Willink said, according to the National Renewable Energy Lab, that tribes have 2 percent of the land in the U.S., but those lands represent 5 percent of the renewable energy potential.
"There are now more jobs in solar then there are in coal nationwide," he said.
Willink said reservations can entice more solar projects by developing policies that are solar friendly and incorporating goals for renewable energy. He said plans for solar need to be incorporated for new homes.
"They need straightforward connection policies," he said. "Tribes can also identify the potential work force and training opportunities."
Willink said despite not having as much sunshine as many places, Germany is one of the leaders for solar because its policies are solar friendly.
"Their leaders have made it a priority," he said.
Willink was recently featured in the July/August edition of Sierra Magazine with the headline: "Sovereign Power." He said the article was great because it brought awareness about the program.
"I have a lot of respect for Sierra Magazine and they were wonderful to work with," he said.
Part of the training that workers get involves safety. Grid Alternatives goes out of its way to exceed OSHA (Occupational Safety and Health Administration) standards. The safety measures involve everything from how to use ladders or how to use the tools they work with.
Heat illness can also be an issue if working in a hot weather climate, so Grid Alternatives makes sure workers are safe.
Grid Alternatives has projects coming up on the Hopi and Navajo reservations in the fall. One project is working with Hopi Tutsqua. Americorps students Andrew Honayaktewa and Tonya Steele will be working on this project.
"We're excited because we trained them," Willink said.
The Hopi Tutsqua project is off the grid — it will run on batteries.
Later in the fall, Grid Alternatives will be refurbishing batteries for solar units for veterans in the Leupp area.
"They already have the system, but their battery is dead," he said.
Right now, Willink and his crew are working on the Rosebud Sioux Reservation at the Rosebud Homeless Shelter. Grid Alternatives is working with the tribe and a university on the project that will cut utility bills in half. The shelter houses 12 men and 12 women.
"We look at philanthropic foundations and we rely on grants," Willink said about their funding.
Grid Alternatives also works with tribal governments especially housing authorities and the U.S. Department of Energy.
More information is available at Grid Alternatives website at www.gridalternatives.org.
SUBMIT FEEDBACK
Click Below to:
More like this story