Haul No! protesting a uranium haul route

Originally Published: July 4, 2017 9:54 a.m.
RED BUTTE, Ariz. — On a hot, dusty day in the shadow of Red Butte, the Havasupai Tribe gathered to pray and educate others about the dangers of uranium mining near their sacred lands.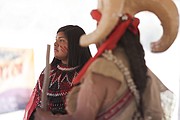 Joined by Haul No!, an organization dedicated to stopping radioactively-contaminated water and tailings from being hauled through the Navajo Reservation, Havasupai, Navajo and Hopi tribes came together to send a message of unity and support for the environment surrounding Grand Canyon.
"Today, white people, Hispanic people, Native people, we all share the same problems," said Jones Benally, a traditional Navajo medicine man who led a prayer circle at the event. "We are all brothers and sisters."
The event comes as production ramps up at Canyon Mine, which lay dormant for more than 20 years. In 2013, the Havasupai Tribe, along with Grand Canyon Trust, Center for Biological Diversity and Sierra Club, filed a lawsuit, Havasupai Tribe v. U.S Forest Service, to prevent the resumption of uranium mining at Canyon Mine. The Arizona District Court ruled in favor of the Forest Service in 2014, and Energy Fuels Resources was allowed to resume operations at the site.
The Tribe filed an appeal with the Ninth Circuit Court of Appeals in San Francisco, California, in December 2016, asking the court to issue an injunction against operations at Canyon Mine until a new site plan and environmental impact study can be constructed in consultation with the tribe. A ruling from that court is expected later this year.
The event was also the last stop on the Awareness and Action Tour sponsored by Haul No! Klee Benally, a Navajo musician, artist and activist, said the issue of uranium mining is reaching a crisis point.
"It's not just our lives we're worried about," he said. "Radioactivity is a threat to our future generations. We recognize this is a potential crisis point. We had the courts … but we saw how that system failed us. The laws have failed us. So now, how can we work together?"
Benally and other Haul No! volunteers educate visitors about health, cultural and environmental impacts of uranium mining and the potential hazards faced by those who live along the 300-mile haul route from Canyon Mine to White Mesa Mill near Blanding, Utah.
At the Red Butte gathering, they also offered direct action training, which is designed to teach volunteers and activists how to protest in a legal, non-violent manner.
Curtis Moore, vice president of marketing and corporate development for Energy Fuels, said so far all protests have been peaceful, and the company isn't concerned about potential flare-ups.
"Security at our mining sites is of utmost importance, but so far all the protests have been peaceful," he said. "We have our disagreements with the Havasupai, the Sierra Club, but they do have a right to protest."
Moore said the mine has procedures in place to handle any flare-ups that may happen.
"If troublemakers decide to use these peaceful protests to cause trouble, we have procedures in place to deal with that," he said.
Leota Watahomigie, one of the Havasupai organizers of the event, said it was important to come together as Native people to help each other out.
"Haul No! is helping us by raising awareness and helping us get our message out, by offering training," she said. "And in turn, we want to help them by talking about the issue of the hauling, which affects all of us."
SUBMIT FEEDBACK
Click Below to:
More like this story