Slice of Life: Bulldog basketball coach, teacher in 16th year at Winslow schools
Originally Published: January 24, 2017 1:54 p.m.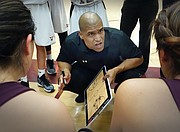 WINSLOW, Ariz. — The Navajo-Hopi Observer sat down with Jerron Jordan, who teaches fifth and sixth grade at Washington Elementary and also coaches Winslow High School girls' varsity basketball.

The NHO talked with Jerron before a varsity game against Tuba City.
How many years have you been teaching at the Winslow School District?
I'm in my 16th year. I was hired by Paul Ramsey, former principal at Bonnie Brennan Elementary School.
Where did you grow up?
I grew up in Coolidge, Arizona. My family still resides there and I have two brothers. The area is home to very strong girls' basketball teams, which got me interested in following the sport as a student spectator. I was more a natural in baseball and football in school — at basketball I had to work hard to earn a spot
Here in Winslow, how did you get involved in basketball?

I was assistant to Arizona Coaches Hall of Fame member Don Petranovich, working with him for 10 years. He taught me a lot and was an ideal mentor.
Do you have a family?

Yes, I'm very blessed to have been married for 13 years to Janet Jordan, a third grade teacher. We have a 4-year-old ear old boy in pre-school at Bonnie Brennon.

You have two hats in doing teaching and coaching, what's the hardest part about that situation?

The biggest challenge is time management, where I might have to be two places at the same time. For example Away Games; I need to prepare accurate Lesson Plans for a substitute teacher when I leave early to travel with the team. The premium on my time during Girls' Basketball season causes me to be more efficient timewise. Right now in January we have many road trips which is the busiest part of our basketball season. The School District including Lance Heister, Chris Gilmore and Justin Hartman give me great support.
Can you give me a brief philosophy about coaching and about teaching?

As a teacher we are here to help students acquire the skill they will need in the game-of-life. As a fifth grade teacher we try to encourage students to establish goals for later grades. Reminding them it's possible to graduate from High School with a diploma and an AA Degrees. This gives them a boost to go on to advanced learning. As a coach I remind my athletes that you are a student first, athlete second. Compete with honor and carry yourself with dignity outside school, as well as inside.
SUBMIT FEEDBACK
Click Below to:
More like this story