Obama designates Bears Ears National Monument
Originally Published: January 3, 2017 10:27 a.m.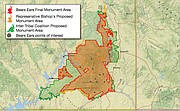 FLAGSTAFF, Ariz. — On Dec. 28, President Barack Obama designated the Bears Ears National Monument citing its cultural importance to Native people and marking the first time tribes will have a say in managing a federal monument.
On the same day, the president also designated the Gold Butte National Monument in Nevada.
Bears Ears consists of about 1.35 million acres in Utah. It lies between Canyonlands National Park and the San Juan River and is named for its twin buttes that resemble a bear raising its head above the horizon.
Obama said in his proclamation that the preservation of Bears Ears will preserve its cultural, prehistoric and historic legacy and maintain its diverse array of natural and scientific resources, ensuring that those resources remain for the benefit of all Americans. According to the Bears Ears Inter-Tribal Coalition, a partnership between the Hopi, Navajo, Ute Indian Tribe, Ute Mountain Ute and Zuni, the area is a cultural landscape rich in antiquities, with hundreds of thousands of archaeological and cultural sites that are sacred to dozens of tribes.
"Our ancestors lived, hunted, gathered, prayed and built civilizations here and it remains vital today as a place of subsistence and spirituality," the coalition's statement said. "Our oral traditions speak of this area, and of certain spiritual resources found only there. The protection of Bears Ears cultural landscape is powerful medicine for healing – of the land, of plants and animals and for all people."
In a statement the Hopi Tribe said it has supported the designation through formal tribal resolution and consultation, sharing of traditional knowledge and educating decision-makers about the Hopi connection to this culturally important area.
"These Hopi ancestors, the "Hisat'sinom" (People of Long Ago), imbued this landscape with their presence in the hundreds of thousands of archaeological sites located within the new monument," the Tribe said. "These sites represent the "Footprints of Hopi Ancestors" and include ancient villages, migration routes, artifacts, petroglyphs and the physical remains of buried ancestors — all of which are remembered and maintained through oral tradition, pilgrimage, songs and prayer."
The designation maintains current authorized uses of the land that do not harm the resources protected by the monument, including tribal access and traditional collection of plants and firewood, off-highway vehicle recreation, hunting and fishing and authorized grazing. The designation also does not affect valid existing rights for oil, gas and mining operations, military training operations or utility corridors, according to a statement released by the Secretary of the Interior Sally Jewel.
"For the first time in history, a president has used the Antiquities Act to honor the request of tribal nations to protect our sacred sites," said David Filfred, Navajo Nation Council delegate and outspoken advocate for the monument during the process.
The Bears Ears area has been proposed for protection by members of Congress, secretaries of the Interior, state and tribal leaders and local conservationists for at least 80 years, Obama said in the proclamation.
Hopi Tribal Vice Chairman Alfred Lomahquahu and co-chair of the inter-tribal coalition, said he is confident that the announcement of collaborative management will protect a cultural landscape that tribes have known since time immemorial.
"Our connection with this land is deeply tied to our identities, traditional knowledge, histories and cultures," he said. "The designation of the Bears Ears National Monument is a victory not just for Native Americans, but for all who love and whose lives are intertwined with this remarkable place."
Navajo Nation President Russell Begaye said Obama has been consistent in his commitment to work with tribal governments and the designation affirms that legacy.
"Because tribes will help manage this land, it reaffirms President Obama's fundamental commitment to human rights and equity in voice," Begaye said.
While many groups who have long fought for the designation celebrated the president's action, the Congressional Western Caucus, which includes Chairman Rep. Paul Gosar (AZ-04), was quick to issue a statement saying the president took unilateral action and issued the proclamation under what they say is an outdated act.

The president of the United States, under the Antiquities Act of 1906, can declare by public proclamation historic landmarks, historic and prehistoric structures, and other objects of historic or scientific interest that are situated upon the lands owned or controlled by the federal government to be national monuments.
Gosar also said the president put the needs of special interest groups ahead of hardworking Americans.
"No one man should be able to unilaterally lock-up millions of acres with the stroke of his pen, especially in the face of overwhelming opposition," Gosar said.
Obama has not yet taken action on the proposed Greater Grand Canyon Heritage National Monument, a concern for the senators from Arizona.
U.S. Sens. Jeff Flake (R-Ariz.) and John McCain (R-Ariz.) released a statement after the monument designations Dec. 28.
"President Obama seems to have heard the message that Arizonans are not on board with plans for Washington to lock-up another 1.7 million acres in our state," the statement said. "As frustrating as it is to see federal land grabs in Utah and Nevada today, we are encouraged that the administration does not appear to be moving toward another national monument designation in Arizona at this time."
SUBMIT FEEDBACK
Click Below to: