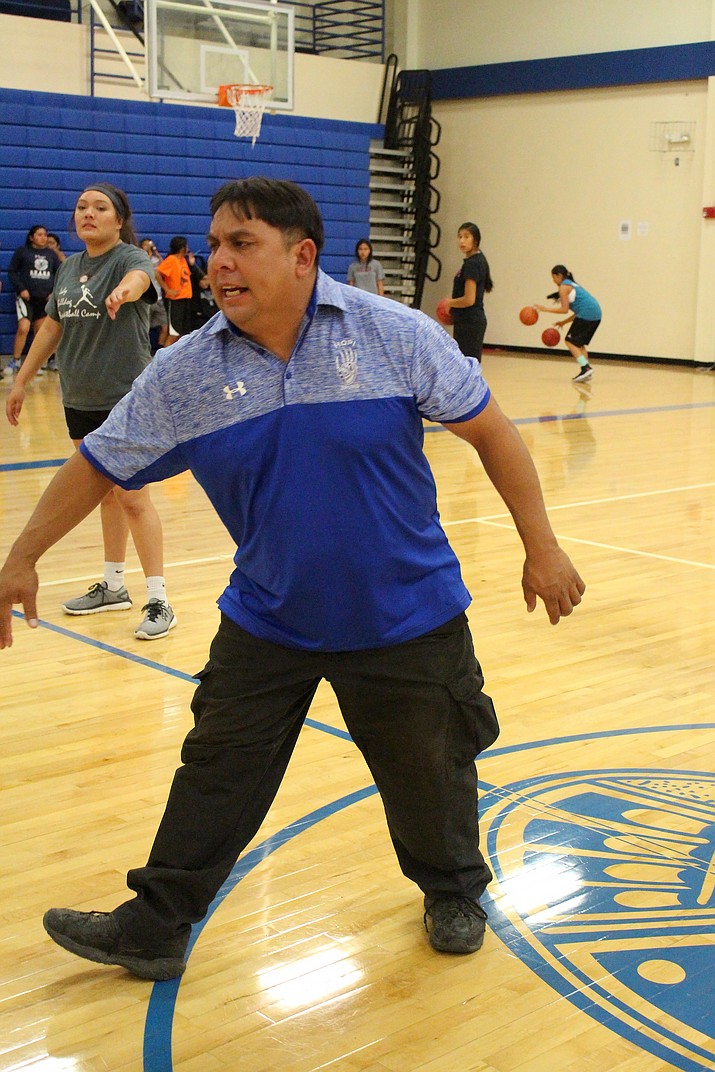 Originally Published: February 21, 2017 10:33 a.m.
POLACCA, Ariz. — Hopi High School won a thrilling 52-51 victory against Morenci in a girls "play-in" basketball game to win a spot in the state playoffs.
Hopi High girls basketball coach Barry Honyouti said it felt good to be going to the state playoffs.
"We were sluggish in the first half, but in the second half we were more energetic. We got an eight point lead and we held on to the end," he said. "We played smart at the end. We were patient and we didn't take poor shots. Our girls know how to win close games."
Honyouti said the Bruin offense played well, but could have done better. He said they played well considering the six plus hours bus ride to Morenci.
"Our defense won the game for us," he said. "It was a good team effort on defense. Rebounding was pretty even between the two teams. We gave up some rebounds that we should have had."
Four players scored in double figures for Hopi.
"I was happy that we had equal scoring. It was good to see because it showed that everyone was involved," he said.
Taminny Laraguttierez topped Hopi with 14 points, but three of her teammates were right behind her. Taylor Seechoma, Angela Adams and Jaeda Honani scored a dozen points each. Kelly Johnson tossed in four points and Zoe Cook netted three.
Sabyn Martinez led Morenci with 17 points and Krystyna Chavarria poured in 14. The other scorers for Morenci were Ashley Hernandez netting eight points, Jayde Rivas added a half dozen points, Aliyah Manuz scored three and Janeen Lang had a deuce.
Chavarria fired in seven points in the opening period as Morenci led 13-11. Seechoma countered with seven points to keep Hopi close. Adams knocked down seven points in the second quarter as Hopi tied the game 27-27 at halftime. Chavarria scored another seven points in the second period for Morenci.
Laraguttierez led the Lady Bruins rally with eight points in the third quarter as Hopi jumped ahead 44-39. Seechoma scored five points for Hopi in the final quarter as the Lady Bruins grabbed the victory and a trip to the state playoffs.
Hopi won a trip to the state play-in game by placing fourth in the 2A North.
In the opening round of the 2A North playoffs, Hopi edged Round Valley 53-49.
Taylor Seechoma and Jaeda Honani topped Hopi with a dozen points each. Taminny Laraguttierez fired in seven points, Shanice Sakeva and Angela Adams tossed in five points, Tamara Wilson netted four points, Zoe Cook added three and Caitlyn Yeslith scored a deuce.
Bailey Kirkham poured in 18 points to top Round Valley and Sam Madrid fired in 15 points. The other scorers for Round Valley were Karlee Coffman netted six points, Jessina Turquoise and Rachel Brown added four points and Leah Bates had a deuce
Madrid netted four points in the opening period as Round Valley led 13-10. Sakeva and Adams scored three each for the Lady  Bruins to keep them close. Madrid tossed in another four points in the second period as Round Valley led at intermission 23-19.
Honani netted six points and Seechoma added five as Hopi pulled within 34-33 after three periods. In the fourth period, Honani scored another six points and Adams netted five as Hopi grabbed the victory.
"We played well the whole game," Honyouti said. "Our offense was good. We made some mistakes with turnovers."
Honyouti said the Bruins had a good team effort on defense. He said the rebounding was good with Adams and Wilson leading the way.
In the second round game, Hopi drew the top ranked team in the state, Valley Sanders. The Lady Pirates beat Hopi 74-36.
Valley had four players in double figures with Nizhoni James leading the way with 17 points, Charelle Speen poured in 15, Tilda Hubbell netted 11 and Tiffany Quigley knocked down 10 points. The other scorers for the Lady Pirates were Valiyah Yazzie with seven points, Codi Spencer tossed in five, Shania Tom finished with four, Onajae Betoney had three and Taniah Thompson had a deuce.
Seechoma topped Hopi with 14 points.
Honyouti said the Lady Bruins were able to keep the game close in the first half.
"Valley Sanders had too much talent, but our girls proved that they can keep up with a good team if they keep their intensity for four quarters," he said.
In the third round, Many Farms beat Hopi 63-47.
Stephanie Taylor led Many Farms with 17 points, Shawana Taylor and Quinainna Begay netted eight points. Shalaya Slim, Autumn Thomas, Hasbah Bitsui and Kalen Begay finished with five points apiece, Liyah Begay finished with four, Tiarra Begay and Leah Walker had a deuce each and Kahia Lamoth scored one point.
Laraguttierez led Hopi with 23 points, Seechoma fired in 13 points, Wilson finished with four points, Cook tossed in three, Adams and Yeslith had one point each.
Honyouti said the Lady Bruins had no energy in this game. He said several of the players were ill with the flu or other sicknesses.
"We needed to get well. We played good for being sick," he said.